Top 5 Wednesday is a weekly meme created by Lainey – and is  now hosted by Sam@thoughtsontomes you can click on this link to find out how to join.
So I haven't done a top 5 wednesday in months and as I havent been posting much lately I thought I would get back in the game with this. This weeks topic is all about books with creepy setting all of these books I have read and are quite dark and eerie… the perfect read for Halloween.
'An electrifyingly creepy tale likely to haunt young readers for many moons…. a real bedtime-buster'. Read an exclusive excerpt at BookBrowse today. Reading age approx. 9 yrs +.

The day after they moved in, Coraline went exploring….

In Coraline's family's new flat are twenty-one windows and fourteen doors. Thirteen of the doors open and close.

The fourteenth is locked, and on the other side is only a brick wall, until the day Coraline unlocks the door to find a passage to another flat in another house just like her own.

Only it's different.

At first, things seem marvelous in the other flat. The food is better. The toy box is filled with wind-up angels that flutter around the bedroom, books whose pictures writhe and crawl and shimmer, little dinosaur skulls that chatter their teeth. But there's another mother, and another father, and they want Coraline to stay with them and be their little girl. They want to change her and never let her go.

Other children are trapped there as well, lost souls behind the mirrors. Coraline is their only hope of rescue. She will have to fight with all her wits and all the tools she can find if she is to save the lost children, her ordinary life, and herself.

Critically acclaimed and award-winning author Neil Gaiman will delight readers with his first novel for all ages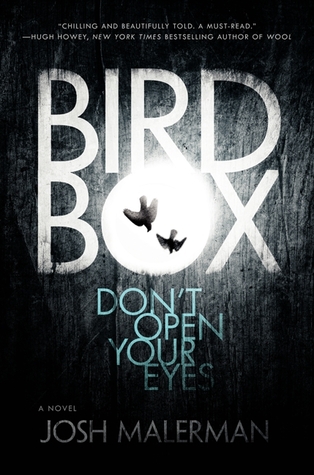 Something is out there, something terrifying that must not be seen. One glimpse of it, and a person is driven to deadly violence. No one knows what it is or where it came from.

Five years after it began, a handful of scattered survivors remains, including Malorie and her two young children. Living in an abandoned house near the river, she has dreamed of fleeing to a place where they might be safe. Now that the boy and girl are four, it's time to go, but the journey ahead will be terrifying: twenty miles downriver in a rowboat–blindfolded–with nothing to rely on but her wits and the children's trained ears. One wrong choice and they will die. Something is following them all the while, but is it man, animal, or monster?

Interweaving past and present, Bird Box is a snapshot of a world unraveled that will have you racing to the final page.
Children can have a cruel, absolute sense of justice. Children can kill a monster and feel quite proud of themselves. A girl can look at her brother and believe they're destined to be a knight and a bard who battle evil. She can believe she's found the thing she's been made for.

Hazel lives with her brother, Ben, in the strange town of Fairfold where humans and fae exist side by side. The faeries' seemingly harmless magic attracts tourists, but Hazel knows how dangerous they can be, and she knows how to stop them. Or she did, once.

At the center of it all, there is a glass coffin in the woods. It rests right on the ground and in it sleeps a boy with horns on his head and ears as pointed as knives. Hazel and Ben were both in love with him as children. The boy has slept there for generations, never waking.

Until one day, he does…

As the world turns upside down, Hazel tries to remember her years pretending to be a knight. But swept up in new love, shifting loyalties, and the fresh sting of betrayal, will it be enough?
Brilliant, haunting, breathtakingly suspenseful, Night Film is a superb literary thriller by the New York Times bestselling author of the blockbuster debut Special Topics in Calamity Physics.

On a damp October night, the body of young, beautiful Ashley Cordova is found in an abandoned warehouse in lower Manhattan. By all appearances her death is a suicide – but investigative journalist Scott McGrath suspects otherwise. Though much has been written about the dark and unsettling films of Ashley's father, Stanislas Cordova, very little is known about the man himself. As McGrath pieces together the mystery of Ashley's death, he is drawn deeper and deeper into the dark underbelly of New York City and the twisted world of Stanislas Cordova, and he begins to wonder – is he the next victim?

In this novel, the dazzlingly inventive writer Marisha Pessl offers a breathtaking mystery that will hold you in suspense until the last page is turned.
Something strange is happening at the Orsk furniture superstore in Cleveland, Ohio. Every morning, employees arrive to find broken Kjerring bookshelves, shattered Glans water goblets, and smashed Liripip wardrobes. Sales are down, security cameras reveal nothing, and store managers are panicking.

To unravel the mystery, three employees volunteer to work a nine-hour dusk-till-dawn shift. In the dead of the night, they'll patrol the empty showroom floor, investigate strange sights and sounds, and encounter horrors that defy the imagination.

A traditional haunted house story in a thoroughly contemporary setting, Horrorstör comes packaged in the form of a glossy mail order catalog, complete with product illustrations, a home delivery order form, and a map of Orsk's labyrinthine showroom.
So there it is my top 5 books that have creepy settings. Have you read any of these or have any recommendations.
Thanks for reading