Top 10 Tuesday is a weekly meme hosted by The Broke and the Bookish
All you need to do is click on the link which is above – follow the weekly criteria and then link your weekly post back to the broke and the bookish…Easy!
This weeks topic is about 10 books that I wanted to read last year but didn't manage to get round to. I am probably not the first to say this….but there was way more than 10 books that I wanted to read last year….in fact so many that this post would go on forever. This is going to be hard to narrow down to 10. Not all of these are going to be 2017 releases it's just going to be books that are high on my list right now.
Please click on the cover to be forwarded to Goodreads.
1
It's strange as Science Fiction is a genre out of my comfort zone yet this book is on the list. I really enjoyed 'The Martian' in 2016 and was excited to hear that Andy Weir had a new one out. The only reason this wasn't read in 2017 was it took ages for my library to get the book.
Jazz Bashara is a criminal.

Well, sort of. Life on Artemis, the first and only city on the moon, is tough if you're not a rich tourist or an eccentric billionaire. So smuggling in the occasional harmless bit of contraband barely counts, right? Not when you've got debts to pay and your job as a porter barely covers the rent.

Everything changes when Jazz sees the chance to commit the perfect crime, with a reward too lucrative to turn down. But pulling off the impossible is just the start of Jazz's problems, as she learns that she's stepped square into a conspiracy for control of Artemis itself – and that now, her only chance at survival lies in a gambit even more unlikely than the first
2
I was waiting for the hype of this book to die down a bit. I have had this on my shelf for months and never got round to picking it up which hopefully changes in the next month or so.
Sixteen-year-old Starr Carter moves between two worlds: the poor neighborhood where she lives and the fancy suburban prep school she attends. The uneasy balance between these worlds is shattered when Starr witnesses the fatal shooting of her childhood best friend Khalil at the hands of a police officer. Khalil was unarmed.

Soon afterward, his death is a national headline. Some are calling him a thug, maybe even a drug dealer and a gangbanger. Protesters are taking to the streets in Khalil's name. Some cops and the local drug lord try to intimidate Starr and her family. What everyone wants to know is: what really went down that night? And the only person alive who can answer that is Starr.

But what Starr does or does not say could upend her community. It could also endanger her life.
3
I really can't believe that I have at least two science fiction novels in this list…crazyness! This sounds really interesting, I have heard great reviews.
A girl named Rose is riding her new bike near her home in Deadwood, South Dakota, when she falls through the earth. She wakes up at the bottom of a square hole, its walls glowing with intricate carvings. But the firemen who come to save her peer down upon something even stranger: a little girl in the palm of a giant metal hand.

Seventeen years later, the mystery of the bizarre artifact remains unsolved—its origins, architects, and purpose unknown. Its carbon dating defies belief; military reports are redacted; theories are floated, then rejected.

But some can never stop searching for answers.

Rose Franklin is now a highly trained physicist leading a top secret team to crack the hand's code. And along with her colleagues, she is being interviewed by a nameless interrogator whose power and purview are as enigmatic as the provenance of the relic. What's clear is that Rose and her compatriots are on the edge of unraveling history's most perplexing discovery—and figuring out what it portends for humanity. But once the pieces of the puzzle are in place, will the result prove to be an instrument of lasting peace or a weapon of mass destruction?

An inventive debut in the tradition of World War Z and The Martian, told in interviews, journal entries, transcripts, and news articles, Sleeping Giants is a thriller fueled by a quest for truth—and a fight for control of earthshaking power.
4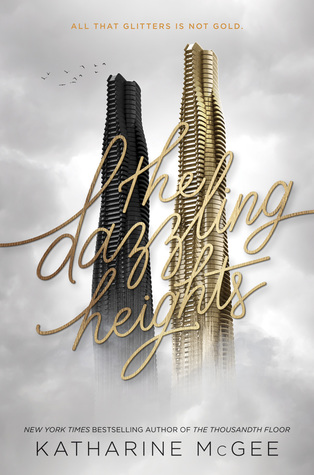 I read 'The Thousandth Floor' in 2016 and enjoyed and as it was left on a cliffhanger I wanted to read this book it's on my kindle and sometimes those books get forgotten about. I need to read this as the 3rd book is being published in 2018. As always with sequels, I don't like to post the synopsis in case it has any spoilers.
5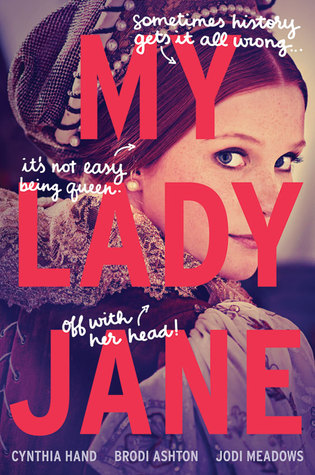 Another book that I have heard nothing but good things about. I have heard this is really funny and just appeals  to me.
Edward (long live the king) is the King of England. He's also dying, which is inconvenient, as he's only sixteen and he'd much rather be planning for his first kiss than considering who will inherit his crown…

Jane (reads too many books) is Edward's cousin, and far more interested in books than romance. Unfortunately for Jane, Edward has arranged to marry her off to secure the line of succession. And there's something a little odd about her intended…

Gifford (call him G) is a horse. That is, he's an Eðian (eth-y-un, for the uninitiated). Every day at dawn he becomes a noble chestnut steed—but then he wakes at dusk with a mouthful of hay. It's all very undignified.

The plot thickens as Edward, Jane, and G are drawn into a dangerous conspiracy. With the fate of the kingdom at stake, our heroes will have to engage in some conspiring of their own. But can they pull off their plan before it's off with their heads?
6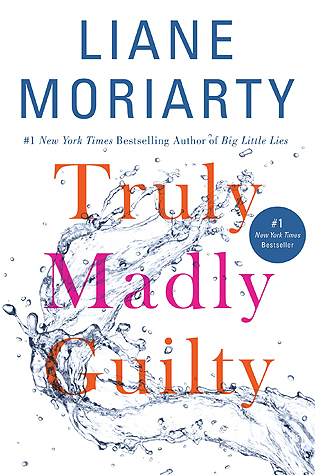 This book has on and off my TBR lists so many times over 2017 that it has got ridiculous and just needs to be read.
Six responsible adults. Three cute kids. One small dog. It's just a normal weekend. What could possibly go wrong?

Sam and Clementine have a wonderful, albeit, busy life: they have two little girls, Sam has just started a new dream job, and Clementine, a cellist, is busy preparing for the audition of a lifetime. If there's anything they can count on, it's each other.

Clementine and Erika are each other's oldest friends. A single look between them can convey an entire conversation. But theirs is a complicated relationship, so when Erika mentions a last minute invitation to a barbecue with her neighbors, Tiffany and Vid, Clementine and Sam don't hesitate. Having Tiffany and Vid's larger than life personalities there will be a welcome respite.

Two months later, it won't stop raining, and Clementine and Sam can't stop asking themselves the question: What if we hadn't gone?

In Truly Madly Guilty, Liane Moriarty takes on the foundations of our lives: marriage, sex, parenthood, and friendship. She shows how guilt can expose the fault lines in the most seemingly strong relationships, how what we don't say can be more powerful than what we do, and how sometimes it is the most innocent of moments that can do the greatest harm.
7
This is another book that is different to what I usually read but the synopsis and all the high praise had me intrigued.
Effia and Esi: two sisters with two very different destinies. One sold into slavery; one a slave trader's wife. The consequences of their fate reverberate through the generations that follow. Taking us from the Gold Coast of Africa to the cotton-picking plantations of Mississippi; from the missionary schools of Ghana to the dive bars of Harlem, spanning three continents and seven generations, Yaa Gyasi has written a miraculous novel – the intimate, gripping story of a brilliantly vivid cast of characters and through their lives the very story of America itself.

Epic in its canvas and intimate in its portraits, Homegoing is a searing and profound debut from a masterly new writer.
8
Another book that I have had on my kindle for a while plus the synopsis and high praise is what is making me want to read this book.
Eleanor Oliphant has learned how to survive – but not how to live

Eleanor Oliphant leads a simple life. She wears the same clothes to work every day, eats the same meal deal for lunch every day and buys the same two bottles of vodka to drink every weekend.

Eleanor Oliphant is happy. Nothing is missing from her carefully timetabled life. Except, sometimes, everything.

One simple act of kindness is about to shatter the walls Eleanor has built around herself. Now she must learn how to navigate the world that everyone else seems to take for granted – while searching for the courage to face the dark corners she's avoided all her life.

Change can be good. Change can be bad. But surely any change is better than… fine?
9
I read 'The Breakdown' in 2017 and it made my top 10 books of the year – I wanted to get to this but had so many other books that I needed to read. I know that I am going to love this.
Everyone knows a couple like Jack and Grace: he has looks and wealth, she has charm and elegance. You'd like to get to know Grace better. But it's difficult, because you realize Jack and Grace are never apart. Some might call this true love.

Picture this: a dinner party at their perfect home, the conversation and wine flowing. They appear to be in their element while entertaining. And Grace's friends are eager to reciprocate with lunch the following week. Grace wants to go, but knows she never will. Her friends call—so why doesn't Grace ever answer the phone? And how can she cook such elaborate meals but remain so slim?

And why are there bars on one of the bedroom windows?

The perfect marriage? Or the perfect lie?
10
I wanted to continue on with the series but I always picked up another book and I don't know why because I loved the lightning thief – my brain is weird in how it works.
That is 10 of the books that I wanted to read in 2017 but never managed to get to them in time. Hopefully all these books that you see on this list will be read in 2018 as really I have no excuse.
What books were on your list? Do we have the same?
Thanks for reading