So the year is coming to an end, hasn't it flown by? I have read 71 books this year which is pretty amazing for my standards. I also started this blog this year as I wanted to write my thoughts down, discuss books and meet my fellow bookworms from around the globe
I read some pretty amazing books this year and some not so good, but we won't talk about those. I have picked my top 10! They are in no particular order but I thought they were pretty awesome.
All the synopsis listed below are from Goodreads
Wonder by R.J Palacio
You can't blend in when you were born to stand out.
My name is August. I won't describe what I look like. Whatever you're thinking, it's probably worse.

August Pullman wants to be an ordinary ten-year-old. He does ordinary things. He eats ice cream. He plays on his Xbox. He feels ordinary – inside.
But Auggie is far from ordinary. Ordinary kids don't make other ordinary kids run away screaming in playgrounds. Ordinary kids don't get stared at wherever they go.
Born with a terrible facial abnormality, Auggie has been home-schooled by his parents his whole life, in an attempt to protect him from the cruelty of the outside world. Now, for the first time, he's being sent to a real school – and he's dreading it. All he wants is to be accepted – but can he convince his new classmates that he's just like them, underneath it all?Narrated by Auggie and the people around him whose lives he touches forever, WONDER is a funny, frank, astonishingly moving debut to read in one sitting, pass on to others, and remember long after the final page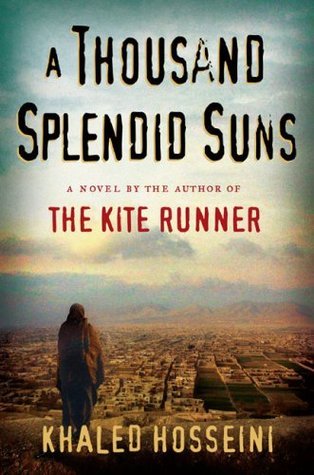 A Thousand Splendid Suns by Khaled Hosseini
Born a generation apart and with very different ideas about love and family, Mariam and Laila are two women brought jarringly together by war, by loss and by fate. As they endure the ever escalating dangers around them—in their home as well as in the streets of Kabul—they come to form a bond that makes them both sisters and mother-daughter to each other, and that will ultimately alter the course not just of their own lives but of the next generation. With heart-wrenching power and suspense, Hosseini shows how a woman's love for her family can move her to shocking and heroic acts of self-sacrifice, and that in the end it is love, or even the memory of love, that is often the key to survival.
A stunning accomplishment, A Thousand Splendid Suns is a haunting, heartbreaking, compelling story of an unforgiving time, an unlikely friendship, and an indestructible love.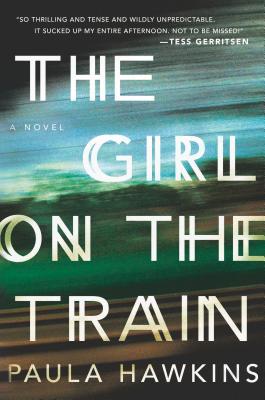 The Girl on the train by Paula Hawkins
Rachel takes the same commuter train every morning. Every day she rattles down the track, flashes past a stretch of cozy suburban homes, and stops at the signal that allows her to daily watch the same couple breakfasting on their deck. She's even started to feel like she knows them. "Jess and Jason," she calls them. Their life—as she sees it—is perfect. Not unlike the life she recently lost.
And then she sees something shocking. It's only a minute until the train moves on, but it's enough. Now everything's changed. Unable to keep it to herself, Rachel offers what she knows to the police, and becomes inextricably entwined in what happens next, as well as in the lives of everyone involved. Has she done more harm than good?
Compulsively readable, The Girl on the Train is an emotionally immersive, Hitchcockian thriller and an electrifying debut.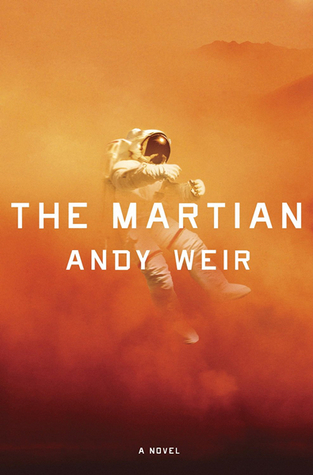 The Martian by Andy Weir
Six days ago, astronaut Mark Watney became one of the first people to walk on Mars. Now, he's sure he'll be the first person to die there.
After a dust storm nearly kills him and forces his crew to evacuate the planet w
hile thinking him dead, Mark finds himself stranded on Mars' surface, completely alone, with no way to signal Earth that he's alive — and even if he could get word out, his supplies would be gone years before a rescue could arrive.
Chances are, though, he won't have time to starve to death. The damaged machinery, unforgiving environment or plain-old "human error" are much more likely to kill him first. But Mark's not ready to quit. Armed with nothing but his ingenuity and his engineering skills — and a gallows sense of humor that proves to be his greatest source of strength – he embarks on a dogged quest to stay alive, using his botany expertise to grow food and even hatching a mad plan to contact NASA back on Earth.
As he overcomes one seemingly insurmountable obstacle after the next, Mark begins to let himself believe he might make it off the planet alive – but Mars has plenty of surprises in store for him yet.
Grounded in real, present-day science from the first page to the last, yet propelled by a brilliantly ingenious plot that surprises the reader again and again, The Martian is a truly remarkable thriller: an impossible-to-put-down suspense novel that manages to read like a real-life survival tale.
A Monster Calls by Patrick Ness
At seven minutes past midnight, thirteen-year-old Conor wakes to find a monster outside his bed
room window. But it isn't the monster Conor's been expecting — he's been expecting the one from his nightmare, the nightmare he's had nearly every night since
his mother started her treatments.
The monster in his backyard is different. It's ancient. And wild. And it wants something from Conor. Something terrible and dangerous. It wants the truth.
Eleanor and Park by Rainbow Rowell
Two misfits.
One extraordinary love.

Eleanor… Red hair, wrong clothes. Standing behind him until he turns his head. Lying beside him until he wakes up. Making everyone else seem drabber and flatter and never good enough…Eleanor.
Park… He knows she'll love a song before he plays it for her. He laughs at her jokes before she ever gets to the punch line. There's a place on his chest, just below his throat, that makes her want to keep promises…Park.
Set over the course of one school year, this is the story of two star-crossed sixteen-year-olds—smart enough to know that first love almost never lasts, but brave and desperate enough to try.
Noughts and Crosses by Malorie Blackman
Two young people are
forced to make a stand in this thought-provoking look at racism and prejudice in an alternate society.
Sephy is a Cross — a member of the dark-skinned ruling class. Callum is a Nought — a "colourless" member of the underclass who were once slaves to the Crosses. The two have been friends since early childhood, but that's as far as it can go. In their world, Noughts and Crosses simply don't mix. Against a background of prejudice and distrust, intensely highlighted by violent terrorist
activity, a romance builds between Sephy and Callum — a romance that is to lead both of them into terrible danger. Can they possibly find a way to be together?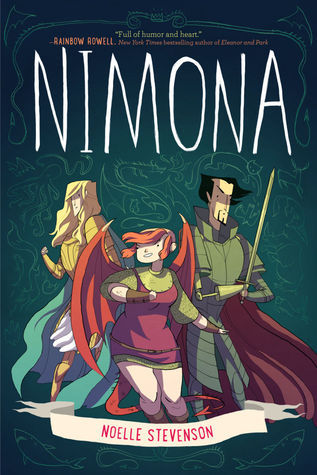 Nimona by Noelle Stevenson
The graphic novel debut from rising star Noelle Stevenson, based on her beloved and critically a
cclaimed web comic, which Slate awarded its Cartoonist Studio Prize, calling it "a deadpan epic."
Nemeses! Dragons! Science! Symbolism! All these and more await in this brilliantly subversive, sharply irreverent epic from Noelle Stevenson. Featuring an exclusive epilogue not seen in the web comic, along with bonus conceptual sketches and revised pages throughout, this gorgeous full-color graphic novel is perfect for the legions of fans of the web comic and is sure to win Noelle many new ones.
Nimona is an impulsive young shapeshifter with a knack for villainy. Lord Ballister Blackheart is a villain with a vendetta. As sidekick and supervillain, Nimona and Lord Blackheart are about to wreak some serious havoc. Their mission: prove to the kingdom that Sir Ambrosius Goldenloin and his buddies at the Institution of Law Enforcement and Heroics aren't the heroes everyone thinks they are.
But as small acts of mischief escalate into a vicious battle, Lord Blackheart realizes that Nimona's powers are as murky and mysterious as her past. And her unpredictable wild side might be more dangerous than he is willing to admit.
Fangirl by Rainbow Rowell
Cath and Wren are identical twins, and until recently they did absolutely everything together. Now they're off to university and Wren's decided she doesn't want to be one half of a pair any more – she wants to dance, meet boys, go to parties and let loose. It's not so easy for Cath. She's horribly shy and has always buried herself in the fan fiction she writes, where she always knows exactly what to say and can write a romance far more intense than anything she's experienced in real life.
Without Wren, Cath is completely on her own and totally outside her comfort zone. She's got a surly room-mate with a charming, always-around boyfriend, a fiction-writing professor who thinks fan fiction is the end of the civilized world, a handsome classmate who only wants to talk about words . . . And she can't stop worrying about her dad, who's loving and fragile and has never really been alone.
Now Cath has to decide whether she's ready to open her heart to new people and new experiences, and she's realizing that there's more to learn about love than she ever thought possible.
Into the Fire by Michele G Miller
At fifteen, an accident turned my world upside down. Scarred in every way possible, I shut dow
n, finding comfort by self-inflicting pain.
I've grown accustomed to the truths of my life, but I'm tired.
Tired of this reality…
Tired of the need…
Of the pain…
I'm weary of being this person…
Of being alone…
Though, I'm more afraid of letting someone in.
It's been five years.
Can I return home and face my fears? Overcome the pain?
It's time to find out.
For too long, the story of my life has been one of horror.
I want my fairy tale.
I want my prince, my happily ever after.
The question is, does it want me?
Let me know if you have read any of these? What's your top book of 2015? Thank you taking the time to read and  Happy New year to everyone, hope you all have an amazing 2016.