So I have made a few purchases this month and also got some review copies and wanted to share them with you!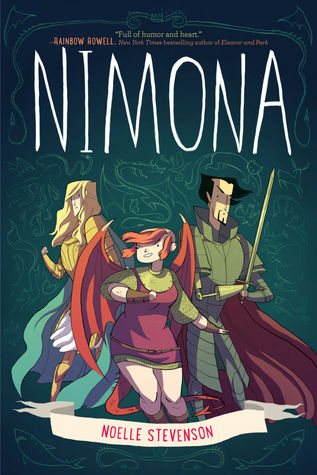 This is my most anticipated book this winter/Fall. I will probably get round to it in October,  cannot wait! Heard amazing things on Booktube and is scoring 4.10 on Goodreads.
All synopsis' are from Goodreads and are not my own.
The graphic novel debut from rising star Noelle Stevenson, based on her beloved and critically acclaimed web comic, which Slate awarded its Cartoonist Studio Prize, calling it "a deadpan epic."

Nemeses! Dragons! Science! Symbolism! All these and more await in this brilliantly subversive, sharply irreverent epic from Noelle Stevenson. Featuring an exclusive epilogue not seen in the web comic, along with bonus conceptual sketches and revised pages throughout, this gorgeous full-color graphic novel is perfect for the legions of fans of the web comic and is sure to win Noelle many new ones.

Nimona is an impulsive young shapeshifter with a knack for villainy. Lord Ballister Blackheart is a villain with a vendetta. As sidekick and supervillain, Nimona and Lord Blackheart are about to wreak some serious havoc. Their mission: prove to the kingdom that Sir Ambrosius Goldenloin and his buddies at the Institution of Law Enforcement and Heroics aren't the heroes everyone thinks they are.

But as small acts of mischief escalate into a vicious battle, Lord Blackheart realizes that Nimona's powers are as murky and mysterious as her past. And her unpredictable wild side might be more dangerous than he is willing to admit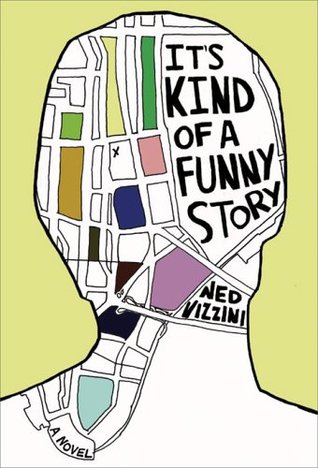 Ambitious New York City teenager Craig Gilner is determined to succeed at life – which means getting into the right high school to get into the right job. But once Craig aces his way into Manhattan's Executive Pre-Professional High School, the pressure becomes unbearable. He stops eating and sleeping until, one night, he nearly kills himself.

Craig's suicidal episode gets him checked into a mental hospital, where his new neighbors include a transsexual sex addict, a girl who has scarred her own face with scissors, and the self-elected President Armelio. There, Craig is finally able to confront the sources of his anxiety.

Ned Vizzini, who himself spent time in a psychiatric hospital, has created a remarkably moving tale about the sometimes unexpected road to happiness.
This book is a review copy from netgalley which ha recently been released with fantastic reviews.
My disease is as rare as it is famous. Basically, I'm allergic to the world. I don't leave my house, have not left my house in seventeen years. The only people I ever see are my mom and my nurse, Carla.

But then one day, a moving truck arrives next door. I look out my window, and I see him. He's tall, lean and wearing all black—black T-shirt, black jeans, black sneakers, and a black knit cap that covers his hair completely. He catches me looking and stares at me. I stare right back. His name is Olly.


Maybe we can't predict the future, but we can predict some things. For example, I am certainly going to fall in love with Olly. It's almost certainly going to be a disaster
.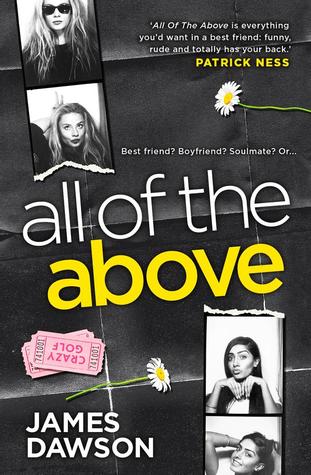 This a review copy from netgalley and has also just been released recently.
This is a funny and moving love story about friends, first loves and self-discovery by Queen of Teen 2014. When sixteen-year-old Toria Bland arrives at her new school she need
s to work out who her friends are in a crazy whirl of worry, exam pressure and anxiety over fitting in. Things start looking up when Toria meets the funny and foul-mouthed Polly, who's the coolest girl that Toria has ever seen. Polly and the rest of the 'alternative' kids take Toria under their wing. And that's when she meets the irresistible Nico Mancini, lead singer of a local band – and it's instalove at first sight! Toria likes Nico, Nico likes Toria, but then there's Polly…love and friendship have a funny way of going round in circles.
Big city, big dreams, no money, no problem…

Six 'friends', one flat, big dreams… what could go wrong? When eighteen-year-old Anna leaves school and moves to Liverpool, she feels like her life is finally beginning. She's landed her dream job at a theatre, and she's moving into an exciting (if not slightly run-down) flat on a buzzing street lined with shops, bars, and buskers. Best of all, her new flatmates are kind, welcoming and a lot of fun – what more could she ask for?

But although her new life is fun, it's also a little overwhelming. Anna's job quickly falls through, and then she realises that although her new friends are great, they're also a little mixed-up… and it's not long before Anna starts using her blog to talk about her experiences, from the hilarious to the ridiculous to the little-bit-scary. But when Anna spills a bigger secret than she can handle, suddenly the consequences are all too real. She'll have to prove she has the mettle to make it in the big city, or risk losing everything she thinks she wants.
I asked for this via Netgalley as I read Carole Matthews in the past and loved her books.
Christmas is just around the corner but the women of The Chocolate Lovers' Club have more to worry about than present shopping . . . Lucy loves running Chocolate Heaven but she hasn't spent time with her boyfriend, Aiden, in weeks. And then her ex-fiance turns up and things become even more complicated. Nadia hasn't let herself get close to a man in a long time, yet she can't help feeling drawn to Jacob. Will he be her last chance for a happy ending? Chantal and her husband, Ted, are besotted with their baby daughter Lana – but she's not sure that's enough to base a marriage on. Autumn is dealing with a tragedy that has hit too close to home. But when she doesn't get the support she needs from her fiance, will she look elsewhere for comfort? Can friendship overcome all in . . . The Chocolate Lovers' Christmas
So as you can probably tell, I do love my contemporaries but will read other genres too, let me know if you have read any of these and your thoughts, I am going to try to get most of them read in October and reviews will follow. Thanks for reading!  xxLouisexx