I have never done a library haul on my blog before and I thought this would be fun for you to see what I currently have out on loan.  The picture above is my actual library where I go quite frequently, I love going to the library and discovering hidden gems and the calmness of it all. I have to say though a lot of the books that I want to read are not available here *sadface*. However this is a very eclectic collection of books,so without further ado, here are the books.
I was shocked to see this in my library and soon as I saw it, I picked it up in an instance and now it is my possession. I have only read 'Uprooted' by Naomi Novik, I didn't love it but I didn't hate it either but this sounds really good.
Miryem is the daughter and granddaughter of moneylenders… but her father isn't a very good one. Free to lend and reluctant to collect, he has loaned out most of his wife's dowry and left the family on the edge of poverty–until Miryem steps in. Hardening her heart against her fellow villagers' pleas, she sets out to collect what is owed–and finds herself more than up to the task. When her grandfather loans her a pouch of silver pennies, she brings it back full of gold.

But having the reputation of being able to change silver to gold can be more trouble than it's worth–especially when her fate becomes tangled with the cold creatures that haunt the wood, and whose king has learned of her reputation and wants to exploit it for reasons Miryem cannot understand.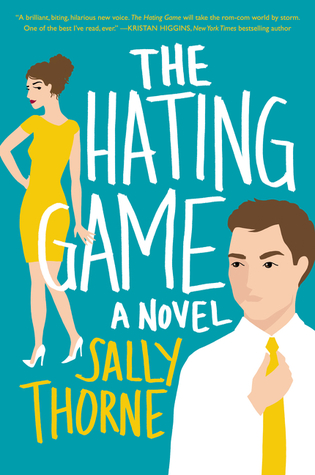 I know I have to read this as Chelsea from 'Chelseadolling reads' raves about this book and has read it numerous times and I do love contemporary books.
Nemesis (n.)
1) An opponent or rival whom a person cannot best or overcome;
2) A person's undoing;
3) Joshua Templeman.

Lucy Hutton and Joshua Templeman hate each other. Not dislike. Not begrudgingly tolerate. Hate. And they have no problem displaying their feelings through a series of ritualistic passive aggressive maneuvers as they sit across from each other, executive assistants to co-CEOs of a publishing company. Lucy can't understand Joshua's joyless, uptight, meticulous approach to his job. Joshua is clearly baffled by Lucy's overly bright clothes, quirkiness, and Pollyanna attitude.

Now up for the same promotion, their battle of wills has come to a head and Lucy refuses to back down when their latest game could cost her her dream job…But the tension between Lucy and Joshua has also reached its boiling point, and Lucy is discovering that maybe she doesn't hate Joshua. And maybe, he doesn't hate her either. Or maybe this is just another game.
I saw this in a bookstore and I am interested in reading it but I didn't actually want to buy it as it doesn't have the best reviews. These sort of books always intrigue me, probably because I am really nosey and want to know what these criminals have done and why.
Christopher Berry-Dee, criminologist and bestselling author of books about the serial killers Aileen Wuornos and Joanne Dennehy, turns his uncompromising gaze upon women who not only kill, but kill repeatedly.

Because female murderers, and especially serial murderers, are so rare compared with their male counterparts, this new study will surprise as well as shock, particularly in the cases of women like Beverley Allitt, who kill children, and Janie Lou Gibbs, who killed her three sons and a grandson, as well as her husband. Here too are women who kill under the influence of their male partners, such as Myra Hindley and Rosemary West, and whose lack of remorse for their actions is nothing short of chilling. But the author also turns his forensic gaze on female killers who were themselves victims, like Aileen Wuornos, whose killing spree, for which she was executed, can be traced directly to her treatment at the hands of men.

Christopher Berry-Dee has no equal as the author of hard-hitting studies of the killers who often walk among us undetected for many years, and who in so many cases seem to be acting entirely against their natures.
This is the second book in the 'Wait for you' series and I likes the 1st one and I read 1.5 so this is the story of another couple from the original story and I like myself some romance and these are fast, fun reads.
Teresa Hamilton is having a rough year—she's in love with her big brother's best friend, but he hasn't spoken to her since they shared a truly amazing, mind-blowing, change-your-life kiss. She got out of a terrible relationship. And now an injury is threatening to end her dance career for good. It's time for Plan B – college. And maybe a chance to convince Jase that what they have together is real.

Jase Winstead has a huge secret that he's not telling anyone. Especially not his best friend's incredibly beautiful sister. Even though he and Teresa shared the hottest kiss of his life, he knows that his responsibilities must take priority. He certainly doesn't have time for a relationship. But it doesn't help that all he can think about kissing the one girl who could ruin everything for him.

As they're thrown together more and more, Jase and Tess can't keep denying their feelings for each other. But a familiar danger looms and tragedy strikes. As the campus recovers, the star-crossed couple must decide what they're willing to risk to be together, and what they're willing to lose if they're not…
I read 'The Dolls House' which a short story collection by this author and I really liked it. I saw this and thought that it sounded really interesting and I want to read some more from her so we shall see how this goes down.
In 1965, neuroscientist Margot Sharpe meets Elihu Hoopes: the "man without a shadow," who will be known, in time, as the most-studied and most famous amnesiac in history. A vicious infection has clouded anything beyond the last seventy seconds just beyond the fog of memory.

Over the course of thirty years, the two embark on mirrored journeys of self-discovery: Margot, enthralled by her charming, mysterious, and deeply lonely patient, as well as her officious supervisor, attempts to unlock Eli's shuttered memories of a childhood trauma without losing her own sense of self in the process. Made vivid by Oates' usual eye for detail, and searing insight into the human psyche, The Man Without a Shadow is eerie, ambitious, and structurally complex, unique among her novels for its intimate portrayal of a forbidden relationship that can never be publicly revealed
I love historical fiction and witchy books so this is right up my street!
'The number of women my brother Matthew killed is one hundred and six…'

1645. When Alice Hopkins' husband dies in a tragic accident, she returns to the small Essex town of Manningtree, where her brother Matthew still lives.

But home is no longer a place of safety. Matthew has changed, and there are rumours spreading through the town: whispers of witchcraft, and of a great book, in which he is gathering women's names.

To what lengths will Matthew's obsession drive him? And what choice will Alice make, when she finds herself at the very heart of his plan?
I got this out for Halloween and it's probably Stephen King's shortest work. The blurb really sold me and then there are illustrations inside and I was sold.
The little town of Castle Rock, Maine has witnessed some strange events and unusual visitors over the years, but there is one story that has never been told… until now.

There are three ways up to Castle View from the town of Castle Rock: Route 117, Pleasant Road, and the Suicide Stairs. Every day in the summer of 1974 twelve-year-old Gwendy Peterson has taken the stairs, which are held by strong (if time-rusted) iron bolts and zig-zag up the cliffside.

At the top of the stairs, Gwendy catches her breath and listens to the shouts of the kids on the playground. From a bit farther away comes the chink of an aluminum bat hitting a baseball as the Senior League kids practice for the Labor Day charity game.

One day, a stranger calls to Gwendy: "Hey, girl. Come on over here for a bit. We ought to palaver, you and me."

On a bench in the shade sits a man in black jeans, a black coat like for a suit, and a white shirt unbuttoned at the top. On his head is a small neat black hat. The time will come when Gwendy has nightmares about that hat…
This is on my #beatthebacklist TBR and second in the series, Whilst the 1st was OK and very much a chic lit book, they are easy and fast to read and a palate cleanser when I have finished something heavy.
The feisty members of THE CHOCOLATE LOVERS' CLUB are back in a mouth-wateringly delicious new novel.

Lucy Lombard thought her 'Happily Ever After' was all sewn up when her gorgeous boss Aidan declared his love for her, but she's just caught him in bed with another woman. As always, she's not the only one with problems – Autumn's new boyfriend has yet to meet her parents, Nadia's husband swears he's given up gambling but she just can't trust him, and Chantal is hoping to save her marriage, but not in quite the way she'd expected. It's not surprising that these girls are going to need a lot of chocolate to see them through the challenges that lie ahead…
I am fascinated with the Victorian period and also what weird things that people did and got away with and this non-fiction book just seems amazing and I can't wait to read.
In 1856, a baying crowd of over 30,000 people gathered outside Stafford prison to watch the hanging of Dr. William Palmer, "the greatest villain that ever stood in the Old Bailey" as Charles Dickens once called him.

Palmer was convicted of poisoning and suspected in the murders of dozens of others, including his best friend, his wife, and his mother-in-law—and cashing in on their insurance to fuel his worsening gambling addiction. Highlighting his gruesome penchant for strychnine, the trial made news across both the Old World and the New.

Palmer gripped readers not only in Britain—Queen Victoria wrote of "that horrible Palmer" in her journal—but also was a different sort of murderer than the public had come to fear—respectable, middle class, personable—and consequently more terrifying. But as the gallows door dropped, one question still gnawed at many who knew the case: Was Palmer truly guilty?

The first major retelling of William Palmer's story in over sixty years, The Poisoner takes a fresh look at the infamous doctor's life and disputed crimes. Using previously undiscovered letters from Palmer and new forensic examination of his victims, journalist Stephen Bates presents not only an astonishing and controversial revision of Palmer's life but takes the reader into the very psyche of a killer.
I have wanted to read something by Paulo Coelho for some time and this one stood out to me and it's quite short.
Twenty-four-year-old Veronika seems to have everything she could wish for: youth and beauty, plenty of attractive boyfriends, a fulfilling job, and a loving family. Yet something is lacking in her life. Inside her is a void so deep that nothing could possibly ever fill it. So, on the morning of November 11, 1997, Veronika decides to die. She takes a handful of sleeping pills expecting never to wake up.

Naturally Veronika is stunned when she does wake up at Villete, a local mental hospital, where the staff informs her that she has, in fact, partially succeeded in achieving her goal. While the overdose didn't kill Veronika immediately, the medication has damaged her heart so severely that she has only days to live.

The story follows Veronika through the intense week of self-discovery that ensues. To her surprise, Veronika finds herself drawn to the confinement of Villete and its patients, who, each in his or her individual way, reflect the heart of human experience. In the heightened state of life's final moments, Veronika discovers things she has never really allowed herself to feel before: hatred, fear, curiosity, love, and sexual awakening. She finds that every second of her existence is a choice between living and dying, and at the eleventh hour emerges more open to life than ever before.

In Veronika Decides to Die, Paulo Coelho takes the reader on a distinctly modern quest to find meaning in a culture overshadowed by angst, soulless routine, and pervasive conformity. Based on events in Coelho's own life, Veronika Decides to Die questions the meaning of madness and celebrates individuals who do not fit into patterns society considers to be normal. Poignant and illuminating, it is a dazzling portrait of a young woman at the crossroads of despair and liberation, and a poetic, exuberant appreciation of each day as a renewed opportunity.
So there is my list of Library books, too many I know! And such a varied bunch that I have got but I want to read all of them as soon as possible. Let me know if you have read any of these and your thoughts.
Thanks for reading