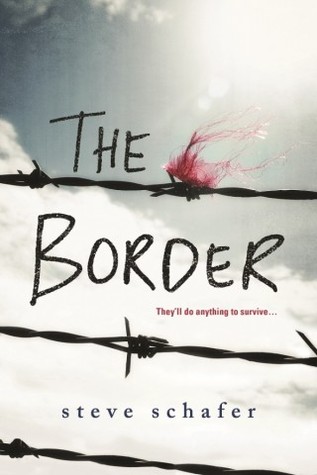 Author: Steve schafer
Publisher: Sourcebooks fire
Published: 05th September 2017
Source: Netgalley and publisher
Genre: YA,Contemporary
Date Read: 6th September 2017
Synopsis from Goodreads:
One moment changed their lives forever.

A band plays, glasses clink, and four teens sneak into the Mexican desert, the hum of celebration receding behind them.

Crack. Crack. Crack.

Not fireworks―gunshots. The music stops. And Pato, Arbo, Marcos, and Gladys are powerless as the lives they once knew are taken from them.

Then they are seen by the gunmen. They run. Except they have nowhere to go. The narcos responsible for their families' murders have put out a reward for the teens' capture. Staying in Mexico is certain death, but attempting to cross the border through an unforgiving desert may be as deadly as the secrets they are trying to escape…
My Thoughts:
*I received a copy of this book from Netgalley and the publisher in exchange for an honest review*
I was offered this from Sourcebooks fire to read, I hadn't heard anything about this book before, although this is not one of the books I would normally reach out for I thought I would read this and go out of my comfort zone. For me this a contemporary survival story following four teens on the aftermath of a massacre and their journey to America.
The story is told from Pato's point of view, he is attending his cousins Quinceanera party – which is extravagant and pretty much all the family and friends are there to attend. When the party gets too much Arbo and Pato decide to skip the party for a bit and sit in their usual star-gazing spot in the desert not too far from the house.
Everything is normal and life is great until they hear gunshots….lots of gunshots.Once the shooting has stopped they go back to the party to find the whole party dead. Unawares that the gang are still in the house the boys hold the bodies  – only to be seen and hunted down by NARCOS – the Mexican gang. Pato, Arbo, Marcos and Gladys need to cross the border to America that is the only way they will be safe – they don't go to any other relatives houses in fear of putting them at risk – this is a story that follows four individuals crossing a desert for freedom.
I liked this story, but I wasn't blown away by it.It definitely taught me how difficult it is to get across to America from Mexico and how hard it must be for people over there as the police are corrupt by gangs. It's laughable that Trump wants to build a wall on the border – I mean thousands of people die each year trying to get across and even with a wall they will still find a way to get in. For a debut novel I was pretty impressed all the characters had their own personalities, however I don't think their emotions came across in the writing very well. There is a bit of romance in this novel but it doesn't takeover the main story line.
Overall I rated this 3 out of 5 stars
Thanks for reading