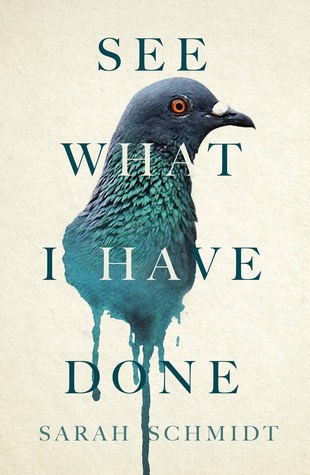 Author: Sarah Schmidt
Publisher: Grove Atlantic
Published: 01st August 2017
Genre: Historical Fiction,Mystery, Crime
Source:Netgalley and Publisher
Date read: 25th July 2017
Synopsis from Goodreads:
In this riveting debut novel, See What I Have Done, Sarah Schmidt recasts one of the most fascinating murder cases of all time into an intimate story of a volatile household and a family devoid of love.
On the morning of August 4, 1892, Lizzie Borden calls out to her maid: Someone's killed Father. The brutal ax-murder of Andrew and Abby Borden in their home in Fall River, Massachusetts, leaves little evidence and many unanswered questions. While neighbors struggle to understand why anyone would want to harm the respected Bordens, those close to the family have a different tale to tell—of a father with an explosive temper; a spiteful stepmother; and two spinster sisters, with a bond even stronger than blood, desperate for their independence.
As the police search for clues, Emma comforts an increasingly distraught Lizzie whose memories of that morning flash in scattered fragments. Had she been in the barn or the pear arbor to escape the stifling heat of the house? When did she last speak to her stepmother? Were they really gone and would everything be better now? Shifting among the perspectives of the unreliable Lizzie, her older sister Emma, the housemaid Bridget, and the enigmatic stranger Benjamin, the events of that fateful day are slowly revealed through a high-wire feat of storytelling.
"Lizzie Borden took an axe, And gave her mother forty whacks; When she saw what she had done, She gave her father forty-one,"
My Thoughts:
*I received a copy of this book from Netgalley and the Publisher Grove Atlantic in exchange for an honest review*
I do like reading Historical Fiction but even more so when the book is based on a true story. This is the story following the murders of Andrew and Abby Borden. They were found with their skulls smashed in by their daughter Lizzie.   Lizzie and Emma Borden are spinsters and still live with their father, step-mother and Bridget the maid. They seemed to have a sheltered life and been well-kept by their father.  This story delves in to the lives of the Bordens and what happened behind closed doors of this well-respected family.
I am going to be truthful and say that this book was ok but nothing really blew me away. I don't think that there was much added to this story than what you could actually read on Wikipedia. The story was repetitive, slow and didn't always hold my attention. The problem with stories like these are you know how they are going to end you don't have that thrill of finding out who done it. I liked the writing style of this book and the way she wrote Lizzie's character.
The story is told from four perspectives, Lizzie, Emma, Bridget and Benjamin.It was through them that the story was told of the events leading up to the murders and afterwards. The character that stuck out the me was Lizzie, she was spoilt, childish, rude and clearly deluded. Benjamin was the only character that was added to put a bit of a spin on the story but really didn't come to anything and a bit pointless.
How easy it was to get away with murder though in the 1800's, there was no DNA testing, no blood spatter analysis or proper interrogations in those days, yet in there were times in the story when I wanted the police to grasp onto something and for them to start piecing it altogether. Lizzie's statement of what happened was fragmented,not making sense and was taken as shock, whereas nowadays this would be deemed as suspicious behaviour and you would be arrested at the drop of a hat.
In conclusion I think this is a good debut novel by Sarah Schmidt but it didn't really bring anything new to the table.
I rated this 3 out of 5 stars
Thanks for reading