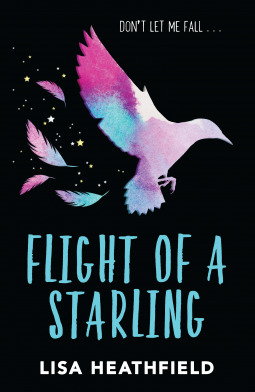 Author: Lisa Heathfield
Publisher: Electric Monkey
Published: 29th June 2017
Source: Publisher and Netgalley
Genre: YA, Contemporary
Date read: 8th July 2017
Synopsis from Goodreads:
Rita and Lo, sisters and best friends, have spent their lives on the wing – flying through the air in their trapeze act, never staying in one place for long. Behind the greasepaint and the glitter, they know that the true magic is the family they travel with.
Until Lo meets a boy. Suddenly, she wants nothing more than to stay still. And as secrets start to tear apart the close-knit circus community, how far will Lo go to keep her feet on the ground?
My Thoughts:
* I received a copy of this book from the publisher and Netgalley in exchange for an honest review*
After reading Paper Butterflies by Lisa Heathfield last year I knew that I needed to read her latest book out. Lisa is UKYA author and I don't think she gets enough credit for her work. This is another book that delivers a believable story with such rawness and emotion.
Our story follows Rita and Lo, two sisters that are travelers and the trapeze act in their circus that moves around England on a regular basis. Life is how it has always been for the girls, set up their tent, do a few shows and move on to the next village – they haven't known any other life and don't really question it. They travel with another family and it's presumed the girls will marry the boys of the other family and carry on the legacy of the circus. One evening when they explore the local area they start talking to some of the locals and sparks start to ignite between Lo and 'a flattie'(a term for non traveler folk). With Lo slowly falling in love she starts to question her life,her role and existence in the circus – with wanting her freedom she finds cracks starting to appear and her life crumbling around her.
'Flight of a Starling' didn't fail to deliver,  I knew from past works that this was going to be an emotional, gritty and raw read. Heathfield has a great writing style that manages to evoke emotions – even from me who has a heart of stone. The story is told in dual perspective, swapping from Rita to Lo with just the right sized chapters. The first half of this book is rather slow what with it building a picture of what it was like to be in a travelling community and their traditions and beliefs. I loved learning about the performances that the girls were involved in such as the trapeze and their big costumes.
I must admit that I wasn't too keen on the romance side of the book, It was lacking emotion and connection between the characters, I wanted the warm fuzziness that you get from reading about a couple that first meet, the excitement of it…which didn't happen and it's sad as it has such a big part of the story.
The second half of the book takes a change in pace, it was amazing and what really made the story for me. My heart was in my mouth and I could feel the blood pulsing around my body with anxiety. I was scared for the characters,I was hoping for a silver lining but Heathfield never shies away from her writing and sucker punches you in the gut.
I recommend if you want something gritty yet believable.
I rated this book 4 out of 5 stars
Thanks for reading.