I am going to be participating in Tome Topple Round 4 which starts on the 4th August 12am your local time and finishes 17th August at 11:59pm. This is a chance for me to get some of those massive/daunting books read. I participated last year and really enjoyed myself so I thought why not do it again. However it does overlap with #MakeMeRead readathon so I will try to hit as many challenges as possible.
So the idea is to read books that are 500+ pages that have been waiting patiently to be read and also to make it more fun there are some challenges to follow if you want.
Tome Topple was created by @thoughtsontomes.
It is co-hosted by @booklifesj, @perpetualpages, @brainsandbooks, @littlebookowl & @bibliophilicwith.
You can also find details about it by searching on twitter #TomeTopple
The Rules:
1. Read more than 1 tome
2. Read a graphic novel (that has over 500 pages)
3. Read a tome that's part of a series
4. Buddy read a tome (use Goodreads and Twitter to find buddies!)
5. Read an adult novel
My TBR:
705 pages
A blind old man, a young apprentice working in a tattoo shop, and a mad woman haunting an Ohio institute narrate this story of a family that encounters an endlessly shifting series of hallways in their new home, eventually coming face to face with the awful darkness lying at its heart.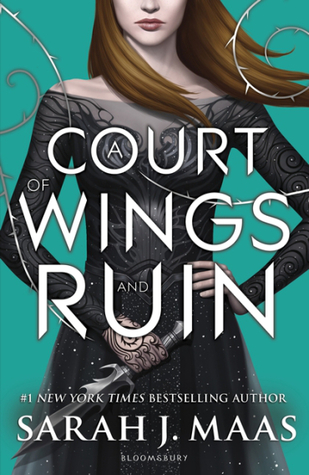 699 pages
A nightmare, I'd told Tamlin. I was the nightmare.

Feyre has returned to the Spring Court, determined to gather information on Tamlin's maneuverings and the invading king threatening to bring Prythian to its knees. But to do so she must play a deadly game of deceit—and one slip may spell doom not only for Feyre, but for her world as well. As war bears down upon them all, Feyre must decide who to trust amongst the dazzling and lethal High Lords—and hunt for allies in unexpected places.

1088 pages

Introducing the first eight volumes of the fan-favorite, New York Times Best Seller series collected into one massive paperback collection.

In a world ruled by the dead, we are forced to finally start living. With The Walking Dead #1-48, this compendium features more than one thousand pages chronicling the start of Robert Kirkman's Eisner Award-winning story of zombie horror, from Rick Grimes waking up alone in a hospital, his band of survivors seeking refuge on an isolated farm and the controversial introduction of Woodbury despot, The Governor.
So if I read these I pretty much hit all the goals except one! I need a buddy to read with. I have never done a buddy read and would love to. If there is any of my fellow book readers who want to read any of these books with me then just comment below and we will arrange a platform for discussions.
Are you doing the tome topple readathon? What's on you TBR? Does anyone fancy buddy reading with me?
Thanks for reading