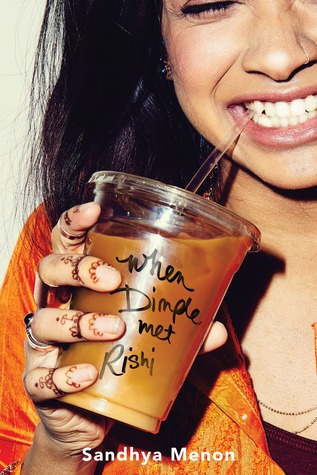 Author: Sandhya Menon
Publisher: Hodder and Stoughton
Published: 1st June 2017
Genre: YA, Contemporary.
Source: Netgalley and Publisher
Date read: 18th June 2017
Synopsis from Goodreads:
The arranged-marriage YA romcom you didn't know you wanted or needed…

Meet Dimple.

Her main aim in life is to escape her traditional parents, get to university and begin her plan for tech world domination.

Meet Rishi.

He's rich, good-looking and a hopeless romantic. His parents think Dimple is the perfect match for him, but she's got other plans…

Dimple and Rishi may think they have each other figured out. But when opposites clash, love works hard to prove itself in the most unexpected ways.

Perfect for fans of Rainbow Rowell, Jenny Han and Nicola Yoon, WHEN DIMPLE MET RISHI is a frothy, funny contemporary romance set at a coding convention in San Francisco over one exciting summer. Told from the dual perspectives of two Indian American protagonists, Dimple is fighting her family traditions while Rishi couldn't be happier to follow in the footsteps of his parents. Could sparks fly between this odd couple, or is this matchmaking attempt doomed to fail?
My thoughts:
*I received a copy of this book from Netgalley and the publisher in exchange for an honest review*
I do love myself a good YA contemporary, and this delivered. 'When Dimple met Rishi' has everything that you could want in a coming of age novel, it was diverse, there was romance, families, friendships and the difficulties of growing up.
I couldn't believe this was Sandhya Menon's debut novel as the characters felt so real and the writing was amazing.
Dimple Shah is 17 and looking forward to the prospect of college, she has enrolled for a course for computer programming and has so many ideas buzzing around her brain. Her mother has always wanted Dimple to get married and find the IIH (Ideal Indian Husband) than become a student. Dimple also wants to attend a summer camp where she can show off her programming skills and start making a name for herself, the course costs $1000 and is shocked when her parents allow her to go but what she doesn't know is that they have other plans.
Rishi Patel wants to follow in his parents footsteps with his own arranged marriage. He too is to go to the same Summer camp where he is to meet his future bride, however when they come face to face he realises that Dimple's parents have failed to mention the arrangement to her. Her future of computer programming seems to be slipping from her grasp at lightening speed.
This book was great it is told in dual perspective and the chapters are just the right length. The writing is easy to read and with the dual narrative you don't get bored.
Going in to this book I had very little knowledge of Indian culture and arranged marriages as it's not something that I have read about. This is a positive light on arranged marriages rather than the awful experiences that you hear about. I felt the impact that their culture had on these individuals to carry on with the traditions as expected of them.
I loved the characters Dimple and Rishi,they were different yet so right for each other. Dimple was head strong, determined to make a future out of something she loved and living her life as she wanted rather than expectations. She found her mother over-bearing at times as she was forceful in her suggestions. I loved that Dimple was a nerd, nowadays it's cool to be one and be different from others and I see that now that I am older but not necessarily when I was a teenager.
Rishi was adorable, he was funny,nerdy and also really talented. He wanted to please his parents by doing what they thought best in his school work but when it came to LOVE, Rishi wanted to follow his culture, have an arranged marriage and children. This was firmly his decision and he such passion when he talked about his culture and the times he visited India.
There were a couple of reasons that I didn't rate this book a 5 stars and they were; I didn't really like Ashish's storyline. The plot was a little predictable, it had great feels in the middle but then it fizzled out as I was getting frustrated with Dimples stubbornness.
This book was great it's a perfect summer/beach read, I loved the characters, the feels that I got from Menon's writing and the fulfillment of learning something new. I hope this isn't the last we see from her as she can only continue to get better.
I rated this 4 out of 5 stars
Thanks for reading