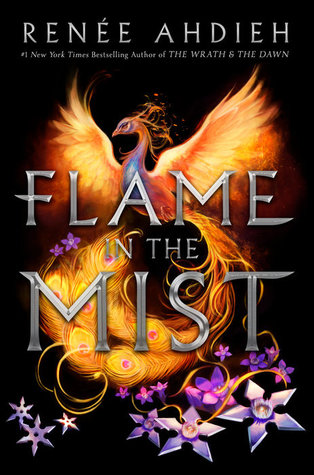 Author: Renee Ahdieh
Publisher: Hodder and Stoughton
Published: 18th May 2017
Genre: Fantasy, Young adult
Source: Netgalley and publisher
Date read: 27th May 2017
Synopsis from Goodreads:
The only daughter of a prominent samurai, Mariko has always known she'd been raised for one purpose and one purpose only: to marry. Never mind her cunning, which rivals that of her twin brother, Kenshin, or her skills as an accomplished alchemist. Since Mariko was not born a boy, her fate was sealed the moment she drew her first breath.
So, at just seventeen years old, Mariko is sent to the imperial palace to meet her betrothed, a man she did not choose, for the very first time. But the journey is cut short when Mariko's convoy is viciously attacked by the Black Clan, a dangerous group of bandits who've been hired to kill Mariko before she reaches the palace.
The lone survivor, Mariko narrowly escapes to the woods, where she plots her revenge. Dressed as a peasant boy, she sets out to infiltrate the Black Clan and hunt down those responsible for the target on her back. Once she's within their ranks, though, Mariko finds for the first time she's appreciated for her intellect and abilities. She even finds herself falling in love—a love that will force her to question everything she's ever known about her family, her purpose, and her deepest desires.
My Thoughts:
*I received a copy of this book from Netgalley and the publisher in exchange for an honest review*
This was my first time reading anything by Renee Ahdieh, as usual I do things back to front. Her Wrath and the Dawn duology has got nothing but praise so when I saw she had another book coming out I jumped at the chance to read it.I was really intrigued as I heard it was a Mulan retelling and plus the cover is absolutely stunning.
Flame in the Mist follows Mariko, she is 17 years old and is destined to marry, she has had a sheltered life and brought up for the sole purpose to marry to support his social standing. She is on her way to marry a prince from another part of Japan when her litter and convoy are attacked by the Black Clan. Mariko manages to make it out alive, instead of returning home to her family she decides to disguise herself as a boy to find out who tried to kill her and why.
I found this story hard to get into at the beginning, I wasn't totally gripped and didn't have the inclination to carry on reading. I didn't know what to expect with Renee Ahdieh's writing style but I was pleasantly surprised and she had this knack for creating an atmosphere and world building. The downfall to this book was that Mariko was a very boring character. We were told how smart she was several times but we wasn't shown. She was headstrong and knew that she was born the wrong gender to be perceived as anything other than marriage material.
I liked the romance and loved the buildup of tension between the love birds even if it did have some problems. I didn't see the twist at the end coming. This is supposed to be a fantasy but there were no fantastical creatures and very little magic involved. The Mulan retelling is 'loosely based'.
I think for me I am going to have reread this book at a later date – it didn't hold my attention enough to take a lot of it in. I still would like to read her Wrath and the Dawn duology.
I rated this 3 out of 5 stars
Thanks for reading