Top 10 Tuesday is a weekly meme hosted by The Broke and the Bookish
All you need to do is click on the link which is above – follow the weekly criteria and then link your weekly post back to the broke and the bookish…Easy!
What a great topic this week! I get to share with you some of the best books that I have read so far. Now I haven't had many 5 star reads so the majority of these reads will be a 4 + stars. It will be great to see at the end of the year if these books will make it to my top 10 reads of 2017.
She is pretty and talented – sweet sixteen and never been kissed. He is seventeen; gorgeous and on the brink of a bright future. And now they have fallen in love. But… they are brother and sister.

Seventeen-year-old Lochan and sixteen-year-old Maya have always felt more like friends than siblings. Together they have stepped in for their alcoholic, wayward mother to take care of their three younger siblings. As defacto parents to the little ones, Lochan and Maya have had to grow up fast. And the stress of their lives—and the way they understand each other so completely—has also brought them closer than two siblings would ordinarily be. So close, in fact, that they have fallen in love. Their clandestine romance quickly blooms into deep, desperate love. They know their relationship is wrong and cannot possibly continue. And yet, they cannot stop what feels so incredibly right. As the novel careens toward an explosive and shocking finale, only one thing is certain: a love this devastating has no happy ending.
So this wasn't a 2017 release but it is my favourite book of the year so far and if you have not read it yet then I highly recommend it.My review here
When Alice was a teenager, strange things started happening to her. Hours of her life simply disappeared. She'd hear voices shouting at her, telling her she was useless. And the nightmares that had haunted her since early childhood, scenes of men abusing her, became more detailed . . . more real. Staring at herself in the mirror she'd catch her face changing, as if someone else was looking out through her eyes.

In "Today I'm Alice," she describes her extraordinary journey from a teenage girl battling anorexia and OCD, drowning the voices with alcohol, to a young woman slipping further and further into mental illness. It was only after years lost in institutions that she was correctly diagnosed with multiple personality disorder. When her alternative personalities were revealed in therapy she discovered how each one had their own memories of abuse and a full picture of her childhood finally emerged. As she learned to live with her many 'alters', she set out to confront the man who had caused her unbearable pain.

Moving and ultimately inspiring, this is a gripping account of a rare condition, and the remarkable story of a courageous woman.
This was the latest book that I have finished and it was a difficult read and a very honest account of muiltple personality disorder but it truly was amazing and I don't think I have ever given a non fiction/memoir book 5 stars before. (Review to come)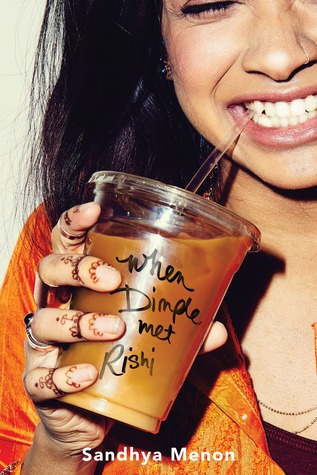 The rom-com that everyone's talking about! Eleanor & Park meets Bollywood in this hilarious and heartfelt novel about two Indian-American teens whose parents conspire to arrange their marriage.

Dimple Shah has it all figured out. With graduation behind her, she's more than ready for a break from her family, from Mamma's inexplicable obsession with her finding the "Ideal Indian Husband." Ugh. Dimple knows they must respect her principles on some level, though. If they truly believed she needed a husband right now, they wouldn't have paid for her to attend a summer program for aspiring web developers…right?

Rishi Patel is a hopeless romantic. So when his parents tell him that his future wife will be attending the same summer program as him—wherein he'll have to woo her—he's totally on board. Because as silly as it sounds to most people in his life, Rishi wants to be arranged, believes in the power of tradition, stability, and being a part of something much bigger than himself.

The Shahs and Patels didn't mean to start turning the wheels on this "suggested arrangement" so early in their children's lives, but when they noticed them both gravitate toward the same summer program, they figured, Why not?

Dimple and Rishi may think they have each other figured out. But when opposites clash, love works hard to prove itself in the most unexpected ways.
I think this is going to be on a lot of peoples lists and for good reason too, this was a great contemporary with all the feels and a great couple. (review to come)
The Heart\'s Invisible FuriesCyril Avery is not a real Avery or at least that\'s what his adoptive parents tell him. And he never will be. But if he isn\'t a real Avery, then who is he? Born out of wedlock to a teenage girl cast out from her rural Irish community and adopted by a well-to-do if eccentric Dublin couple via the intervention of a hunchbacked Redemptorist nun, Cyril is adrift in the world, anchored only tenuously by his heartfelt friendship with the infinitely more glamourous and dangerous Julian Woodbead. At the mercy of fortune and coincidence, he will spend a lifetime coming to know himself and where he came from – and over his three score years and ten, will struggle to discover an identity, a home, a country and much more. In this, Boyne\'s most transcendent work to date, we are shown the story of Ireland from the 1940s to today through the eyes of one ordinary man. The Heart\'s Invisible Furies is a novel to make you laugh and cry while reminding us all of the redemptive power of the human spirit
This was a really great read, it had me laughing out loud a lot of the time but there were also heartbreaking moments too. I absolutely loved Cyril and his awkwardness. (Review to come)
If you can't trust yourself, who can you trust?

Cass is having a hard time since the night she saw the car in the woods, on the winding rural road, in the middle of a downpour, with the woman sitting inside―the woman who was killed. She's been trying to put the crime out of her mind; what could she have done, really? It's a dangerous road to be on in the middle of a storm. Her husband would be furious if he knew she'd broken her promise not to take that shortcut home. And she probably would only have been hurt herself if she'd stopped.

But since then, she's been forgetting every little thing: where she left the car, if she took her pills, the alarm code, why she ordered a pram when she doesn't have a baby.

The only thing she can't forget is that woman, the woman she might have saved, and the terrible nagging guilt.

Or the silent calls she's receiving, or the feeling that someone's watching her…
I could not this book down – with an unreliable narrator and a murder mystery I was hooked line and sinker.My review here
Seventeen-year-old Molly Peskin-Suso knows all about unrequited love—she's lived through it twenty-six times. She crushes hard and crushes often, but always in secret. Because no matter how many times her twin sister, Cassie, tells her to woman up, Molly can't stomach the idea of rejection. So she's careful. Fat girls always have to be careful.

Then a cute new girl enters Cassie's orbit, and for the first time ever, Molly's cynical twin is a lovesick mess. Meanwhile, Molly's totally not dying of loneliness—except for the part where she is. Luckily, Cassie's new girlfriend comes with a cute hipster-boy sidekick. Will is funny and flirtatious and just might be perfect crush material. Maybe more than crush material. And if Molly can win him over, she'll get her first kiss and she'll get her twin back.

There's only one problem: Molly's coworker Reid. He's an awkward Tolkien superfan with a season pass to the Ren Faire, and there's absolutely no way Molly could fall for him. Right?
I jumped into this book not knowing what to expect, I knew readers raved about her first novel so I was keeping my fingers and toes crossed. Luckily I really enjoyed the book,I loved the characters, the representation and the references to all things nerdy.My review here
Apparently I'm boring. A nobody. But that's all about to change. Because I am starting a project. Here. Now. For myself. And if you want to come along for the ride then you're very welcome.

Bree is a loser, a wannabe author who hides behind words. Most of the time she hates her life, her school, her never-there parents. So she writes.

But when she's told she needs to start living a life worth writing about, The Manifesto on How to Be Interesting is born. Six steps on how to be interesting. Six steps that will see her infiltrate the popular set, fall in love with someone forbidden and make the biggest mistake of her life.

From the bestselling author of Soulmates comes a fearlessly frank take on school, cliques and crushes.
I really enjoyed this book,I liked the messages that it was trying to get across and the writing style that I find extremely addictive and just devour.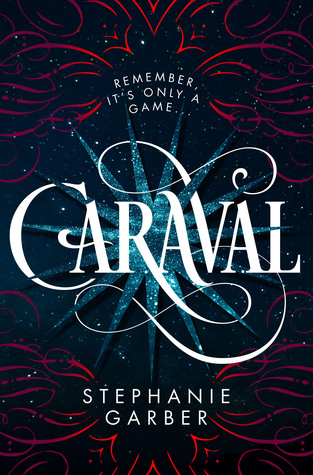 Remember, it's only a game…

Scarlett Dragna has never left the tiny island where she and her sister, Tella, live with their powerful, and cruel, father. Now Scarlett's father has arranged a marriage for her, and Scarlett thinks her dreams of seeing Caraval—the faraway, once-a-year performance where the audience participates in the show—are over.

But this year, Scarlett's long-dreamt-of invitation finally arrives. With the help of a mysterious sailor, Tella whisks Scarlett away to the show. Only, as soon as they arrive, Tella is kidnapped by Caraval's mastermind organizer, Legend. It turns out that this season's Caraval revolves around Tella, and whoever finds her first is the winner.

Scarlett has been told that everything that happens during Caraval is only an elaborate performance. Nevertheless she becomes enmeshed in a game of love, heartbreak, and magic. And whether Caraval is real or not, Scarlett must find Tella before the five nights of the game are over or a dangerous domino effect of consequences will be set off, and her beloved sister will disappear forever.

Welcome, welcome to Caraval…beware of getting swept too far away.
I got swept away in this magical book and loved the game that was of course Caraval. I also really liked Julian. I need the next one now and will be very interested how it pans out. My review here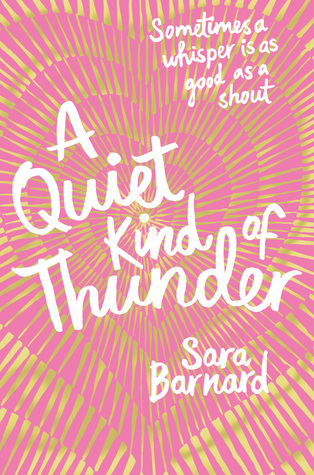 Steffi doesn't talk, but she has so much to say.
Rhys can't hear, but he can listen.
Their love isn't a lightning strike, it's the rumbling roll of thunder.

Steffi has been a selective mute for most of her life – she's been silent for so long that she feels completely invisible. But Rhys, the new boy at school, sees her. He's deaf, and her knowledge of basic sign language means that she's assigned to look after him. To Rhys, it doesn't matter that Steffi doesn't talk, and as they find ways to communicate, Steffi finds that she does have a voice, and that she's falling in love with the one person who makes her feel brave enough to use it.

From the bestselling author of Beautiful Broken Things comes a love story about the times when a whisper is as good as a shout.
Sara Barnards work just gets better, she writes about fantastic friendships but what made this book so special was the fact that she delivered a book that had great representation of the deaf community and anxiety. My review here
Only 9 books so far on the list but I am sure this will grow. Do you have any of these on your list? what's your favourite read of 2017 so far?
Thanks for reading