Author:Samantha Shweblin
Publisher: Oneworld Publications
Published: 2nd March 2017
Genre: Fiction
Source: Netgalley and Publisher
Date read: 27th April 2017
Synopsis from Goodreads:
A young woman named Amanda lies dying in a rural hospital clinic. A boy named David sits beside her. She's not his mother. He's not her child. Together, they tell a haunting story of broken souls, toxins, and the power and desperation of family.

Fever Dream is a nightmare come to life, a ghost story for the real world, a love story and a cautionary tale. One of the freshest new voices to come out of the Spanish language and translated into English for the first time, Samanta Schweblin creates an aura of strange psychological menace and otherworldly reality in this absorbing, unsettling, taut novel.
My Thoughts:
*I received a copy of this from Netgalley and the publisher in exchange for an honest review*
The title of this book is very apt – this book is like a feverish dream one that is bizaare and just doesn't make sense where anything can happen. I was instantly pulled in by the synopsis and the fact that this book has been short listed for the Man Booker Prize 2017. I wanted to see what level of writing and concepts it took to be nominated for the Man Booker.
This book was a little confusing for me, eerie and peculiar is what I felt but after finishing I sat back questioning what I had read and was not sure how to rate it. This is definitely a weird and crazy book and would be best to read in one sitting which could be done as it is only 192 pages. I think if you read this in one go uninterrupted you would feel the unease and crazyness of this short story.
I rated this 3 out of 5 stars.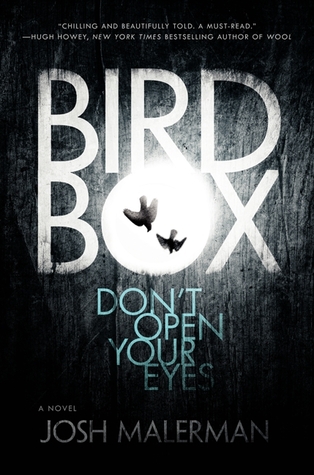 Author: Josh Malerman
Publisher: Ecco
Published: 13th May 2014
Genre: Horror
Source: Library
Date read: 26th March 2017
Synopsis from Goodreads:
Something is out there, something terrifying that must not be seen. One glimpse of it, and a person is driven to deadly violence. No one knows what it is or where it came from.

Five years after it began, a handful of scattered survivors remains, including Malorie and her two young children. Living in an abandoned house near the river, she has dreamed of fleeing to a place where they might be safe. Now that the boy and girl are four, it's time to go, but the journey ahead will be terrifying: twenty miles downriver in a rowboat–blindfolded–with nothing to rely on but her wits and the children's trained ears. One wrong choice and they will die. Something is following them all the while, but is it man, animal, or monster?

Interweaving past and present, Bird Box is a snapshot of a world unraveled that will have you racing to the final page.
My Thoughts:
I wanted to read Bird Box after hearing so many rave reviews from BookTube and the blogosphere. From what everyone was saying, I was going to be scared shitless and that was what I was hoping for but it didn't happen. This book for me has to be my most disappointing read of 2017 so far! The writing wasn't bad but I feel like this has been overhyped and my expectations were set pretty high. I suppose the reason I was disappointed with this book was because you never really get any answers and the thing that is killing people you never get to picture what it is or why it's happening. There was one small part of this book that had me scared and it was a paragraph and that was all. I thought the writing was great and I liked most of the characters but for me I needed more answers. I would also put this book as survival/post apocalyptic book rather than a horror.
I rated this 3 out of 5 stars.
Author:Holly Bourne
Publisher: Usbourne Publishing
Published: 1st August 2014
Genre: YA, Contemporary
Source: Library
Date Read: 28th March 2017
Synopsis from Goodreads:
Apparently I'm boring. A nobody. But that's all about to change. Because I am starting a project. Here. Now. For myself. And if you want to come along for the ride then you're very welcome.

Bree is a loser, a wannabe author who hides behind words. Most of the time she hates her life, her school, her never-there parents. So she writes.

But when she's told she needs to start living a life worth writing about, The Manifesto on How to Be Interesting is born. Six steps on how to be interesting. Six steps that will see her infiltrate the popular set, fall in love with someone forbidden and make the biggest mistake of her life.

From the bestselling author of Soulmates comes a fearlessly frank take on school, cliques and crushes.
My Thoughts:
This was my first Holly Bourne novel and I had had it on my TBR for ages and kicked myself for not picking it up sooner. I love YA contemporary books, I love all the feels you get and how invested you get into the story. I was surprised how much I loved this book. I liked Bree and it was interesting to see how much she developed as a character. This book showed you that you didn't need to be popular to be interesting but it also showed how uncomfortable it was trying to fit in with a crowd that is not the norm for you. It showed valuable life lessons and had really powerful messages. I would have rated this 5 stars but the ending didn't turn out as I wanted it to but I still loved it.  This book does have a teacher/student relationship, so if that's not your thing I would steer clear.
I rated this 4 out 5 stars
Author: Naomi Novik
Publisher: Macmillan
Published: 21st May 2015
Genre: Fantasy
Source: Library
Date read: 17th December 2016
Synopsis from Goodreads:
Agnieszka loves her valley home, her quiet village, the forests and the bright shining river. But the corrupted wood stands on the border, full of malevolent power, and its shadow lies over her life.

Her people rely on the cold, ambitious wizard, known only as the Dragon, to keep the wood's powers at bay. But he demands a terrible price for his help: one young woman must be handed over to serve him for ten years, a fate almost as terrible as being lost to the wood.

The next choosing is fast approaching, and Agnieszka is afraid. She knows – everyone knows – that the Dragon will take Kasia: beautiful, graceful, brave Kasia – all the things Agnieszka isn't – and her dearest friend in the world. And there is no way to save her.

But no one can predict how or why the Dragon chooses a girl. And when he comes, it is not Kasia he will take with him.
My Thoughts:
I was very apprehensive going in to this book as I have heard hit and miss reviews. There were parts of this book that I really enjoyed and some that let it down. I think all fantasy books should come with a map! I don't care if this book was set in a valley – I would still like a map to help me visualise the land and follow the characters on journeys. It took me a little while to get used to the writing style in this book.It was written in such a way that you had to take your time and not miss a word –  if you have read Laini Taylor's writing then you will probably like the style. The magic system was not very well explained and just seemed to happen conveniently. The Dragon was supposed to be this brooding handsome wizard that looks like he is in his 20's but actually like a 150 years old and just annoying. The romance was blah, there was no tension and I didn't feel any connection between the characters. There is a great friendship in this book between Agnieszka and Kasia which was one of the strongest parts. I did like the woods that were corrupted and how clever it was. This could have been an amazing book it was just underdeveloped. It would have been better as a series rather than a standalone.
I rated this 3 out of 5 stars
There is 4 mini reviews that I wanted to write about but didn't really have enough to say for individual posts.
Thanks for reading