It's nearing the end of May and I bring you another book haul. I am so sorry for the lack of posts recently but I have been doing training for my new job and just been exhausted. My reading has also taken a nose dive but it appears I can still buy books….oh no!….I seem to do that with  no problem whatsoever.
Anyway, I bought books with a voucher that I got for my birthday, I was also given a book and then the rest are from the charity shops as normal. This is what I found this month.  As normal I will link the Goodreads page to the cover so if you like the sound of it all you need to do is click on it to be forwarded. All the synopsis are from Goodreads.
Adam is a stay-at-home dad who is also working on a history of the bombing and rebuilding of Coventry Cathedral. He is a good man and he is happy. But one day, he receives a call from his daughter's school to inform him that, for no apparent reason, fifteen-year-old Miriam has collapsed and stopped breathing. In that moment, he is plunged into a world of waiting, agonising, not knowing.

The story of his life and the lives of his family are rewritten and re-told around this shocking central event, around a body that has inexplicably failed. In this exceptionally courageous and unflinching novel of contemporary life Sarah Moss goes where most of us wouldn't dare to look, and the result is riveting – unbearably sad, but also miraculously funny and ultimately hopeful.

The Tidal Zone explores parental love, overwhelming fear, illness and recovery. It is about clever teenagers and the challenges of marriage. It is about the NHS, academia, sex and gender in the twenty-first century, the work-life juggle, and the politics of packing lunches and loading dishwashers. It confirms Sarah Moss as a unique voice in modern fiction and a writer of luminous intelligence

I saw a booktuber haul this and the synopsis really intrigued me, so I am looking forward to reading this.
In a series of essays, written as a letter to his son, Coates confronts the notion of race in America and how it has shaped American history, many times at the cost of black bodies and lives. Thoughtfully exploring personal and historical events, from his time at Howard University to the Civil War, the author poignantly asks and attempts to answer difficult questions that plague modern society. In this short memoir, the "Atlantic" writer explains that the tragic examples of Michael Brown, Trayvon Martin, and those killed in South Carolina are the results of a systematically constructed and maintained assault to black people–a structure that includes slavery, mass incarceration, and police brutality as part of its foundation. From his passionate and deliberate breakdown of the concept of race itself to the importance of the Black Lives Matter movement, Coates powerfully sums up the terrible history of the subjugation of black people in the United States. A timely work, this title will resonate with all teens–those who have experienced racism as well as those who have followed the recent news coverage on violence against people of color.

I like to read non-fiction as well and I have heard non stop praise for this book and my library didn't hold it (shameful, I know) so I bought it with a birthday voucher.
Everyone knows a couple like Jack and Grace: he has looks and wealth, she has charm and elegance. You'd like to get to know Grace better. But it's difficult, because you realize Jack and Grace are never apart. Some might call this true love.

Picture this: a dinner party at their perfect home, the conversation and wine flowing. They appear to be in their element while entertaining. And Grace's friends are eager to reciprocate with lunch the following week. Grace wants to go, but knows she never will. Her friends call—so why doesn't Grace ever answer the phone? And how can she cook such elaborate meals but remain so slim?

And why are there bars on one of the bedroom windows?

The perfect marriage? Or the perfect lie?

I recently read the breakdown and loved it, so when I saw this in the charity shop I jumped at the chance.
Liz and Jonathan are in trouble.They can't sell their old house.Here they are, stuck with two mortgages, mounting debts and a miserable adolescent daughter who hadn't wanted to move anyway.Then it seems Marcus Witherstone will solve all their problems.He knows the perfect tenants from London who will rent their old house – glamorous PR girl Ginny and almost-famous Piers. Everything is going to be OK.

Or is it? As Marcus starts to become involved with Liz, while her teenage daughter develops a passion for the lodgers, it seems that some deceptions are too close to home…

A colleague gave me this book, It's a bit battered and not one that I think that I will read anytime soon but as I am a book hoarder it will go on my shelf till it's read. I borrowed her 'Me before you' so I hope I get it back in the same condition….oh the worry!!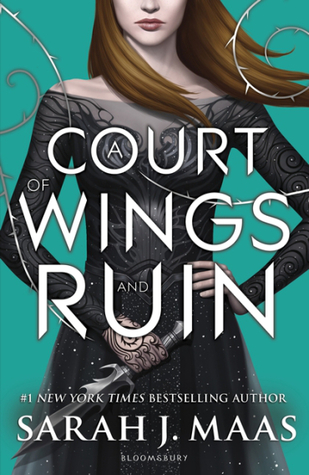 Looming war threatens all Feyre holds dear in the third volume of the #1 New York Times bestselling A Court of Thorns and Roses series.

Feyre has returned to the Spring Court, determined to gather information on Tamlin's maneuverings and the invading king threatening to bring Prythian to its knees. But to do so she must play a deadly game of deceit-and one slip may spell doom not only for Feyre, but for her world as well.

As war bears down upon them all, Feyre must decide who to trust amongst the dazzling and lethal High Lords-and hunt for allies in unexpected places.

In this thrilling third book in the #1 New York Times bestselling series from Sarah J. Maas, the earth will be painted red as mighty armies grapple for power over the one thing that could destroy them all

It will come as no surprise to you all that I pre-ordered this book and Amazon did good and actually got it to me on the day but because of my lack of reading this month I haven't got around to it.

Sixteen-year-old Starr lives in two worlds: the poor neighbourhood where she was born and raised and her posh high school in the suburbs. The uneasy balance between them is shattered when Starr is the only witness to the fatal shooting of her unarmed best friend, Khalil, by a police officer. Now what Starr says could destroy her community. It could also get her killed.

Inspired by the Black Lives Matter movement, this is a powerful and gripping YA novel about one girl's struggle for justice.

This has so much hype around it that I knew I must have it… I just hope it lives up to my expectations

Fast-paced and addictive, THE COUPLE NEXT DOOR announces a major new talent in thriller writing.

You never know what's happening on the other side of the wall.

Your neighbour told you that she didn't want your six-month-old daughter at the dinner party. Nothing personal, she just couldn't stand her crying.

Your husband said it would be fine. After all, you only live next door. You'll have the baby monitor and you'll take it in turns to go back every half hour.

Your daughter was sleeping when you checked on her last. But now, as you race up the stairs in your deathly quiet house, your worst fears are realized. She's gone.

You've never had to call the police before. But now they're in your home, and who knows what they'll find there.

What would you be capable of, when pushed past your limit?

I really liked the sound of this one… I love thrillers but this sounded a lot like the Madeleine Mcann story and that is what piqued my attention.


Feodora and her mother live in the snowbound woods of Russia, in a house full of food and fireplaces. Ten minutes away, in a ruined chapel, lives a pack of wolves. Feodora's mother is a wolf wilder, and Feo is a wolf wilder in training. A wolf wilder is the opposite of an animal tamer: it is a person who teaches tamed animals to fend for themselves, and to fight and to run, and to be wary of humans.

When the murderous hostility of the Russian Army threatens her very existence, Feo is left with no option but to go on the run. What follows is a story of revolution and adventure, about standing up for the things you love and fighting back. And, of course, wolves.

After reading an excerpt of this I knew I wanted to read it, I found this for a £1 at the charity shop in excellent condition and it's illustrated too.

Mark Schlosser is a doctor to the rich and famous. When his most famous patient, the actor Ralph Meier, invites him and his family on holiday, Marc finds that he can't refuse. But, several months later, by the time the suntans have faded, Ralph Meier is dead. The medical board accuses Marc of negligence. Ralph's wife, however, accuses him of murder…

I picked this one up on a whim as I liked the sound of it.I have not read anything by Herman Koch before so we shall see.

This version of the Bennet family and Mr. Darcy is one that you have and haven't met before: Liz is a magazine writer in her late thirties who, like her yoga instructor older sister, Jane, lives in New York City. When their father has a health scare, they return to their childhood home in Cincinnati to help and discover that the sprawling Tudor they grew up in is crumbling and the family is in disarray.

Youngest sisters Kitty and Lydia are too busy with their CrossFit workouts and Paleo diets to get jobs. Mary, the middle sister, is earning her third online master's degree and barely leaves her room, except for those mysterious Tuesday-night outings she won't discuss. And Mrs. Bennet has one thing on her mind: how to marry off her daughters, especially as Jane's fortieth birthday fast approaches.

Enter Chip Bingley, a handsome new-in-town doctor who recently appeared on the juggernaut reality TV dating show Eligible. At a Fourth of July barbecue, Chip takes an immediate interest in Jane, but Chip's friend, neurosurgeon Fitzwilliam Darcy, reveals himself to Liz to be much less charming. . . . And yet, first impressions can be deceiving

Another whim purchase but I saw someone haul it and it caught my attention.

A manga series that packs quite the punch!

Nothing about Saitama passes the eyeball test when it comes to superheroes, from his lifeless expression to his bald head to his unimpressive physique. However, this average-looking guy has a not-so-average problem—he just can't seem to find an opponent strong enough to take on! Every time a promising villain appears, he beats the snot out of 'em with one punch! Can Saitama finally find an opponent who can go toe-to-toe with him and give his life some meaning? Or is he doomed to a life of superpowered boredom?

So, I have been wanting to delve it to manga and what do you know the charity shop has some manga in store. I only bought the first as I didn't want to buy all of them if I didn't like them.

In this post-apocalytpic sci-fi story, humanity has been devastated by the bizarre, giant humanoids known as the Titans. Little is known about where they came from or why they are bent on consuming mankind. Seemingly unintelligent, they have roamed the world for years, killing everyone they see. For the past century, what's left of man has hidden in a giant, three-walled city. People believe their 100-meter-high walls will protect them from the Titans, but the sudden appearance of an immense Titan is about to change everything.

Same as above, I just wanna try out some and they were a £1 each so can't go wrong really.

My partner went to Comic Con in London yesterday and brought me home some goodies, I got the top two which are signed editions.

The Kill Screen is sci-fi/horror/thriller that explores what would happen to our world if it were infected by computer and computer game viruses. How would we all survive?

He also got me this signed, it's a platinum edition and it is number 89/100….that's true love!
So its official I need help/therapy to curb my book buying addiction. I have so many books on my TBR it's unreal but I have this urge to buy more and more. I need some rapid intervention.
Let me know if you have read any of these. What did you buy in May?
Thanks for reading