I come to you again with a large-ish book haul, because I have no self control when it comes to book buying. I think when I am stressed, I buy more books as its comforting and that's why I have ended up with hundreds of books.
I got sent an ARC, I bought 1 brand new book and 9….yes 9! second hand books (it's been a stressful month)
London, 1853.

Annie Stride is a beautiful, flame-haired young woman from the East End of London. She is also a whore. On a bleak January night Annie stands on Waterloo Bridge, watching the icy waters of the Thames writhe beneath her as she contemplates throwing herself in. At the last minute she's rescued by a handsome young man.

Her saviour, Francis Maybrick Gill, is a talented artist. He takes Annie as his muse, painting her again and again and transforming her from a fallen woman into society's darling, taking her far away from her old life.

But there is darkness underpinning Annie's lavish new lifestyle. In London and in Florence, prostitutes are being murdered. There's someone out there who knows who Annie really is – and they won't let her forget where she came from…
I received this from Hodder&Stoughton via Bookbridgr so thank you very much to them. I cannot wait to read this. I love historical fiction. This is out 18th May.
A girl named Rose is riding her new bike near her home in Deadwood, South Dakota, when she falls through the earth. She wakes up at the bottom of a square hole, its walls glowing with intricate carvings. But the firemen who come to save her peer down upon something even stranger: a little girl in the palm of a giant metal hand.

Seventeen years later, the mystery of the bizarre artifact remains unsolved—its origins, architects, and purpose unknown. Its carbon dating defies belief; military reports are redacted; theories are floated, then rejected.

But some can never stop searching for answers.

Rose Franklin is now a highly trained physicist leading a top secret team to crack the hand's code. And along with her colleagues, she is being interviewed by a nameless interrogator whose power and purview are as enigmatic as the provenance of the relic. What's clear is that Rose and her compatriots are on the edge of unraveling history's most perplexing discovery—and figuring out what it portends for humanity. But once the pieces of the puzzle are in place, will the result prove to be an instrument of lasting peace or a weapon of mass destruction?
This is going out of my comfort zone a little but I have heard great things and really excited to try it out.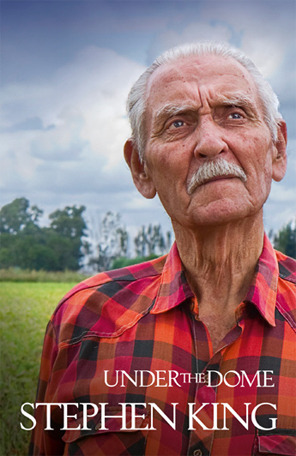 There's a reason why Stephen King is one of the best selling writers in the world ever. He knows how to write stories that suck you in and are impossible to put down. The New York Times describes it as a 'relentless tidal pull' and Stephen King has done it time and time again with stories like The Shawshank Redemption, Misery, The Green Mile and The Stand.

In Under the Dome, he has produced another riveting masterpiece. The end of every chapter hooks you into the next, drawing you inside a psychological drama that is so rich, you don't read it, you live it.

It is the story of the small town of Chester's Mill, Maine which is inexplicably and suddenly sealed off from the rest of the world by an invisible force field. No one can get in and no one can get out.

The normal rules of society are suddenly changed and when food, electricity and water run short, the community begins to crumble. As a new and more sinister social order develops, Dale Barbara, Iraq veteran, teams up with a handful of intrepid citizens to fight against the corruption that is sweeping through the town and to try to discover the source of the Dome before it is too late . . .
This is a huge book but I wanted it for my Stephen King collection that I am slowly building.
Francesca was widowed a year ago. Since then she has focused on her children, trying to soothe their grief as well as her own. Her husband and father never quite saw eye to eye but no one could have cared more for her in the past year than her close-knit family. Finally, she feels she might be ready to move on with life.

Until she is contacted out of the blue by someone who says he must get information to her. That her husband's death wasn't what it seemed. And that her family know more than they say …

Who can Francesca trust? And what will happen to her if she puts her faith in the wrong person?
Paul Beatty's The Sellout showcases a comic genius at the top of his game. A biting satire about a young man's isolated upbringing and the race trial that sends him to the Supreme Court, it challenges the sacred tenets of the United States Constitution, urban life, the civil rights movement, the father-son relationship, and the holy grail of racial equality—the black Chinese restaurant.

Born in the "agrarian ghetto" of Dickens—on the southern outskirts of Los Angeles—the narrator of The Sellout resigns himself to the fate of lower-middle-class Californians: "I'd die in the same bedroom I'd grown up in, looking up at the cracks in the stucco ceiling that've been there since '68 quake." Raised by a single father, a controversial sociologist, he spent his childhood as the subject in racially charged psychological studies. He is led to believe that his father's pioneering work will result in a memoir that will solve his family's financial woes, but when his father is killed in a police shoot-out, he realizes there never was a memoir. All that's left is the bill for a drive-thru funeral.

Fueled by this deceit and the general disrepair of his hometown, the narrator sets out to right another wrong: Dickens has literally been removed from the map to save California from further embarrassment. Enlisting the help of the town's most famous resident—the last surviving Little Rascal, Hominy Jenkins—he initiates the most outrageous action conceivable: reinstating slavery and segregating the local high school, which lands him in the Supreme Court.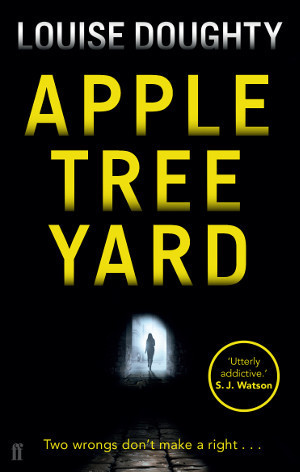 Yvonne Carmichael has worked hard to achieve the life she always wanted: a high-flying career in genetics, a beautiful home, a good relationship with her husband and their two grown-up children.

Then one day she meets a stranger at the Houses of Parliament and, on impulse, begins a passionate affair with him – a decision that will put everything she values at risk.

At first she believes she can keep the relationship separate from the rest of her life, but she can't control what happens next. All of her careful plans spiral into greater deceit and, eventually, a life-changing act of violence.

Apple Tree Yard is a psychological thriller about one woman's adultery and an insightful examination of the values we live by and the choices we make, from an acclaimed writer at the height of her powers.

Who would have guessed that four minutes could change everything?

Imagine if she hadn't forgotten the book. Or if there hadn't been traffic on the expressway. Or if she hadn't fumbled the coins for the toll. What if she'd run just that little bit faster and caught the flight she was supposed to be on. Would it have been something else – the weather over the Atlantic or a fault with the plane?

Hadley isn't sure if she believes in destiny or fate but, on what is potentially the worst day of each of their lives, it's the quirks of timing and chance events that mean Hadley meets Oliver…

Set over a 24-hour-period, Hadley and Oliver's story will make you believe that true love finds you when you're least expecting it

It was not enough. All knowledge- any knowledge – called to Faith, and there was a delicious, poisonous pleasure in stealing it unseen.

Faith has a thirst for science and secrets that the rigid confines of her class cannot supress. And so it is that she discovers her disgraced father's journals, filled with the scribbled notes and theories of a man driven close to madness. Tales of a strange tree which, when told a lie, will uncover a truth: the greater the lie, the greater the truth revealed to the liar. Faith's search for the tree leads her into great danger – for where lies seduce, truths shatter . .

Ten-year-old Jamie Matthews has just moved to the Lake District with his Dad and his teenage sister, Jasmine for a 'Fresh New Start'. Five years ago his sister's twin, Rose, was blown up by a terrorist bomb. His parents are wrecked by their grief, Jasmine turns to piercing, pink hair and stops eating. The family falls apart. But Jamie hasn't cried in all that time.

To him Rose is just a distant memory. Jamie is far more interested in his cat, Roger, his birthday Spiderman T-shirt, and in keeping his new friend Sunya a secret from his dad. And in his deep longing and unshakeable belief that his Mum will come back to the family she walked out on months ago.

When he sees a TV advert for a talent show, he feels certain that this will change everything and bring them all back together once and for all.

In a Ya-Ya Sisterhood for teens, Peaches combines three unforgettable heroines who have nothing in common but the troubles that have gotten them sentenced to a summer of peach picking at a Georgia orchard.

Leeda is a debutante dating wrong-side-of-the-tracks Rex.

Murphy, the wildest girl in Bridgewater, likes whichever side Rex is on.

Birdie is a dreamer whose passion for Girl Scout cookies is matched only by her love for a boy named Enrico.

When their worlds collide, The Breakfast Club meets The Sisterhood of the Traveling Pants in an entirely original and provocative story with a lush, captivating setting.
So if you managed to get this far, I applaud you.I am hoping to reduce my book spending in the next upcoming month… even though I have just ordered 'The hate you give' and A court of wings and ruin'
What books did you get this month? have you read any of these?
Thanks for reading