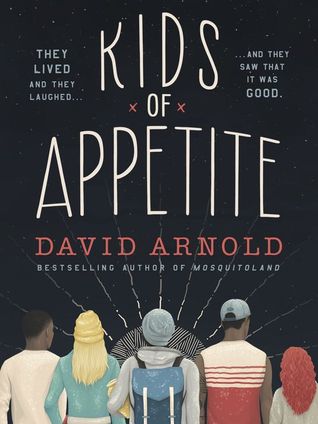 Author: David Arnold
Publisher: Headline
Published: 20th September 2016
Genre: Young-Adult, Contemporary
Source: Headline/Bookbridgr
Date read: 14th February 2017
Synopsis from Goodreads:
Victor Benucci and Madeline Falco have a story to tell.
It begins with the death of Vic's father.
It ends with the murder of Mad's uncle.
The Hackensack Police Department would very much like to hear it.
But in order to tell their story, Vic and Mad must focus on all the chapters in between.

This is a story about:

1. A coded mission to scatter ashes across New Jersey.
2. The momentous nature of the Palisades in winter.
3. One dormant submarine.
4. Two songs about flowers.
5. Being cool in the traditional sense.
6. Sunsets & ice cream & orchards & graveyards.
7. Simultaneous extreme opposites.
8. A narrow escape from a war-torn country.
9. A story collector.
10. How to listen to someone who does not talk.
11. Falling in love with a painting.
12. Falling in love with a song.
13. Falling in love.
My thoughts:
*I was kindly provided a copy of this book from Headline and Bookbridgr in exchange for an honest review*
I read David Arnold's debut novel Mosquitoland in January 2016 and have to say I was pretty impressed.It seemed he could potentially be one of my top YA contemporary authors, so to say I was anticipating this was an understatement.As soon as I found out he was working on another book I immediately added it to my TBR.
I am not going to write my own outline of this book as I think the synopsis already gives quite a lot of information away.
Unfortunately this book did not meet my expectations, the writing is still good and the topic was a standard YA contemporary but it just fell flat.
There were phrases and names in this book that were really awkward and as a reader I felt a little bit left out. Like when someone tries to tell you about a funny situation but you really had to be there….. This is this book a lot! There were phrases like 'Super Racehorse', 'frak' and 'Leaky Mug' was just mentioned way to much for my liking and I started rolling my eyes every time I read them.
I didn't really connect with any of the characters and found them precocious. They are not realistic portrayal of teens.Each of them had some sort of quirkiness about them which was great but I think it was just too much. The diversity in the book was good,it was present but not over the top.
I liked the format of this book you get lists and then there is interviews at the local Jail. We also had dual point of views which were told from Vic and Mad.
David Arnold has taken a different direction in his writing than I was expecting, if you are a John Green fan then I am sure you will love this book. David Arnold has another book coming out in 2018 that is called 'The Strange Fascinations of Noah Hypnotik' I think I will be reading reviews before I make a decision whether to read it or not.
I rated this 2.5 out of 5 stars
Thanks for reading