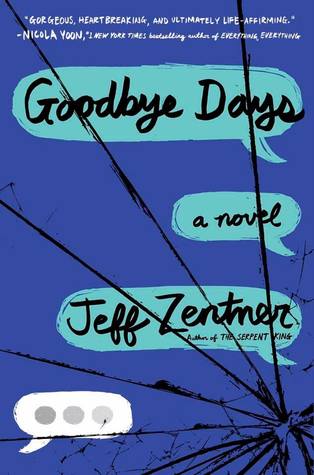 Author: Jeff Zentner
Publisher: Andersen
Published: 6th April 2017
Genre: Young-Adult, Contemporary
Source: Netgalley and Publisher
Date read: 19th March 2017
Synopsis from Goodreads:
What if you could spend one last day with someone you lost?
One day Carver Briggs had it all—three best friends, a supportive family, and a reputation as a talented writer at his high school, Nashville Academy for the Arts.
The next day he lost it all when he sent a simple text to his friend Mars, right before Mars, Eli, and Blake were killed in a car crash.
Now Carver can't stop blaming himself for the accident, and he's not the only one. Eli's twin sister is trying to freeze him out of school with her death-ray stare. And Mars's father, a powerful judge, is pressuring the district attorney to open a criminal investigation into Carver's actions.
Luckily, Carver has some unexpected allies: Eli's girlfriend, the only person to stand by him at school; Dr. Mendez, his new therapist; and Blake's grandmother, who asks Carver to spend a Goodbye Day with her to share their memories and say a proper goodbye to his friend.
Soon the other families are asking for a Goodbye Day with Carver, but he's unsure of their motives. Will they all be able to make peace with their losses, or will these Goodbye Days bring Carver one step closer to a complete breakdown or—even worse—prison?
My thoughts:
*I received a copy of this book from Netgalley and the publisher in exchange for an honest review*
Jeff Zentner has received such high praise for his debut novel 'The Serpent King' that when I saw this book I thought I would give it a shot.
The goodbye days follows Carver Briggs on the aftermath of the death of his 3 best friends. The problem is Carver has this terrible guilt hanging over him, if only he hadn't sent that text his friends might still be alive. Instead his life is turned upside down with funerals, grief,anxiety and the fact that people actually blame him for the boys deaths. He agrees to a Goodbye day in honour of his friend, doing everything they would do with his family. News starts to spread and the other families want their own goodbye days.
I enjoyed this book, it's quite nice to read a Young adult contemporary written by a male author. The majority of contemporaries I read are written by women and was just so refreshing to read something from the male perspective.
The writing in this book was really good and had no problem understanding the conversations. I like that he chose to write about this topic to make young adults aware of the dangers of using your phones whilst driving. I thought the way that he wove all the stages of grief into the book was very clever.
So I wasn't too sure about the plot, the main pointer for me was that Carver could actually go to prison for negligent homicide – contributing to his friends deaths. I don't know too much about the criminal justice system so I couldn't believe that this could really happen. It wasn't like Carver made his friends text him back. They should have had the common sense at 17 years old to maybe get a passenger to respond not the actual driver.
I liked pretty much all the characters, there were great parents, siblings, grandmothers and friendships that gave the book depth. There were no annoying tropes in this book either, so that gets a big thumbs up for me. The book had the occasional moment when Carver was having flashbacks/memories of his friends, they would say something really immature for their age and then would counteract it with something quite profound.
The reason I can't give this a higher rating than 3.5 stars is that I felt no emotional connection to the characters and got a little confused about all the boys and their family dynamics, however you do get more of an insight in to each of the boys lives and characters towards the end of the book but I just found it a little too late.
Overall this book is good and would recommend it as this seems to be getting 5 star ratings and you probably don't have a heart of stone like me.
Let me know if you think I should read 'The Serpent King'.
I rated this 3.5/5 stars
Thanks for reading