I personally think that I have done well this month, I haven't gone crazy and others bought me books too. All these books were bought second-hand costing no more than £2 per book.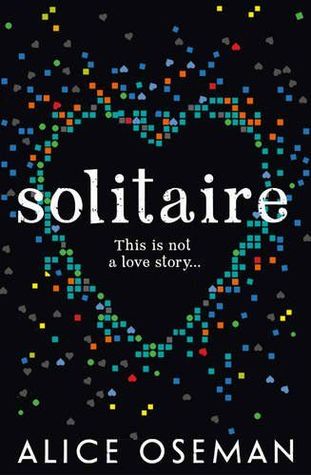 In case you're wondering, this is not a love story.

My name is Tori Spring. I like to sleep and I like to blog. Last year – before all that stuff with Charlie and before I had to face the harsh realities of A-Levels and university applications and the fact that one day I really will have to start talking to people – I had friends. Things were very different, I guess, but that's all over now.

Now there's Solitaire. And Michael Holden.

I don't know what Solitaire are trying to do, and I don't care about Michael Holden.

I really don't.
Katie's life is falling apart: her mum's controlling, her dad's run off, she's in love with someone whose identity she can't reveal and now her estranged grandmother's turned up on the doorstep and Katie's expected to take care of her. Soon Katie discovers she's not the only one in her family hiding the truth. If she's going to get her life back together, she's going to have to expose everyone's deepest secrets – including her own.
With effortless grace, celebrated author Chimamanda Ngozi Adichie illuminates a seminal moment in modern African history: Biafra's impassioned struggle to establish an independent republic in southeastern Nigeria during the late 1960s. We experience this tumultuous decade alongside five unforgettable characters: Ugwu, a thirteen-year-old houseboy who works for Odenigbo, a university professor full of revolutionary zeal; Olanna, the professor's beautiful young mistress who has abandoned her life in Lagos for a dusty town and her lover's charm; and Richard, a shy young Englishman infatuated with Olanna's willful twin sister Kainene. Half of a Yellow Sun is a tremendously evocative novel of the promise, hope, and disappointment of the Biafran war
From the bestselling author of The Husband's Secret comes a compelling story where nothing is as simple as it seems.

Seventy-three years have passed since sisters Rose and Connie Doughty found an abandoned baby in the only other house on their little island, Scribbly Gum. And since then the 'Munro Baby Mystery' has brought them fame and fortune.

But now, with Connie dead and newcomer Sophie Honeywell inheriting her home, and everyone around them tirelessly trying to solve the mystery, Rose begins to wonder if they made the right decision all those years ago. How much longer they can cover up the truth behind the mystery that has sustained their community for four generations? And what other secrets might be revealed?
Northern California, during the violent end of the 1960s. At the start of summer, a lonely and thoughtful teenager, Evie Boyd, sees a group of girls in the park, and is immediately caught by their freedom, their careless dress, their dangerous aura of abandon. Soon, Evie is in thrall to Suzanne, a mesmerizing older girl, and is drawn into the circle of a soon-to-be infamous cult and the man who is its charismatic leader. Hidden in the hills, their sprawling ranch is eerie and run down, but to Evie, it is exotic, thrilling, charged—a place where she feels desperate to be accepted. As she spends more time away from her mother and the rhythms of her daily life, and as her obsession with Suzanne intensifies, Evie does not realize she is coming closer and closer to unthinkable violence, and to that moment in a girl's life when everything can go horribly wrong
In the frigid pre-dawn hours, in a distressed Midwestern city, hundreds of desperate unemployed folks are lined up for a spot at a job fair. Without warning, a lone driver plows through the crowd in a stolen Mercedes, running over the innocent, backing up, and charging again. Eight people are killed; fifteen are wounded. The killer escapes.

In another part of town, months later, a retired cop named Bill Hodges is still haunted by the unsolved crime. When he gets a crazed letter from someone who self-identifies as the "perk" and threatens an even more diabolical attack, Hodges wakes up from his depressed and vacant retirement, hell-bent on preventing another tragedy.

Brady Hartfield lives with his alcoholic mother in the house where he was born. He loved the feel of death under the wheels of the Mercedes, and he wants that rush again.

Only Bill Hodges, with a couple of highly unlikely allies, can apprehend the killer before he strikes again. And they have no time to lose, because Brady's next mission, if it succeeds, will kill or maim thousands.

Mr. Mercedes is a war between good and evil, from the master of suspense whose insight into the mind of this obsessed, insane killer is chilling and unforgettable.

I got this book from Hodder and Stoughton but I didn't realise that this is the sixth book in a series *doh*

The last 2 books my dad bought me from a book fete/thing that he went to. He asked me for my wishlist to see if he could get any. Neither of these books are on the list. Bless him.

I also received an E-ARC from the author to read this which comes out on 25th April.

Set in a futuristic London in a world ravaged by war, Walking Barefoot explores the life of Will, past and present. The cocksure eighteen year old who, in a bid to find himself, goes travelling and the city-living adult, who despite his well paid job, upper quadrant apartment and sexy girlfriend, struggles to be happy. When nightmares begin to haunt his sleeping and waking life Will is unsure whether he is suffering from the illness that killed his father or being led by unseen forces to uncover a city-wide conspiracy. As his paranoia heightens he must ask himself – is he willing to lose himself to find the truth?
It's quite a random selection of books but the great thing is that these were all relatively cheap or I got given them.
My fiance bought be a bookcase while I was away for the weekend, and I am so bloody happy…..over a BOOKCASE! I don't know how to organise my shelves. Should I organise by colour? Authors? Genre? How have you guys organised yours?
Thanks for reading