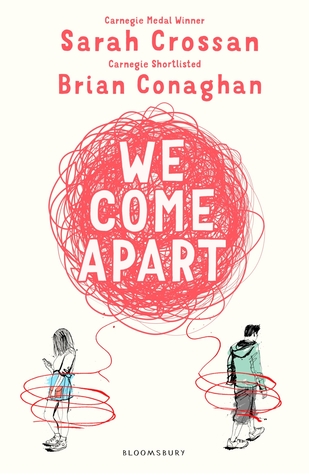 Authors: Sarah Crossan and Brian Conaghan
Publisher: Bloomsbury Children's
Published: 9th February 2017
Source: Netgalley and publisher
Genre: YA, Contemporary
Date read: 11th February 2017
Synopsis from Goodreads:
From two acclaimed authors comes an emotional story told in verse about friendship, love, and overcoming unbeatable odds.
Authors Brian Conaghan and Sarah Crossan have joined forces to tell the story of Nicu and Jess, two troubled teens whose paths cross in the unlikeliest of places.
Nicu has emigrated from Romania and is struggling to find his place in his new home. Meanwhile, Jess's home life is overshadowed by violence. When Nicu and Jess meet, what starts out as friendship grows into romance as the two bond over their painful pasts and hopeful futures. But will they be able to save each other, let alone themselves?
For fans of Una LaMarche's Like No Other, this illuminating story told in dual points of view through vibrant verse will stay with readers long after they've turned the last page.
My thoughts:
*I received a copy of this book from Netgalley and the publishers in exchange for an honest review*
This book was one of my most anticipated books of 2017 and couldn't wait to get my hands on it. Sarah Crossan is a magnificent writer and I love that she writes her stories in verse. In this book Sarah Crossan is collaborating with Brian Conaghan the author of The Bombs That Brought Us Together and When Mr Dog Bites.
The story follows Nicu and Jess, two unlikely friends that meet at a youth reform course for being caught shoplifting. Nicu has recently emigrated to the UK from Romania and struggling to be accepted, whilst Jess lives at home with her mother and abusive step father and wants to get away.
This book was told in dual perspective, I am presuming from reading Sarah's other books that she wrote Jess and Nicu was written by Conaghan, I enjoyed that It was written in verse and made it a quick enjoyable read. Nicu's character is written in broken English which I thought was a cool idea but I felt that the two characters didn't connect very well as their voices were so different.
There were some really powerful messages in this book E,g how difficult it can be for immigrants to accepted, having to learn a new language and way of life. The most astonishing part of this was how the teachers treated Nicu.Due to his limited English and them having no idea of the curriculum over in Romania, he was put in the lowest classes and not even assessed as to how much he knew. The saddest part was that the teachers would never engage with him,I just wanted to give the poor boy a hug.
Jess' mother is in an abusive relationship, she starts stealing and acting out at school, when she makes friends with Nicu it's only at the youth reform group, even though he goes to her school. When they start becoming closer Jess is witness to the bullying that Nicu endures on a daily basis and starts standing up for him even if it is against her so-called friends.
Nicu is a more memorable character than Jess and you will become very fond of him due to everything he goes through, but both characters have great development. This book deals with topics such as bullying, domestic violence and gangs.
Crossan always manages to incorporate prevalent issues that are happening in the world today such as Brexit and racism. If you enjoyed One or The Weight of Water by Sarah Crossan then you will certainly enjoy this.
I rated this 3 out of 5 stars.