Now I am not going to make a massive TBR this month as well it's the shortest month of the year and I am going to visit my parents during the month…as it's my Birthday month. I had a really good reading month in January and hope to continue as I am two books ahead on my Goodreads goal.
Currently reading:
I started reading this in January and only 25% of the way through it, I am just not sure about it at the moment. This is my first book for #beatthebacklist.
It's hard enough being gay in high school, but Fay must also deal with hiding his magical ability—powers he barely understands and cannot possibly reveal. His best friend Sam is his only confidante, and even with her help, Fay's life is barely tolerable.

Everything changes when Janus University, a college for individuals with magical capabilities, discovers the pair. When the university sends a student to test them, Fay and Sam, along with their classmate Tyler, are catapulted headfirst into a world of unimaginable danger and magic. Fay and Tyler begin to see each other as more than friends while they prepare for the Trials, the university's deadly acceptance process. For the first time, the three friends experience firsthand how wonderful and terrible a world with magic can be, especially when the source of Fay's power turns out to be far deadlier than anyone imagined.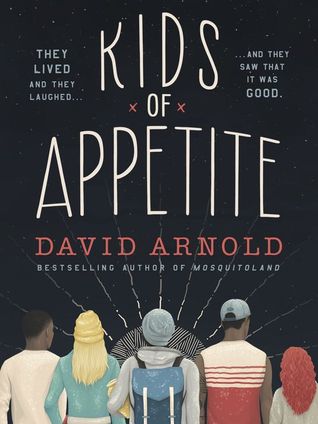 I only on page 47 of this book that I received from Bookbridgr and the publisher.I am not sure about it yet. But the formats it uses and the writing style is quick to read.
The bestselling author of Mosquitoland brings us another batch of unforgettable characters in this tragicomedy about first love and devastating loss.

Victor Benucci and Madeline Falco have a story to tell.
It begins with the death of Vic's father.
It ends with the murder of Mad's uncle.
The Hackensack Police Department would very much like to hear it.
But in order to tell their story, Vic and Mad must focus on all the chapters in between.

This is a story about:

1. A coded mission to scatter ashes across New Jersey.
2. The momentous nature of the Palisades in winter.
3. One dormant submarine.
4. Two songs about flowers.
5. Being cool in the traditional sense.
6. Sunsets & ice cream & orchards & graveyards.
7. Simultaneous extreme opposites.
8. A narrow escape from a war-torn country.
9. A story collector.
10. How to listen to someone who does not talk.
11. Falling in love with a painting.
12. Falling in love with a song.
13. Falling in love.
Other books I plan on reading:
A charming, clever, and quietly moving debut novel of of endless possibilities and joyful discoveries that explores the promises we make and break, losing and finding ourselves, the objects that hold magic and meaning for our lives, and the surprising connections that bind us.

Lime green plastic flower-shaped hair bobbles—Found, on the playing field, Derrywood Park, 2nd September.

Bone china cup and saucer—

Found, on a bench in Riveria Public Gardens, 31st October.Anthony Peardew is the keeper of lost things. Forty years ago, he carelessly lost a keepsake from his beloved fiancée, Therese. That very same day, she died unexpectedly. Brokenhearted, Anthony sought consolation in rescuing lost objects—the things others have dropped, misplaced, or accidently left behind—and writing stories about them. Now, in the twilight of his life, Anthony worries that he has not fully discharged his duty to reconcile all the lost things with their owners. As the end nears, he bequeaths his secret life's mission to his unsuspecting assistant, Laura, leaving her his house and all its lost treasures, including an irritable ghost.

Recovering from a bad divorce, Laura, in some ways, is one of Anthony's lost things. But when the lonely woman moves into his mansion, her life begins to change. She finds a new friend in the neighbor's quirky daughter, Sunshine, and a welcome distraction in Freddy, the rugged gardener. As the dark cloud engulfing her lifts, Laura, accompanied by her new companions, sets out to realize Anthony's last wish: reuniting his cherished lost objects with their owners.

Long ago, Eunice found a trinket on the London pavement and kept it through the years. Now, with her own end drawing near, she has lost something precious—a tragic twist of fate that forces her to break a promise she once made.

As the Keeper of Lost Objects, Laura holds the key to Anthony and Eunice's redemption. But can she unlock the past and make the connections that will lay their spirits to rest?

Full of character, wit, and wisdom, The Keeper of Lost Things is heartwarming tale that will enchant fans of The Particular Sadness of Lemon Cake, Garden Spells, Mrs Queen Takes the Train, and The Silver Linings Playbook.
John Green meets Rainbow Rowell in this irresistible story of first love, broken hearts, and the golden seams that put them back together again.

Henry Page has never been in love. He fancies himself a hopeless romantic, but the slo-mo, heart palpitating, can't-eat-can't-sleep kind of love that he's been hoping for just hasn't been in the cards for him—at least not yet. Instead, he's been happy to focus on his grades, on getting into a semi-decent college and finally becoming editor of his school newspaper. Then Grace Town walks into his first period class on the third Tuesday of senior year and he knows everything's about to change.

Grace isn't who Henry pictured as his dream girl—she walks with a cane, wears oversized boys' clothes, and rarely seems to shower. But when Grace and Henry are both chosen to edit the school paper, he quickly finds himself falling for her. It's obvious there's something broken about Grace, but it seems to make her even more beautiful to Henry, and he wants nothing more than to help her put the pieces back together again. And yet, this isn't your average story of boy meets girl. Krystal Sutherland's brilliant debut is equal parts wit and heartbreak, a potent reminder of the bittersweet bliss that is first love.

From two acclaimed authors comes an emotional story told in verse about friendship, love, and overcoming unbeatable odds.

Authors Brian Conaghan and Sarah Crossan have joined forces to tell the story of Nicu and Jess, two troubled teens whose paths cross in the unlikeliest of places.

Nicu has emigrated from Romania and is struggling to find his place in his new home. Meanwhile, Jess's home life is overshadowed by violence. When Nicu and Jess meet, what starts out as friendship grows into romance as the two bond over their painful pasts and hopeful futures. But will they be able to save each other, let alone themselves?
For fans of Una LaMarche's Like No Other, this illuminating story told in dual points of view through vibrant verse will stay with readers long after they've turned the last page.
Hopefully I will manage to read all these this month, I can't make any promises though. What are you reading in February? Any of the same books as me?
Thanks for reading