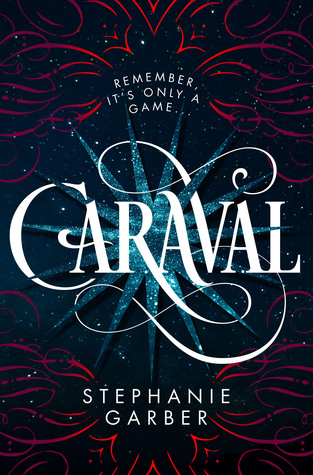 Author: Stephanie Garber
Publisher: Hodder and Stoughton
Published: 31st January 2017
Genre: Fantasy
Source:Netgalley
Date read: 21st January 2017
Synopsis from Goodreads:
Whatever you've heard about Caraval, it doesn't compare to the reality. It's more than just a game or a performance. It's the closest you'll ever find to magic in this world . . .
Welcome, welcome to Caraval―Stephanie Garber's sweeping tale of two sisters who escape their ruthless father when they enter the dangerous intrigue of a legendary game.
Scarlett has never left the tiny island where she and her beloved sister, Tella, live with their powerful, and cruel, father. Now Scarlett's father has arranged a marriage for her, and Scarlett thinks her dreams of seeing Caraval, the far-away, once-a-year performance where the audience participates in the show, are over.
But this year, Scarlett's long-dreamt of invitation finally arrives. With the help of a mysterious sailor, Tella whisks Scarlett away to the show. Only, as soon as they arrive, Tella is kidnapped by Caraval's mastermind organizer, Legend. It turns out that this season's Caraval revolves around Tella, and whoever finds her first is the winner.
Scarlett has been told that everything that happens during Caraval is only an elaborate performance. But she nevertheless becomes enmeshed in a game of love, heartbreak, and magic with the other players in the game. And whether Caraval is real or not, she must find Tella before the five nights of the game are over, a dangerous domino effect of consequences is set off, and her sister disappears forever.
My thoughts:
*I received a copy of this book from Netgalley and the Publisher in exchange for an honest review*
This book has been receiving a lot of hype over the past few months as being a young adult version of the Night Circus but personally I think it's better as it has the right mix of great writing and brilliant plot. This book deserves all that hype and more. The book was fantastic and utterly mesmerizing and hard to believe this is Stephanie Garbers debut novel.
The story follows two young sisters Scarlett and Donatella who live on an island in the middle of nowhere. For years and years Scarlett has always wanted 'Caraval' to visit the island of Trisda, she has been writing to 'The Legend' for years with no avail.
7 years on she receives a letter inviting her and her sister to play Caraval in a far off land that they have never heard of…not only that but their father (Governor of the island) will never let them go and if he catches them there will be major consequences.
I have so much praise for this book, I loved the world building in this book, I felt I was alongside Scarlett going through all the motions, it was very atmospheric and fantastical. The characters were great, really fleshed out and complex. Scarlett is an amazing protagonist, she is cautious, loyal and will do anything for her sister Donatella. The love interest was fantastic and a slow burn, there was no insta-love here. Julian has now become a new book crush for me, he was perfect and everything you would want in a love interest.  The writing was really great,so easy to read and quick but also descriptive/atmospheric. The imagination of 'Caraval' was expertly put together and I never saw the twist coming and the ENDING!!! OMG! I need to next book now.
I recommend this to anyone that likes fantasy or circuses and if you were a fan of the Night Circus then you will love this and the cover is just stunning.
This book will truly play with your mind.
I rated this 4.75 out of 5 stars
Thanks for reading