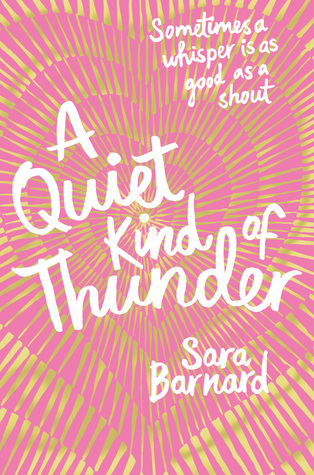 Author: Sara Barnard
Publisher: Macmillan Children's Books
Published: 12th January 2017
Genre: Young – adult, Contemporary
Source: Netgalley and Macmillan
Date read: 9th January 2017
Synopsis from Goodreads:
Steffi doesn't talk, but she has so much to say.
Rhys can't hear, but he can listen.
Their love isn't a lightning strike, it's the rumbling roll of thunder.
Steffi has been a selective mute for most of her life – she's been silent for so long that she feels completely invisible. But Rhys, the new boy at school, sees her. He's deaf, and her knowledge of basic sign language means that she's assigned to look after him. To Rhys, it doesn't matter that Steffi doesn't talk, and as they find ways to communicate, Steffi finds that she does have a voice, and that she's falling in love with the one person who makes her feel brave enough to use it.
My thoughts:
I have been anticipating this book for months and couldn't wait to read it. I read Beautiful Broken Things last year and really enjoyed Sara Barnard's style of writing and how she captures teenage relationships/friendship perfectly. This book is exceptional and has blown Beautiful Broken Things out of the water.
Steffi has a condition called selective mutism, crippling shyness and anxiety, this has been her life since she can remember. Unable to find the words to communicate to people at school or in public has left her somewhat lonely especially as her best friend has left to attend a different college.
Rhys is the new guy starting at Windham sixth form, Rhys is deaf, as Steffi knows British Sign Language (BSL) they are introduced and  Steffi is to be his guide for the time being until he gets to know his way around.
Being thrusted into Rhys' world, Steffi finds another way of communicating and starts to embrace her problems head on and starts to realise she has so many possibilities out there….one of them being LOVE!
There was just so many aspects of this book that I loved for example; this is the best interpretation of anxiety I have read about in YA fiction. There is a part in the book where you get to witness Steffi's thought process when she is anxious and it was spot on and I could really empathise with her. I also appreciated the fact that Sara Barnard didn't use the popular trope of 'anxiety being cured because of a boy'.
'I don't want a boy to be the reason I get better, what would that say about me if it is?'
I was so glad that this young girl despite her anxiety and mutism was really level-headed and wanted the change to be her doing. The topic of medication comes up several times and not once was it put in a negative light. I think anyone that suffers with anxiety will find this book relatable and show non sufferers just how much anxiety takes over your life.
The relationships in this book are freaking awesome, the family relationship was great,I loved the dynamics of the family and the different roles in which they played. The friendship between Steffi and Tem was really relatable, with them sharing gossip and worries about boys. There were so many emotional moments in this book, that had me turning the pages wanting more. The relationship between Steffi and Rhys was brilliant and cute and all things fluffy and the development is fantastic.
This book is so diverse, what with mental health, POC and disability, it was so beautifully written and had a perfect blend of them all that nothing was overshadowed.
This book is really easy read and uses different formats such as IM's and text messages between Steffi, Rhys and Tem. There are also some lists which makes it much more fun to read.
This is a wonderful coming of age story with tons of diversity and a realistic portrayal of mental health and relationships.
I rated this 4.5/5 stars
*I received a copy of this book from Netgalley and the publisher in exchange for an honest review*