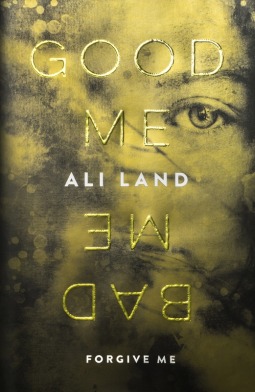 Author: Ali Land
Publisher: Michael Joseph
Expected publication: 12th January 2017
Genre: Psychological Thriller
Source: Netgalley and publisher
Date Read: 3rd January 2017
Synopsis from Goodreads:
SET TO BE ONE OF THE MOST EXTRAORDINARY, CONTROVERSIAL AND EXPLOSIVE DEBUTS OF 2017 – for fans of quality psychological suspense and reading group fiction: once you read this book you'll want to talk about it.
'NEW N A M E .
NEW F A M I L Y.
S H I N Y.
NEW.
ME . '
Annie's mother is a serial killer.
The only way she can make it stop is to hand her in to the police.
But out of sight is not out of mind.
As her mother's trial looms, the secrets of her past won't let Annie sleep, even with a new foster family and name – Milly.
A fresh start. Now, surely, she can be whoever she wants to be.
But Milly's mother is a serial killer. And blood is thicker than water.
Good me, bad me.
She is, after all, her mother's daughter…
My Thoughts:
*I received a copy of this book from Netgalley and the publisher in exchange for my honest opinion*
Good Me, Bad Me is Ali Land's debut novel and predicted to be one of 2017's popular/most hyped books on the market and will appeal to anyone that loves a dark and thrilling read. I can see this will definitely be a book club pick for a lot of people as there is a lot to discuss which we will get to later.
Our story follows 15-year-old Annie or should I say Milly. Annie is under witness protection with a new identity known as Milly. Milly's mother is a murderer and awaiting trial for killing 9 children and her face is all over the newspapers and TV as being this horrendous human being. Along with Milly's new identity comes a new foster family, new school, new friends and a chance to start afresh. Milly's foster family are rather dysfunctional with Phoebe the daughter who takes an instant disliking of Milly, Saskia the mentally unstable mother and then there is Mike her psychologist who is trying to hold everything together. Phoebe being the popular girl at school makes it very awkward for Milly to make new friends and will go out of her way to make Milly's life as miserable as possible.Throughout the book we discover how much abuse Milly has been through and what she witnessed when she was living with her mother and how her upbringing has shaped/influenced her.
I liked this book but it had its flaws. I felt that the author played it safe on this novel, I wanted the story to be more gritty, darker and more thrilling. The story is told from Milly's perspective which I enjoyed and I appreciated it when she was thinking about her mother it was like she was talking to the reader which made it feel eerie. What I think would have been great would have been some other perspectives such as Mike and Phoebe's just to break it up a bit and to come from a different angle,It would have been nice to their thought process. Also I wanted more of a back story, this was just glanced upon and felt that it could have been so much better, as in reasons why the mother killed all those children and also the back story of Saskia and Phoebe's relationship which once again was only touched upon. For me a truly great novel is when an author covers all aspects and doesn't leave me questioning things at the end.
I didn't feel any connection with Milly, there is something about her that didn't make me feel an empathy for, she is a smart young girl that has had a traumatic upbringing and wants to move on with her life but there was just something stopping me from liking her which I can't explain.
I did like the psychological aspects of this book in that we see how much of an impact years of abuse has had on Milly. The way she feels guilt,self harms and still yearns for her mother was definitely well written.
The relationship or lack of between Milly and Phoebe felt very realistic and could see how hard it was for both of the girls.
Ali Lands writing is very enjoyable to read and is a page turner alright but there were some parts in the dialogue that got a little confusing and wasn't sure who was saying what.
Overall this book is dark, twisted and powerful read that will keep you gripped and  turning those pages until you have devoured it in one sitting, This is a really good debut novel and will read future work from Ali Land.
I rated this 3.5/5 stars
Thanks for reading