Author: Anna Mazzola
Publisher: Tinder Press
Published: 14th July 2016
Genre: Historical Fiction
Source: Tinder Press and Bookbridgr
Date read: 11th November 2016
Synopsis from Goodreads:
Set in London in 1837, Anna Mazzola's THE UNSEEING is the story of Sarah Gale, a seamstress and mother, sentenced to hang for her role in the murder of Hannah Brown on the eve of her wedding. Perfect for any reader of Sarah Waters or Antonia Hodgson.

'A twisting tale of family secrets and unacknowledged desires. Intricately plotted and extremely convincing in its evocation of the everyday realities of 1830s London, this is a fine first novel' – The Sunday Times
After Sarah petitions for mercy, Edmund Fleetwood is appointed to investigate and consider whether justice has been done. Idealistic, but struggling with his own demons, Edmund is determined to seek out the truth. Yet Sarah refuses to help him, neither lying nor adding anything to the evidence gathered in court. Edmund knows she's hiding something, but needs to discover just why she's maintaining her silence. For how can it be that someone would willingly go to their own death?
My thoughts:
Firstly I would like to thank Tinder Press and Bookbridgr for sending me a copy of this book to review.
I am a lover of Historical fiction especially Victorian London so when I read the synopsis of 'The Unseeing' I knew I had to read it. This is Anna Mazzola's debut novel and I can tell you it certainly delivered.
The year is 1837 and Sarah Gale is sentenced to be hung, she is believed to have aid and abet James Greenacre in the death of Hannah Brown. Sarah Gale was having an on/off relationship with Greenacre and living with him in his home until he met Hannah. Hannah Brown was a spinster with a bit of money and business's in her possession,until her body parts were found randomly around London.Greenacre a conniving man that he is only wanted Hannah for her money and threw Sarah out a few days before Christmas. A few days after Christmas Hannah Brown is gone and Sarah Gale is back in Greenacre's bed. Sarah is adamant that she knows nothing about the disappearance or death of Hannah Brown, but no-one believes her.
Sarah Gale and a Women's institute have requested Sarah to be pardoned as she is to be hung but is adamant she knows nothing. Edmund Fleetwood has been assigned the case, his job is to see if she will talk or if there is any new evidence. This is one of the most spoken about cases of the time and this could be the career break that Edmund needs, however Sarah Gale is still adamant that she knows nothing. Can this meek, pale women really be involved in a murder?
This book was amazing, I felt like I had been transported to London in 1837. The writing was so atmospheric, the descriptions of the sounds, the streets and the way the characters spoke just blew me away, and it was consistent throughout the book. The Unseeing is a slow burn book that drip feeds you information slowly and you start piecing it together like a jigsaw puzzle. I was definitely hooked and needed to know how Hannah had come to be in pieces around London and what was going to happen to Sarah. There is a twist and I didn't see it coming whatsoever and was left shocked for some time.
This book is based on a true crime that happened in 1837 and is known as the Edgeware Murder. Sarah Gale and John Greenacre are the names of the actual people involved and the court scripts can be seen at the Old Bailey website.  You can definitely tell that the Mazzola had knowledge of the justice system as it was very well researched. I loved that Mazzola managed to make a fictional book out of a true crime and it makes it even more intriguing to read. It does make you think of how the justice system failed a lot of people back in Victorian times.
I will definitely be reading anything else Anna Mazzola release and recommend this book you are interested true crime and historical fiction.
I rated this 4 out of 5 stars
About Anna Mazzola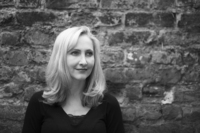 Anna studied English at Pembroke College, Oxford, before becoming a criminal justice solicitor. She lives in Camberwell, London, with two small children, two cats and one husband.