Author: Kiersten White
Publisher: Corgi
Published: 7th July 2016
Genre:Historical Fiction, Re-telling,YA
Source: Won on Goodreads
Date read: 10th October 2016
Synopsis from Goodreads:
No one expects a princess to be brutal. And Lada Dragwyla likes it that way.
Ever since she and her brother were abandoned by their father to be raised in the Ottoman sultan's courts, Lada has known that ruthlessness is the key to survival. For the lineage that makes her and her brother special also makes them targets.
Lada hones her skills as a warrior as she nurtures plans to wreak revenge on the empire that holds her captive. Then she and Radu meet the sultan's son, Mehmed, and everything changes. Now Mehmed unwittingly stands between Lada and Radu as they transform from siblings to rivals, and the ties of love and loyalty that bind them together are stretched to breaking point.
The first of an epic new trilogy starring the ultimate anti-princess who does not have a gentle heart. Lada knows how to wield a sword, and she'll stop at nothing to keep herself and her brother alive.
My Thoughts:
I was meant to write this review yesterday, however my laptop had other ideas and decided to do a massive update…thanks for that Microsoft!
First I would like to say a massive thank you to Goodreads as I won myself a copy on one of their giveaways( Aren't they great!)
And I Darken is a new Historical fiction/Re-telling of Vlad the Impaler but gender swapped. Goodreads have it listed as being a fantasy, but there is no magic or any paranormal goings on whatsoever…glad we got that cleared up.
Our story follows Ladislav (Lada) and Radu Dragwyla the descendants of Vlad Dracul, Prince of Wallachia.  Vlad is a vile human being and uses his own children for bargaining with the Ottoman Empire, there lives are at risk if he does not keep to the treaties terms.  Living in the Ottoman Empire is risky for Lada and Radu, Lada could easily be married off to some suitor for allegiance or killed whichever is easier for the Sultan. Running the grounds they bump into a young boy the same age as them, only to find that he is the Sultan's son Mehmed. Mehmed is a lonely boy with only his tutors for company so he befriends them both and shares all his education and time with them, which in turn takes them out of the spotlight.
Lada is a very strong character, she is a force to be reckoned with. She is brutal,fierce and just a total badass throughout the book. Being born a woman is one almighty struggle to be taken seriously in the 1400's. She knows that she is the rightful heir of Wallachia at the young age of 11. She wants to impress her father with her fighting skills and there is a point when she thinks she has, but the only thoughts her father has is marrying her off to a suitor and being a dutiful wife. Lada is very family orientated and has a very unique relationship with her brother Radu but she will never show any emotion as this is a sign of weakness and she is perceived as a cold-hearted bitch.
Radu was always a disappointment to his father, weak,cowardly and clinging to his nursemaids side infuriated Vlad. Radu was the more emotional of siblings, even though he was not great at fighting he had a devious and cunning mind that made him equally as dangerous as Lada.
My feelings towards the characters changed a lot throughout the book at first I thought Lada was just a psychotic child but realised she is trying to prove herself as being fierce. Radu he was very sweet throughout the book and always wanted his sister to just open up and tell him she loved him and for him to tell her his secrets and feelings. The main point is that they are flawed and this is what makes characters great.
Mehmed just annoyed me and he got in the way of Lada's plans.
The book does contain romance, a love triangle where no one expresses their love for anyone as they are too scared of the consequences or that it will stop them from their goals in life. So the romance is frustrating to say the least.
This book has a lot of political intrigue,so be prepared for wars,treaties,soldiers and their ranks. This is Historical fiction but as in the author's notes at the end it is not accurate and a lot is made up. Religion is also touched upon, mostly Islam with Christianity but it's not too in your face or info dumping.  The book is nearly 500 pages long! I felt it could have been shorter. I enjoyed the relationship between Radu and Lada,it was a very different set-up from what we are used to. This did take me a little longer to read as in places it was very slow and I found myself getting bored.
This book covers themes such as sibling rivalry, relationships, families,  romance, feminism, sexism and politics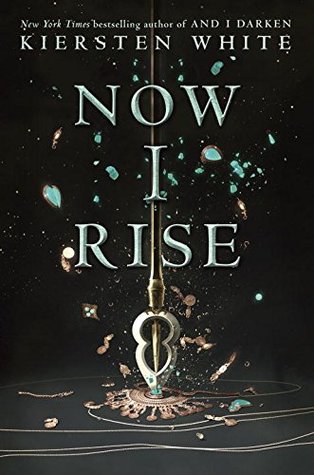 Now I Rise is the second installment of the And I Darken saga which is due to be released in June 2017 which I will be reading as I am interested in what is going to happen next with Lada.
Overall I rated this 3.5 out of 5 stars