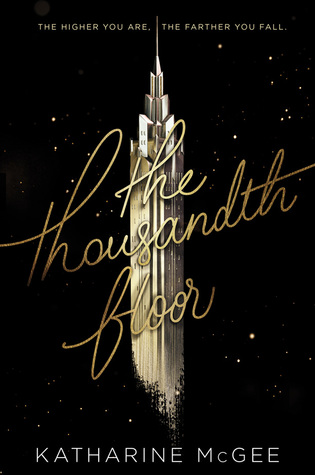 Author: Katharine McGee
Publisher: Harper Collins
Published: 30th August 2016
Genre: YA, Dystopian
Source: Netgalley and Publisher
Date read: 24th September 2016
Synopsis from Goodreads:
NEW YORK CITY AS YOU'VE NEVER SEEN IT BEFORE.
A thousand-story tower stretching into the sky. A glittering vision of the future where anything is possible—if you want it enough.
WELCOME TO MANHATTAN, 2118.
A hundred years in the future, New York is a city of innovation and dreams. Everyone there wants something…and everyone has something to lose.
LEDA COLE's flawless exterior belies a secret addiction—to a drug she never should have tried and a boy she never should have touched.
ERIS DODD-RADSON's beautiful, carefree life falls to pieces when a heartbreaking betrayal tears her family apart.
RYLIN MYERS's job on one of the highest floors sweeps her into a world—and a romance—she never imagined…but will this new life cost Rylin her old one?
WATT BAKRADI is a tech genius with a secret: he knows everything about everyone. But when he's hired to spy for an upper-floor girl, he finds himself caught up in a complicated web of lies.
And living above everyone else on the thousandth floor is AVERY FULLER, the girl genetically designed to be perfect. The girl who seems to have it all—yet is tormented by the one thing she can never have.
Amid breathtaking advancement and high-tech luxury, five teenagers struggle to find their place at the top of the world. But when you're this high up, there's nowhere to go but down….
My thoughts:
*I received a copy of this book from Netgalley and the publisher in exchange for an honest review*
The Thousandth floor by Katharine McGee is her debut novel and also the first in a young adult/dystopian trilogy of forbidden love, deception, blackmail and secrets.
The year is 2118 and we follow 5 young teenagers that live in the tower with 1000 floors. The tower is pretty much the whole of Manhattan under one roof, the lower levels being the slums of society to the top being the almighty rich, it is complete with everything and is an exact copy of how the city used to be. The five teenagers we follow Leda, Avery,Eris, Rylin and Watt are all enjoying themselves by partying, shopping, etc etcetera, they all have secrets and their lives become tangled like they never expected.
Avery, lives on the 1000th floor and is ridiculously rich, even so her parents had her genes modified before she was born to make her perfect! There are things that are not quite so perfect in her life that she wants no-one to know not even her parents.
Leda is Avery's best friend and also in love with Atlas (Avery's brother). She has an addiction, she is obsessive and happy to blackmail her way through life.
Rylin, she lives on the lower levels on the towers. Trying to hold down a job and look after her sister she unexpectedly gets a job on the upper floors as a cleaner but her life gets messier than anticipated.
Eris, another close friend of Avery's has some distressing news that leaves her family in upheaval and she has to move to the lower floors. With her identity crisis and too ashamed to admit her fall in status she hides from her friends but in doing so,finds love.
Watt is a hacker also living on the lower floors and will carry out illegal jobs to save enough money for college. His hacking is not the only illegal thing that he has to worry about.
This book was interesting in how each of our characters lives intertwined and when the drama unfolded it got really good. You find out at the start that a girl has plunged to her death (not a spoiler) this had me guessing the whole way through. I have heard this book is a comparison to  Gossip girls or Pretty little liars, having not seeing either of the shows I am presuming they are pretty much the same as this.
What I really enjoyed in this book was the world building, it actually felt like this could be a possibility, they had restaurants, parks, aquariums and Nightclubs all under one roof. Also there were technology that only the richer people could afford and the lower levels were using out of date tech stuff.
The only thing I didn't like about the book was the high usage of drugs
The last 10% was very interesting and definitely had me wanting to read the next book as there were things that made me want more and to find out what is going on.
This book was over 400+ pages and quite long for a YA book, I think it could have been shorter. It is mostly just drama and relationships set in the future.
I would recommend this book if you like, YA, drama and love triangles.
I rated this 3.5 stars