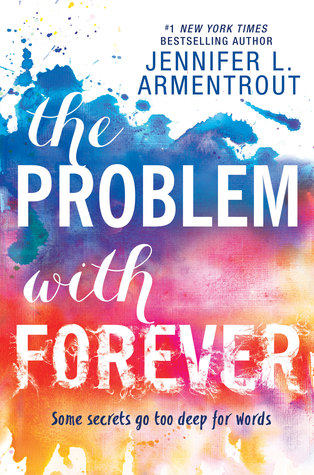 Author: Jennifer L. Armentrout
Publisher: Mira Ink
Published: 17th May 2016
Genre: YA, Contemporary and Romance
Source: Netgalley and Mira Ink
Date read:26th June 2016
*I received a copy of this book from Netgalley and Mira Ink in exchange for an honest review*
Synopsis from Goodreads:
For some people, silence is a weapon. For Mallory "Mouse" Dodge, it's a shield. Growing up, she learned that the best way to survive was to say nothing. And even though it's been four years since her nightmare ended, she's beginning to worry that the fear that holds her back will last a lifetime.
Now, after years of homeschooling with loving adoptive parents, Mallory must face a new milestone—spending her senior year at public high school. But of all the terrifying and exhilarating scenarios she's imagined, there's one she never dreamed of—that she'd run into Rider Stark, the friend and protector she hasn't seen since childhood, on her very first day.
It doesn't take long for Mallory to realize that the connection she shared with Rider never really faded. Yet the deeper their bond grows, the more it becomes apparent that she's not the only one grappling with the lingering scars from the past. And as she watches Rider's life spiral out of control, Mallory faces a choice between staying silent and speaking out—for the people she loves, the life she wants, and the truths that need to be heard.
"Forever was something we all took for granted, but the problem with forever was that it really didn't exist."
My thoughts:
I have really wanted to read something by Jennifer L Armentrout for a while, one being the lux series that I have heard a lot of people in the blogosphere rave about. I wasn't expecting to like this book as much as I did! Your probably think I say that for all the books I read, but I try not to set expectations too high. This book was addictive, I managed to read 70% of it in one day and stayed up until the early hours of the morning just so I could finish it, even though I knew I was going to be sooo tired for work the next day.
Mallory Dodge hasn't had the easiest start in life, she grew up in Foster homes and some that were pretty awful, so much that she becomes withdrawn and the only way to keep herself safe and  from drawing attention to herself is to remain as quiet as a 'Mouse'. Until one horrific incident she manages to escape the horrific abuse that she was subjected to and adopted by Carl and Rosa two doctors that treated her but she will forever be scarred mentally and physically. Mallory is returning to a state school after being home schooled for the previous 4 years and somewhat apprehensive. Being silent has held Mallory back and she needs to start getting on with her life and one is to start socializing with people her own age and building her confidence, otherwise she fears she will be this way forever.
All is going well on her first day, well she hasn't spoken to anyone but at least she is at school which is a big tick in the box. One of her classes is speech, one of the hardest lessons for her to overcome. She spots a boy who feels familiar to her, but it couldn't be, could it? When the boy seats himself next to her in speech she is shocked, the boy is Rider Stark…. her best friend from when she was in the foster home, her saviour and protector, one that experienced all those awful things with her, he knows her like no-one else. With emotions and feelings about Rider all over the place, her foster parents not happy with his sudden appearance and what it will mean, Mallory has to break the silence to save everything.
OK! I need to start off with the cover, how beautiful is this book and the colours? This would instantly draw me in and buy it, you can just tell its contemporary. This book a massive 480 pages and there wasn't a dull moment. This is such an emotional story, there is swoon worthy romance with a hot guy, there are sad times and times when my heart was racing because I was scared for Mallory and Rider, what would happen to them both.
Mallory's character was amazing with so much development, she was such a different girl at the finish and I was overcome with pride as of how well she had managed and grew. She is a likeable character always trying to please everyone, she is shy and timid making you really feel for her.
Rider, he is Mallory's protector and he always will be. It's what he knows best. He skips class to make sure Mallory is not alone at lunch, he doesn't do much when he does attend his lessons but he is an artist (not to him). He is so caring and like perfect boyfriend material it was impossible not to swoon.
Some could say the romance was a bit insta-lovey but for me it wasn't. They hadn't seen each other in 4 years and they were reconnecting wanting to get to know each other again and find out how life has been since they last saw each other. But their friendship was totally different from 4 years ago, and they both knew it. There was an attraction that wasn't there before.
Throughout the story Mallory has flashbacks to when she was younger and the abuse(physically and verbally) that herself and Rider were subjected to and what lead to the incident. It shows how Rider cared for Mallory and how there pasts had shaped the people they had become.
I really liked most of the side characters in this book, there was Ainsley which was Mallory's best friend outside of school. Hector and Jayden were cheeky chappies who Rider lived with. Paige and Carl I didn't really warm to but I think that's mainly because they were getting in the way of Mallory's happiness .
This story is addictive, beautiful and heart warming, I enjoyed every page and would definitely recommend it.
I rated this 4 out of stars