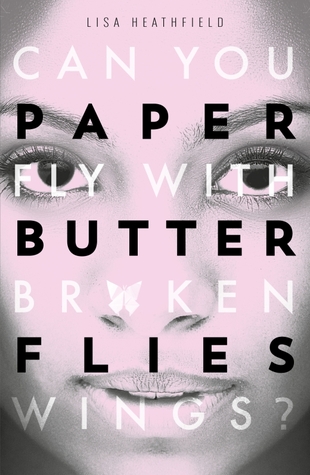 Author: Lisa Heathfield
Publisher: Electric Monkey
Expected Publication: 30th June 2016
Source: Netgalley and publisher
Date read: 6th June 2016
Pages: 320
Synopsis from Goodreads:
June's life at home with her stepmother and stepsister is a dark one – and a secret one. She is trapped like a butterfly in a net.
But then June meets Blister, a boy in the woods. In him she recognises the tiniest glimmer of hope that perhaps she can find a way to fly far, far away from her home and be free. Because every creature in this world deserves their freedom . . . But at what price?
Paper Butterflies is an unforgettable read, perfect for fans of Jennifer Niven, Jandy Nelson, Sarah Crossan and Louise O'Neill. (less)
My thoughts:
I wasn't expecting to enjoy this book as much as I did! I have never read anything by Lisa Heathfield before but I will definitely seeking out her other book ' Seed'. This story was harrowing and definitely difficult to read at times but addictive and I managed to read this in one sitting. This is one of those books that you can't put down and continue to read till the early hours of the morning.
Paper Butterflies follows June, June is 11 years old and living with her father, step mother and step sister. To the neighbours they are just another normal family but behind closed doors it's a different matter entirely. June's stepmother is abusive, mentally and physically and even encourages her daughter to do the same. June tries to speak out to her father, but he thinks she is just having trouble settling into life after her mother's death and adjusting to the new family members. June meets a boy in the local woods whilst riding her bike, Blister is his name and he is charming,non-judgemental and a perfect best friend. With Blister on her side will she be able to spread her wings and fly? will she finally speak out?
Paper butterflies is  told from an 11-year-old, increasing to a teenagers  POV of the abuse she went through and trying to accept the life she was dealt, and also has alternating chapters from the present day. June is of mixed race and finds herself in an all white family after the death of her mother and feels that she doesn't belong not only because of her colour but because of her evil step – mother.
June was such a likeable character, the way she was reliving  the scenes of abuse was harrowing and I just wanted to comfort her and tell her it would be alright and encourage her to speak out. I wanted her to tell someone, anyone, for someone to pull her out of her miserable existence. The abuse that June is subjected to is shocking and Lisa Heathfield does not hold back, even when it becomes uncomfortable to read.
Blister is the boy June meets in the woods,I loved his character, he is sweet,caring and has a knack of making things out of paper. He hides out in some desolate caravans and there the two of them forge a friendship. Blisters life is so different from June's and when she is around them she feels free to be herself.
Lisa Heathfield's writing is so strong and powerful, it's addictive and certainly packs a punch. This book is an emotional rollercoaster involving, child abuse,coming of age, love, friendship and forgiveness. This book left me feeling hopeful and that there are friends who will be with you  through thick or thin.
I recommend this book to anyone that reads YA.
Overall I rated this 4 out of 5 stars