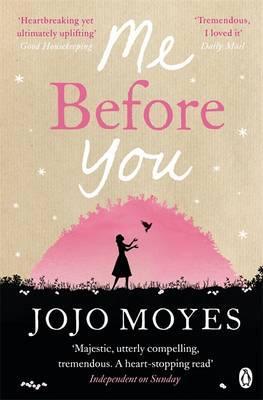 Author: Jojo Moyes
Publisher: Penguin/Michael Joseph
Published:5th January 2012
Genre: Romance, contemporary, Women's Literature
Source: Owned
Date read: 13th May 2016
Synopsis from Goodreads:
Lou Clark knows lots of things. She knows how many footsteps there are between the bus stop and home. She knows she likes working in The Buttered Bun tea shop and she knows she might not love her boyfriend Patrick.
What Lou doesn't know is she's about to lose her job or that knowing what's coming is what keeps her sane.
Will Traynor knows his motorcycle accident took away his desire to live. He knows everything feels very small and rather joyless now and he knows exactly how he's going to put a stop to that.
What Will doesn't know is that Lou is about to burst into his world in a riot of colour. And neither of them knows they're going to change the other for all time.
My thoughts:
This book has all the feels and is just all round fantastic, in my eyes this book was faultless!
Lou Clark has recently just lost her job and is in desperate need to find an alternative to be able to pay rent and help support her sister, nephew and grandfather. Lou hasn't got many skills listed on her CV after working at the 'Buttered Bun' so it's difficult to find a job in the small village with decent pay. When her job seeker advises her a position has just come up for a carer/assistant for a paraplegic, Lou is hesitant, she hasn't the faintest idea if she could do this job and concerned about having to help people to the toilet. Incredibly Lou manages to get the job, and is introduced to Will Traynor. Will is paralysed from the waist down with limited use of his hands and Lou's job is to help him eat, drink and to just keep him company. With Will grieving for the life he used to have and Lou being a happy-go-lucky sort of gal, they begin to change each others lives in ways they did not expect.
I will start off with the characters, they were great, equally complex and just all round enjoyable to read about. Lou was just brilliant with her quirky dress code and very British humour. She made me laugh quite a lot during this book especially when she felt awkward and would say stupid things.  I loved Will, yeah he was brooding and foreboding but who wouldn't be if they were put in that situation. Will was very humourous, he was very witty and sarcastic and matched Lou, between them they had some amazing banter that just made me smile throughout this book. The one character who I didn't particularly like was Patrick, Patrick is Lou's boyfriend, they have been together for years and it seems they have settled into a somewhat comfortable relationship, maybe too comfortable. Patrick is obsessed with doing a triathlon/marathon, he is constantly training, Lou is always working so they don't see much each other but what makes him unlikable is his jealousy and that he takes Lou for granted.
This book has one of the best family dynamics I have ever read and I really really loved it. Lou lives with her mum, Dad,Sister, Nephew and Grandad. The interactions between them all were so realistic and relatable and the reasons for them living the way they were is how a lot of families live nowadays. I will keep saying this but everything about the family was so British and I loved it.It made me feel proud to be British….. I dunno why but it just did.
The book is told mainly from Lou's perspective, however you do get a chapter or two from alternative POV's such as Camilla (Will's mother) and I really appreciated it, however I enjoyed Lou so much that I didn't want the other perspective. If Jojo hadn't of done this I would probably be writing how much I would have liked an alternative POV. (Sometimes you just can't win).
Jojo Moyes certainly opened my eyes to how people with spinal cord injuries live and how inadequate they must feel, especially as Will had such a fulfilling job and enjoyed life to the full before his accident.
The book is packed full of emotions, you had the whole awkwardness, the sarcasm and laughs. Banter between the characters and also there were sad moments and I never NEVER! cry at books. But Jojo Moyes broke me and she did the impossible…. she made me cry!  It's all down to her fantastic storytelling, character development and great writing. The book is quite big (pagewise) but due to Moyes writing style it's a really fun, quick and easy read.
The Movie! Will I be seeing it? I am not sure! I don't want it to be really crap and let me down. I watched the trailer and I am just not sure about the cast! When I look at Lou I will always be thinking Daenerys and I pictured Will being more attractive…..more like Patrick Dempsey (even though he is probably too old for the role) The other question that needs to be answered is, Will I be reading the sequel 'After you'? Again I don't know! I have heard that it's not as good and also I don't want anything to spoil my view of this book. Let me know if any of you have read after you and if it's worth it. I will be looking into Jojo Moyes other books. I would give this book all the stars in the world I absolutely loved it.
I recommend this to anyone.
Overall I rated this 5 out of 5 stars