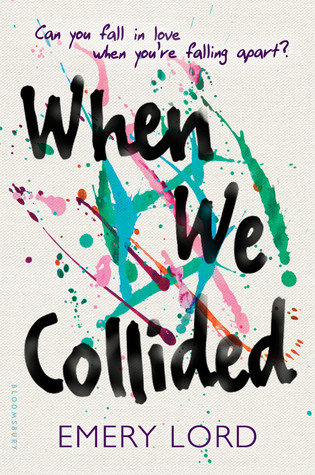 Author: Emery Lord
Publisher: Bloomsbury
Publication date: April 5th 2016
Genre: YA,Contemporary, Mental Health
Source: Netgalley and publisher
Date read: 28th April 2016
**I received a copy of this book from Netgalley and the publishers in exchange for an honest opinion**
Synopsis from Goodreads
We are seventeen and shattered and still dancing. We have messy, throbbing hearts, and we are stronger than anyone could ever know…
Jonah never thought a girl like Vivi would come along.
Vivi didn't know Jonah would light up her world.
Neither of them expected a summer like this…a summer that would rewrite their futures.
In an unflinching story about new love, old wounds, and forces beyond our control, two teens find that when you collide with the right person at just the right time, it will change you forever.
My thoughts:
Vivi arrives at Verona Cove for the summer holidays with her mum, after a few days of being in this little town she manages to snag herself a cushy little job in a pottery shop. Vivi is an extrovert, she will speak to anyone and everyone wants to be around her, she has this infectious personality and she certainly makes no exceptions when Jonah walks into the shop with his little sister. Jonah is 17 and a permanent resident at Verona Cove, however his life has been tipped upside down in the last 6 months and has become a responsible guardian to his three younger siblings while his mother is suffering from depression. Vivi and Jonah start hanging out together and become more than just friends. Vivi shows Jonah how to live like a teenager again with her wild antics and enthusiasm for life, however Jonah knows that Vivi has suffered, he has seen the scars.
This book was ok, I had problems with it though. I didn't like Vivi whatsoever she was too flouncy, her personality was too much and the crap she came out with, such as Jonah used to be a pirate in his past life just had me rolling my eyes. There is also a serious case of insta – love in this book, as soon as Vivi sets eyes on Jonah  she has to have him! urgh! There was no build up or tension between the two of them and the romance seemed a little forced and too heavy on Vivi's side.
The mental health issues in this book were depicted really well, you could definitely tell through Vivi's character that she was suffering and it was told in such an honest and respectful way. Even when Jonah is trying to come to terms that his mother is suffering from Depression or Ellie when she talks about her brothers stay in the psychiatric ward and recovery.
Jonah is one of six children in his household, for the past 6 months him and his two older siblings have been looking after 'the littles' (his 3 younger siblings) whilst his mother is battling depression. He is also trying to work his shifts at the restaurant and continue his dad's legacy. He has no time to be a teenager, like playing baseball or worrying about homework.  I love that he is a foodie, I want him to cook for me everyday as the food sounded divine.
When we collided is told in dual POV alternating from Vivi and Jonah, I would have like some other point of views in this like Vivi's mum and Jonah's siblings. The writing was good and even poetic in some parts. I think this book was a really good for people wanting to read about mental illness but I feel the romance wasn't really necessary.
I recommend this book if you are interested in YA with mental health.
Overall I rated this 3 out of 5 stars