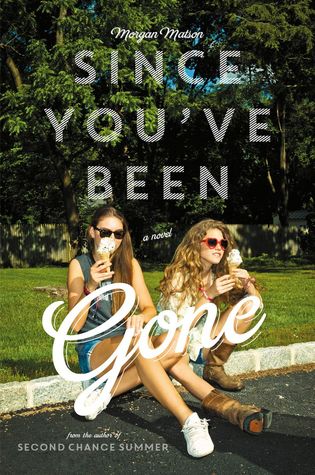 Author: Morgan Matson
Publisher: Simon and Schuster
Published: 3rd July 2014
Genre: YA, Contemporary
Source: Library
Date read:19th April 2016
Synopsis from Goodreads:
It was Sloane who yanked Emily out of her shell and made life 100% interesting. But right before what should have been the most epic summer, Sloane just…disappears. All she leaves behind is a to-do list.
On it, thirteen Sloane-inspired tasks that Emily would normally never try. But what if they could bring her best friend back?
Apple picking at night? Okay, easy enough.
Dance until dawn? Sure. Why not?
Kiss a stranger? Um…
Emily now has this unexpected summer, and the help of Frank Porter (totally unexpected), to check things off Sloane's list. Who knows what she'll find?
Go skinny-dipping? Wait…what?
My Thoughts:
Every time I look at the title of this book I song Since you been gone by Kelly Clarkson
I have heard so many people recommend Morgan Matson, supposedly it doesn't matter which book you choose of hers they are all good supposedly, she is one of those authors that you must read. This is my first book by this author and I wasn't disappointed. When books are hyped up and everyone and their mother are raving about the book, I am always ready to try and  find something that I don't like about the book.
Emily wakes up one morning to find her best friend Sloane gone! There was no previous conversation of Sloane going on holiday at all but when Emily tries to contact her it just goes to voicemail. The only thing that Emily does have is a list…. a list of things to complete…. such as go skinny dipping, kiss a stranger, hug a Jamie etc etc. Emily starts to think that if she completes all of these things on her to do list her friend will return and life can resume as it was. The problem is Emily doesn't know where to start and because her and Sloane have been joined at the hip for the past 2 years she has no other friends, confidence issues and extremely shy. The race is on to complete the list and get her friend back for good.
This is one of those books that gives you all the feels, during the course of this book I got angry, I laughed and also swooned. There are so many great things about this book that I just don't know where to begin, there are so many different elements involved. The book is told from Emily's POV all the way through  but skips back and forth to the past and the present which gives you more of an understanding of the girls friendship and also keeps you hooked. I really enjoyed the fact that Matson included the playlists that were used when Emily and Frank were running together, it was good to see that there was modern and older music that they bonded over.
The relationship between Emily and Frank was really well executed. There was no insta-love here – it was a gradual process of becoming friends to more, I liked the fact that the relationship didn't take over the list and her finding Sloane. The Characters were really well developed, I mean all of them were equally fleshed out and you see so much growth in Emily over the course of the book that it's literally heart warming. At first I found her shyness and lack of confidence annoying. I loved Collin's – he just made me laugh all the time,  Frank Porter was a sweet character all the way throughout really caring – sometime he felt a bit stalkerish as he was always around or just turned up exactly where Emily was, but he also had his own problems too.  Morgan Matson's writing is so fun and easy to read – you just eat it right up.
This is definitely a book for anyone who wants a book with friendships and Romance, also if you are a fan of Rainbow Rowell I would give this one a go. I will definitely be reading her other books which are second chance summer and Amy and Roger's epic detour.
I rated this 4.5 out 5 stars