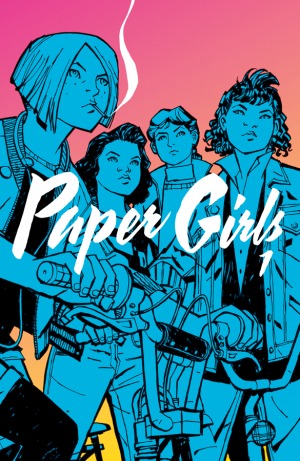 Author: Brian K Vaughan
Illustrators: Cliff Chiang and Matthew Wilson
Publisher: Image Comics
Published: 5th April 2016
Genre:  Graphic Novel, Science Fiction
Source: Netgalley
Date read:20th April 2016
Synopsis from Goodreads:
In the early hours after Halloween of 1988, four 12-year-old newspaper delivery girls uncover the most important story of all time. Suburban drama and otherworldly mysteries collide in this smash-hit series about nostalgia, first jobs, and the last days of childhood.
My Thoughts:
**I received a copy of this graphic novel from Netgalley and the publisher in exchange for an honest review**
This is really tricky to review as I don't want to give too much away, but I want people to read it because I found it good but also at the same time, I am not 100% sure what I just read.
I wasn't expecting to like it as much as I did, it was weird but in a good way. I haven't read a graphic novel for a while and this just appealed to me… especially as it's written by the same author as Saga.
It all starts with four 12-year-old girls in 1988 doing their paper rounds on the aftermath of Halloween, they get caught up in a war of the worlds, time traveling galactic war between monsters, demons, aliens and a godlike man. With everybody vanishing, the presence of pterodactyls and not knowing who to trust or which way to turn,will they survive?
There are a lot of things that I enjoyed about this graphic novel, first off I shall start with the artwork the palette mostly consists of purples,pinks and blues and the drawings fit in with the 80's theme. I loved that it was set in the 80's and that the girls were doing paper rounds on their bikes and had cassette tapes, I really just like anything set in this era. The characters are all very different and each have their own personalities, they are sassy, have attitude and funny at the same time.
There are some things that let this down for me, not many but I think are quite important. First off there was not much background stories to the girls or character development. There is also the fact that the things they encounter are not fully explained or where they actually come from. The plot also can be a bit jumpy in parts and can be slightly confusing. I am hoping that the second volume gives us more of an understanding as to where the characters are coming from, what they are fighting and more world/character building.
This is the is a bind up of issues 1-5 and I will definitely be reading the second volume as I have a feeling this is just going to get better and better. Even though this is a story of four 12 year olds girls there is strong language and violence so not suitable for children or the easily offended.
Overall I rated this 4 out of 5 stars