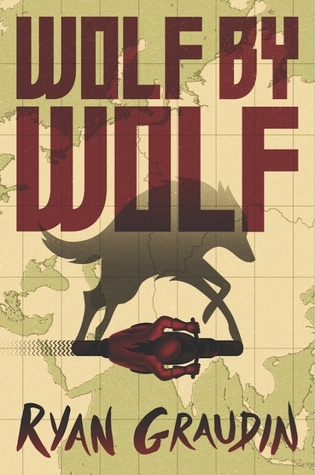 Author: Ryan Graudin
Publisher: Orion Children's Books
Published: 5th November 2015
Genre: Historical Fiction, YA.
Source: Netgalley
Date read: 14th April 2016
**I received a copy of this book from Netgalley and the publishers in exchange for an honest review**
Synopsis from Goodreads:
Over ten years since the Nazis won the war, 18 yr old Yael has one mission: to kill Hitler – a captivating second novel from Walled City author, Ryan Graudin.
Once upon a different time, there was a girl who lived in a kingdom of death. Wolves howled up her arm. A whole pack of them-made of tattoo ink and pain, memory and loss. It was the only thing about her that ever stayed the same.Her story begins on a train.
Germania, 1956. Over ten years since the Nazis won the war. 18-year-old Yael is part of the resistance, and she has just one mission: to kill Hitler.
But first she's got to get close enough to him to do it.
Experimented on during her time at Auschwitz, Yael has the unique ability to change her appearance at will. The only part of her which always remains are the five tattooed wolves on her arm; one for each of the people she's lost. Using her abilities, she must transform into Adele Wolfe, Germany's most famous female rider and winner of the legendary Axis Tour; an epic long distance motorcycle race from Berlin to Tokyo, where only the strongest (and wiliest) riders survive. If she can win this, she will be able to get close enough to kill the Fuhrer and change history forever.
But with other riders sabotaging her chances at every turn, Yael's mission won't be easy. . .
My Thoughts:
Yael is 5 years old  and finds herself a prisoner in a Nazi Concentration camp, she has been specifically selected by a doctor for an experiment. The experiment entails a series of injections every few days – their aim…. to make her blonde haired and blue-eyed (an Aryan). These injections are severe and the weak show signs of fever and for most of them death but not for Yael.
1956 Yael is a member of the resistance, her aim in life is to kill Hitler to make the world a better place. With so many assassination attempts Hitler hardly attends social functions, so it's quite difficult to get near him. The resistance have a plan which involves Yael – she must enter the Axis Motorbike race disguised as another young girl who has once had the pleasure of meeting the Führer – if Yael can win, her life's mission will be complete, However she didn't plan for all the backstabbing and love involved in the race or the hidden secrets which are not on file. For this no training would help her, she has to win.
This is one of those books that explores the topic of Hitler winning the war and how the rest of the world would be effected and what other bizarre theories he comes up with. This also covers another serious topic that I myself did not know about was that people were experimented  on in the concentration camps  which caused death and disfigurements. Which is absolutely brutal and very hard to read about.
I was umming and ahhing over this book for a while,I heard many great things about it but I still wasn't totally convinced. Was it the fact that this book is based on Hitler winning and carrying on with his reign of terror or was it the motorcycle race? I have never read anything about racing before and it doesn't really appeal to me.However my lesson has been learnt…… I think! Always try to read something out of your comfort zone because you never know you might just end up loving it, which is exactly what happened to me with this book.
I loved this book with a passion, I loved the back stories to the wolves and how they become. The authors writing style was beautiful to read, utterly compelling but also hard due to the content and how realistic it was. This is a book that explores identity and reasons that drive Yael on through her mission. The book does go back and forth from the past and present, which I really enjoyed, I think if the book wasn't written this way it could have dragged a bit. The premise of this book is definitely unique and like nothing I have read before. Ryan Graudin has a novella which is called Iron to Iron which I desperately need to read as I just want more.
I recommend this book to anyone with an interest in historical fiction and young adult.
Overall I rated this book 5 out of 5 stars