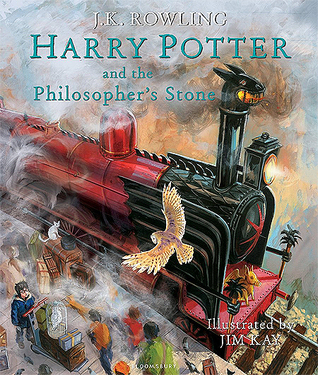 Author: J.K Rowling
Illustrator: Jim Kay
Publisher: Bloomsbury
Published: 6th October 2015
Genre: Children's, Fantasy
Source: Owned
Date Read: 5th March 2016
THIS REVIEW MAY CONTAIN SPOILERS!
Synopsis from Goodreads:
Prepare to be spellbound by Jim Kay's dazzling depiction of the wizarding world and much-loved characters in this full-colour illustrated hardback edition of the nation's favourite children's book – Harry Potter and the Philosopher's Stone. Brimming with rich detail and humour that perfectly complements J.K. Rowling's timeless classic, Jim Kay's glorious illustrations will captivate fans and new readers alike.
When a letter arrives for unhappy but ordinary Harry Potter, a decade-old secret is revealed to him that apparently he's the last to know. His parents were wizards, killed by a Dark Lord's curse when Harry was just a baby, and which he somehow survived. Leaving his unsympathetic aunt and uncle for Hogwarts School of Witchcraft and Wizardry, Harry stumbles upon a sinister mystery when he finds a three-headed dog guarding a room on the third floor. Then he hears of a missing stone with astonishing powers, which could be valuable, dangerous – or both. An incredible adventure is about to begin!
My Thoughts:
So this month is Harry Potter month for me March TBR  and the first one has been read and very much-loved. This is a reread for me, I read it when it first got published in 1997 and people were going mental for it (Nothing has changed, there is still a lot of hype for this series). I forgot how different the books are from the movies and loved every moment.
Harry Potter is young orphan living with his Aunt Petunia, Uncle Vernon and Cousin Dudley. The Dursley's are not a nice family and Harry is near non-existent to them.  Strange things start happening, things that Harry cannot explain but he can't tell the Dursley's as they already look at him like he is something they have trodden in. One day Harry gets a letter, Harry never gets letters, he doesn't know anyone. Only Mrs Figg down the road but she wouldn't send a letter and surely she doesn't know he sleeps in the cupboard under the stairs. Unfortunately the letter is snapped away before Harry can open it, whoever wants to get hold of Harry is persistent, the next day 2 letters arrive the day after that 3 and so on and till Uncle Vernon is at breaking point and takes the family to a deserted shack on a little island. Vernon thinks he has outsmarted the sender until a huge monstrous man charges through the shack and introduces himself as Hagrid from Hogwarts, the school of magic and wizardry. Harry is shocked to find that this Hagrid knows his name and is now telling him that he is a wizard and a famous one at that. Harry finds himself being whisked off into a magical world where people play a sport called Quidditch and have potion lessons. He makes friends with Ron and Hermione but also he makes enemies of Malfoy, Crabbe and Goyle from the Slytherin House. With him trying to pass his first year at Hogwarts and bypassing Filch in the corridors, it seems that Harry is to be at the centre of attention and adventures as Voldermort tries to kill Harry for the second time.
I loved this book, I liked all the characters. My daughter asked me who my favourite character was and I couldn't answer it, they were all equally good and when I asked my partner who has been listening to it on Audio he couldn't pick a favourite either. (Harry Potter on audio narrated by Stephen Fry is supposed to be amazing) All the characters were equally fleshed out they were complex and three-dimensional, there are a lot of characters to this book but it's not overwhelming. The world building was brilliant even without the pictures from this book you would have a clear understanding of what Hogwarts was like. The different characters names, spells, potions and various animals/mythical creatures were just phenomenal, Rowling has one pretty amazing imagination and she grips you from the start and holds on to the finish. The ending to this book was great, it gave me a fuzzy feeling inside and also happy goosebumps. The writing style was easy to read as it's aimed at children as our main character is only eleven in this book, however this shouldn't put you off reading it. It doesn't matter how old you are, this book is for everyone who just wants a bit of magic and adventure in their life. I have to say that JK Rowling has changed a lot for children, reading has become joyous and somewhat an inspiration and pivotal role in the educational system, my daughter is at primary school and is set into houses just like Hogwarts and gain points and urges them to do better.
Compared to the movie, you know the saying the book is always better than the movie – well it's true. So much is missed out from the films and was one of the reasons why I stopped reading the books.
Jim Kay Appreciation:
Here are a few of my favourite illustrations from the book and they are just incredible each and every one of them and I cannot wait for the chamber of secrets in this edition. Sorry about the glare on the photo's I have taken these with my phone but you can still see the fabulous drawings.