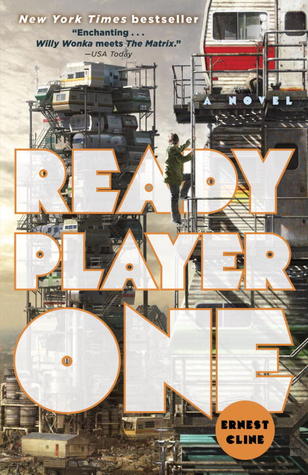 Author: Ernest Cline
Publisher: Broadway Books
Published: 5th June 2012
Genre: YA, Sci-Fi
Source: Library
Date read: 21st February 2016
Synopsis from Goodreads:
It's the year 2044, and the real world is an ugly place.
Like most of humanity, Wade Watts escapes his grim surroundings by spending his waking hours jacked into the OASIS, a sprawling virtual utopia that lets you be anything you want to be, a place where you can live and play and fall in love on any of ten thousand planets.
And like most of humanity, Wade dreams of being the one to discover the ultimate lottery ticket that lies concealed within this virtual world. For somewhere inside this giant networked playground, OASIS creator James Halliday has hidden a series of fiendish puzzles that will yield massive fortune — and remarkable power — to whoever can unlock them.
For years, millions have struggled fruitlessly to attain this prize, knowing only that Halliday's riddles are based in the pop culture he loved — that of the late twentieth century. And for years, millions have found in this quest another means of escape, retreating into happy, obsessive study of Halliday's icons. Like many of his contemporaries, Wade is as comfortable debating the finer points of John Hughes's oeuvre, playing Pac-Man, or reciting Devo lyrics as he is scrounging power to run his OASIS rig.
And then Wade stumbles upon the first puzzle.
Suddenly the whole world is watching, and thousands of competitors join the hunt — among them certain powerful players who are willing to commit very real murder to beat Wade to this prize. Now the only way for Wade to survive and preserve everything he knows is to win. But to do so, he may have to leave behind his oh-so-perfect virtual existence and face up to life — and love — in the real world he's always been so desperate to escape.
A world at stake.
A quest for the ultimate prize.
Are you ready?
My Thoughts:
Why? oh why? did it take me so long to read this book? I know why! because science fiction is not really the genre I go for. Saying that though the 2 that I have read this year have been pretty amazing.
It's the year 2044 and the world is looking bleak and a miserable place to live, with poverty, famine and disease the population are turning to the virtual world called OASIS. James Halliday the creator of OASIS has recently died but has caused a frenzy, he has sent a message to all the OASIS users that there will be a contest to win his fortune. The millions of OASIS  users have been trying for years to solve Halliday's riddles with no avail till one day a name appears on the scoreboard…Parzival (Wade Watts), the hunt is back on especially with a leading corporation who will try anything to get their hands on Halliday's money.
I loved loved loved this book. It is the best book I have read in 2016, it is even in my top 10 of all time. I am not a gamer and neither does anyone else to enjoy this book. Halliday grew up in the 80's, there is may references to the pop culture, games and TV shows of this era.
I took my time with this book as I didn't want it to end, the story is jam-packed with everything that you really need to take your time to appreciate the effort that has been put into this book and even when there is no action the story is still great. The world building is amazing, I was able to create a clear image of what the OASIS looked like through Cline's description.
The characters were all great, Wade having pretty much been brought up in the virtual OASIS, was more at home there than in the real world. With being young and still at school he had a lot to learn and little money, but throughout the book he grows more and more confident and a somewhat badass. The other characters Art3mis and Aech were equally complex and fleshed out.
Ready Player One is to become a movie, directed the one and only Steven Spielberg and 3 cast members have been appointed.  Tye Sheridan as Wade, Olivia Cooke as Art3mis and Ben Mendelsohn as Sorrento (Leading player from the corporation). This is coming to our screens in 2018 and I think this is going to make an excellent film, hopefully Spielberg can do the book justice.
Armada is definitely on my radar. Ernest Cline is the master of Geeks! A truly tremendous reading experience.
I recommend this book to anybody that wants to read a good book.
I rated this 5 out of  5 stars