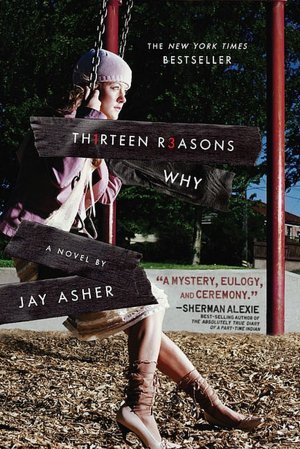 Author: Jay Asher
Publisher: Razorbill
Published: 18th October 2007
Genre: YA, Contemporary
Source: Library
Date read: 15th February 2016
Synopsis from Goodreads:
Clay Jensen returns home from school to find a mysterious box with his name on it lying on his porch. Inside he discovers thirteen cassette tapes recorded by Hannah Baker, his classmate and crush who committed suicide two weeks earlier.
On tape, Hannah explains that there are thirteen reasons why she decided to end her life. Clay is one of them. If he listens, he'll find out how he made the list.
Through Hannah and Clay's dual narratives, debut author Jay Asher weaves an intricate and heartrending story of confusion and desperation that will deeply affect teen reader
My thoughts:
Thirteen reason why is told from Clays perspective but mostly about Hannah, the girl who committed suicide 2 weeks ago. Hannah has sent out tapes to thirteen people who she believes contributed to her death some way or the other and Clay is one of them.
This book is set in chapters and each one is a side of the cassette is about a particular person and what they did or didn't do.  The audio tapes where Hannah is speaking is written in italics and intertwined with her dialogue we have Clay and what he is thinking or feeling at that particular time. The writing in this book is very easy to read and is a quick book to finish. I was hooked from the start and I read it in less than a day. I needed to find out how Clay was involved in the stories.
When I started reading the stories I was thinking that I don't think that these reasons are really enough to warrant killing yourself over, but one reason leads to another and they get worse and you could see that these things that happened to Hannah could be plausible and that when all of these troubles and worries keep being added to the pile, it can be crushing and for some people just too much to cope with.
Hannah's reason for killing her self is not clear-cut, because it wasn't solely because she lost a loved one or was abused etc etc. But the forms of bullying that she received, the guilt that was heavy on her shoulders and being sexually targeted by her peers lead her to believe that no-one cared and she took her own life. This book really is an eye opener and proves to the reader no matter how small our actions are they can have a massive effect on others.
Clay is shocked when he finds a box of tapes on his doorstep, no-one uses this ancient format of audio anymore surely. When he hears Hannah's voice telling him that she has reasons as to why she committed suicide and that he was involved some way or another sickens him. He has always loved Hannah from afar, never really having the guts to speak to her due to shyness. He is such a nice character and doesn't really have anything bad to say about anybody. He is clearly traumatized about the reasons and always thinking how he could have prevented it from happening even though it's too late.
Hannah blackmails the thirteen people involved, if they don't listen to her reasons and forward the tapes onto the next person, there is a second set of tapes that will be sent to police/newspapers and there will be consequences.  Hannah appears to be angry and somewhat morbid, however she is at the point of accepting that she is going to end her life.
This book is gripping, compelling and emotional read. To write a story about suicide and do it well is a hard feat, however Asher seems to have done it. It is a very realistic portrayal in suicide in teenagers and what they have to deal with on a day-to-day basis.
Overall I rated this 4 out of stars