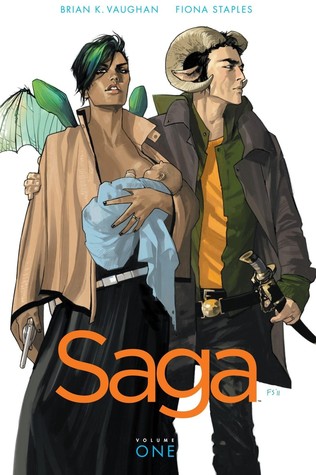 Author: Brian K. Vaughan
Illustrator: Fiona Staples
Publisher: Image Comics
Published: 23rd October 2012
Genre: Graphic novel, Fantasy
Source: Owned
Date read: 11th February 2016.
Synopsis from Goodreads:
When two soldiers from opposite sides of a never-ending galactic war fall in love, they risk everything to bring a fragile new life into a dangerous old universe.
From bestselling writer Brian K. Vaughan, Saga is the sweeping tale of one young family fighting to find their place in the worlds. Fantasy and science fiction are wed like never before in this sexy, subversive drama for adults.
My thoughts:
This is one of those graphic novels that I have been hearing everywhere and the hype for this book is off the scale and was a must read. I have started reading more comics/graphic novels since last year and I am really getting into them.
This story follows Alana and Marko and they are on the run. They shouldn't be together as they are both soldiers from different sides of the galactic war and due to politics and rules this is forbidden. What makes it even more taboo is that they have had a baby together, Hazel.
Baron Robot XXIII has been commissioned to kill Alana and Marko but return the child as it is inter-species. However there have also been freelancers employed to do the same thing. We meet The Stalk that is a topless spider woman thingy and then there is The Will, he seems to be a  relatively normal guy (and I can't believe I am saying this but kinda hot). Will has a sidekick that is a cat but not any old fluffy adorable pet, this one is a lying cat that can detect when someone is not telling the truth.
This story is narrated by Hazel in flashbacks, about how she was born and what happened to her parents, this novel is about love and war in space and a very unique take on it. The dialogue is hilarious, the characters are so original and the plot was also pretty good with twists and turns.
The characters and artwork were on point! The artwork was beautiful with a whole range of colours used, the characters are three-dimensional and complex.  The baron XXIII was great he had a monitor/TV for a head who was having trouble performing in the bedroom department, then as mentioned above there was The Stalk and then there were these massive heads on legs.
The best part (obviously) was the interactions between Alana and Marko, this couple were so sweet and at the same time hilarious. Alana is portrayed as a head-strong women but with the odd tendency for jealousy. Together they make a great team knowing each others limits and the love for one another is palpable
This book is not going to be everyone as there is nudity, swearing and sex, so not for the younger audience.
I will definitely be reading the next volume for sure.
Overall I rated this book 4 out of 5 stars