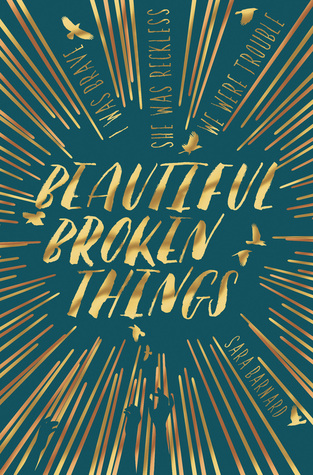 Author: Sara Barnard
Publisher: MacMillan Childrens books
Expected Publication: 11th February 2016
Genre: YA, Contemporary
Source: Netgalley
Date read: 6th February 2016
** I received an Advanced Readers Copy of this book from Netgalley and the publishers in exchange for an honest review**
Synopsis from Goodreads:
I was brave
She was reckless
We were trouble
Best friends Caddy and Rosie are inseparable. Their differences have brought them closer, but as she turns sixteen Caddy begins to wish she could be a bit more like Rosie – confident, funny and interesting. Then Suzanne comes into their lives: beautiful, damaged, exciting and mysterious, and things get a whole lot more complicated. As Suzanne's past is revealed and her present begins to unravel, Caddy begins to see how much fun a little trouble can be. But the course of both friendship and recovery is rougher than either girl realises, and Caddy is about to learn that downward spirals have a momentum of their own.
My Thoughts:
This is Sara Barnard's debut novel and a good one at that! Beautiful broken things is an emotional rollercoaster, you are literally up and down on this suspenseful ride, With friendship, self discovery, school, family and abuse this novel certainly packs a punch!
Caddy has been best friends with Rosie for over 10 years despite attending different schools. Calling each other throughout the week and spending the weekends together they couldn't be closer, until Caddy is introduced to Suzanne a new girl from Rosie's school. Jealous of Rosie's new friendship she doesn't instantly take to her, Suzanne is pretty, bold, exciting and totally different from what Caddy is used to. Slowly Suzanne starts to reveal things about herself and the issues that she is hiding from her friends. With this new found knowledge Caddy suddenly sees Suzanne in a different light and wants to help her but also be involved in this interesting girls life and so their friendship blossoms but threatens to break them all apart for good.
Caddy goes to Esther's which is an all girls private school, she is on a tight leash with her parents, paying thousands of pounds per term for her education they are expecting A grades. With all work and no play nothing significant has happened in Caddy's life, she makes a vow for that to end this year and Suzanne is there to help. People around caddy don't think their friendship is a good idea as Suzanne is  'troubled' and leading her astray. Caddy is very naive and hasn't really be involved with boys or been to house parties but with her new-found friend and wanting to fit in she gets more involved and really comes out of her shell.
Suzanne is beautiful, funny and also a "troubled" teenager, living with her aunt starts speculation as to why this is. With a history of abuse, Suzanne is broken and is what people would call a bad influence, she drinks, she goes around with any boy who will have her and when things get tough she runs away. As she becomes friends with Caddy she is pulling her towards her way of life. Caddy would never have dreamt of climbing out of her window in the middle of the night or randomly catching a train without knowing the destination. But in her bid to help Suzanne she feels she has to be with her every step of the way.
This book explores the true meaning of friendship and love between teenage girls. This is a coming of age story with no romance involved and scarily realistic. It portrays mental health and teenagers sensitively and honest.
I loved that this book was set in the UK it felt so more relatable and exciting when your hometown gets referenced in the book.
There things that let down the book for me were the details of the abuser,  there wasn't really any detail whether the abuser had been arrested  or why Suzanne had or hadn't reported the abuser. It was sort of just glimpsed over this and neither Caddy nor Rosie questioned it which I thought was a little odd. Caddy was very annoying at points and was making some stupid decisions,I felt like shaking her and telling her to stop! JUST STOP!
I definitely recommend this book if you are looking for a realistic portrayal of mental health in  young adults.
I rated this 4 out of 5 stars