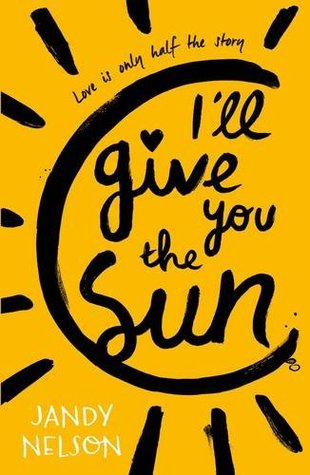 Author: Jandy Nelson
Publisher: Walker Books
Published: 2nd April 2015
Genre: YA, Contemporary
Source: Owned
Date read: 26th January 2016
Synopsis from Goodreads:
From the author of The Sky Is Every­where, a radiant novel that will leave you laughing and crying – all at once. For fans of John Green, Gayle Forman and Lauren Oliver. Jude and her twin Noah were incredibly close – until a tragedy drove them apart, and now they are barely speaking. Then Jude meets a cocky, broken, beautiful boy as well as a captivating new mentor, both of whom may just need her as much as she needs them. What the twins don't realize is that each of them has only half the story and if they can just find their way back to one another, they have a chance to remake their world.
My thoughts:
At the start of the year I made a post called Book Blogger Recommends 2016.
I asked 12 book bloggers to recommend one of their favourite books to me that I have not read. This was recommended to me by Giovannard@ bookcomablog. Thank you so much for the wonderful recommendation.
Words are failing me now on how to write a review for this book.
I'll give you the sun follows twins Noah and Jude that are aspiring artists. They are both working on their portfolios to get into a prestigious art school in the local area when a tragedy pulls them apart and they start to live two separate lives.
I loved this book the writing was so poetic and beautiful. The story is written from two perspectives and at different times. Noah's perspective is written when he is 13. 5 years old and before 'said' tragedy struck and Jude's when she is 16 – two years later. At 13 years old the pair were close with sibling rivalries, respecting each others art and dividing the world up.
"I gave up practically the whole world for you," I tell him, walking through the front door of my own love story. "The sun, stars, ocean, trees, everything, I gave it all up for you."
At 16 the pair couldn't be further apart, they constantly avoid each other and barely talk. When lies start to unravel and they discover the truth, can they become two once more.
Noah is a painter, he's such a cute young boy, with his confusion of being gay and what it means to come out is so cleverly portrayed through this character. The frustration and tension is palpable between him and  Brian. The want of your heart desires and the reality of doing and facing the backlash from the people around you is what stops him. Noah has never been perceived as 'normal' to his class mates and being bullied is a daily problem until he meets the new kid Brian who is a baseball player for his local school, with Brian by his side he becomes socially accepted, even though he knows that Brian is a bit of geek like himself with his meteorite collections.
Jude an ambitious sculptor is a young impressionable girl at the age of 14, however as she is telling her POV at the age of 16 she has had a lot of time to develop but also grieve at the same time. Jude is struggling at school, she hasn't made any good artwork for the past 2 years and believes there is someone out to destroy her pieces. She has one last chance to make it right and is sent to work with a local but famous sculptor. The sculptor has problems of his own and between the both of them they start to overcome their grief through the process of sculpting.
Oscar is not the typical cool guy, who has everything going for him with his distinguishable features, his past and present he is also on the road to self discovery. When we first meet Oscar in Noah's perspective he is a drunk, with ambitions to be a model. 2 years later in Jude's perspective he is a recovering alcoholic/drug user, going to college for photography and has a cocky side to him which covers up the true Oscar.
"It occurs to me that Jude does this too, changes who she is depending on who she's with. They're like toads changing their skin color. How come I'm always just me?"
There were only two things that stopped me from giving this book 5 stars and it's not much but I had to factor them in. I found the book a bit predictable in some parts. You could tell how it was going to pan out. Also the ending felt a bit rushed for me towards the end, I think it could have been a bit longer to make the ending a bit more bulkier. The thing I liked with Nelson's writing is your reading away and then BAM! She just lets you have this incredible fact like it's nothing major and I had to reread to make sure I hadn't read it wrong. The grandma's bible that Jude follows got a bit tiresome in the end.
I went in to this book blind, not knowing too much about the premise and I recommend it, I  like going in to books not knowing much it is more surprising and enjoyable to read. There are references in the book to famous people and quotes such as Winston Churchill and E.E Cummings. This book  deals with love, bullying, grief, growing up, self discovery and all the challenges of being a teenager.
I recommend this book to anyone that likes to read Young Adult and Contemporary novels.
Overall I rated this book 4.5 stars out of 5.