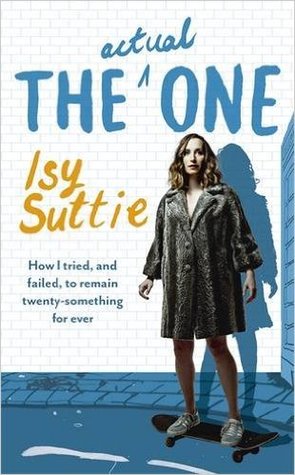 Author: Isy Suttie
Publisher: Orion Publishing
Expected Publication: 28th January 2016
Genre: Memoir, Humour
Source: Netgalley
Date read: 24th January 2016
Synopsis from Goodreads:
Isy Suttie—stand-up comedian, actress and songsmith—has reached her thirties and realized her life is never going to be what she expected. She'll never become that tennis champion, be an expert in birdsong or make a living from playing pinball. Yet Isy maintains her trusty "glass half full" attitude to life. Why? From goldfish-murdering mothers and housemates obsessed with VAT, to boyfriends who don't appreciate gifts of homemade human-sized penguins, Isy delves deep into the vaults of her memory, writing with warmth, agonizing honesty and sharp humor to bring to life all of the scrapes that optimism have led her into.
My Thought:
So Isy Suttie is the Comedian who plays Dobby in the peep show alongside David Mitchell and Robert Webb, Which is a pretty popular show. Before appearing as Dobby, Isy has been a live stand up, comedy musician and writer.
This book is Isy in her thirties trying to live like a twenty something year old and not grow up and become responsible, whilst her friends around her are settling down into relationships and starting a family. She goes through a list of her partners and why they wasn't the 'actual one'. There is also a lot of Isy reminiscing about the old days, when she started up as a stand up and how difficult it can be.
The book was very easy to read, humorous as expected and a lot of rambling.  There were on slight occasions when I did get a bit bored and put this book down and then came back to it. This woman though get's herself into some really crazy situations and I would think that some of it may not be believable until I met someone exactly like this and understand that some people are clumsy and bad shit just happens to them all the time.
The funniest moment for me was when she went skiing with friends and practically rolled down (Laughing as remembering) and when she went down the slopes on a table….drunk obviously. Who on earth would use parcel tape to hold their breasts up in a dress? Crazy but very funny lady.
I found this book to be very nostalgic, as Isy was reminiscing her younger days with, Mix-tapes, New Kids on the Block, Take That, Crystal Maze and more
I recommend to anyone that is a fan of Isy Suttie, comedy or even just Dobby.
Overall I rated this 3.5 stars out of 5.