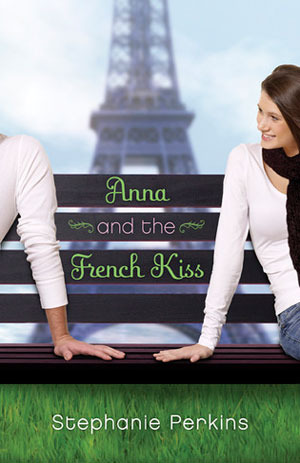 Author: Stephanie Perkins
Publisher: Dutton Juvenile
Published: 2nd December 2010
Genre: YA, Contemporary, Romance
Source: Library
Date read: 15th January 2016
Synopsis from Goodreads:
Anna is looking forward to her senior year in Atlanta, where she has a great job, a loyal best friend, and a crush on the verge of becoming more. Which is why she is less than thrilled about being shipped off to boarding school in Paris–until she meets Étienne St. Clair. Smart, charming, beautiful, Étienne has it all…including a serious girlfriend.
But in the City of Light, wishes have a way of coming true. Will a year of romantic near-misses end with their long-awaited French kiss?
My Thoughts:
I was pretty late on this band wagon, so late that I almost missed it. I found the delights of booktube this year!( I have been hiding under a rock!) and whenever some one mentioned a book to re read or one that gets you out of slumps etcetera etcetera, This was the one that popped up most of the time or  Fangirl by Rainbow Rowell.
I really loved this book, I probably could have read it in one sitting but the fact I had to go to work the next morning made me put it down (I was late for work). I was reading this well into the night as I was unable to put it down, I needed to read more and find out what happened without having a break, to say I was fully invested was an understatement.
Anna is enrolled to go to a College/school in Paris for Americans, she totally doesn't want to be there, but because her dad is a high regarded author in the book world, he wants his daughter to reap the benefits or in Anna's terms… to show off.  Being in a foreign country is daunting when there are no familiar people around you and the fact that you have no understanding of the language – Luckily Anna befriends a group of people very quickly, they take her under their wing and help Anna with her French and her way around the city. Among the group is Etienne St Clair, one of the hottest guys at the school – there is an instant mutual attraction, however there is a problem…..HIS GIRLFRIEND!
Anna is a great female protagonist, she starts off naive, shy and comes across as a bit whiney but the great thing as the story goes on you see her develop and act more grown up. I felt sorry for her being forced to school in Paris where she is all alone, when all she wants to do is be at home in Atlanta with her Mum, Seany (brother), Bridgette(best friend) and Toph (Potential love interest).
Etienne St Clair! Well what can I say? He was a complicated character he had so much emotional baggage. He is the heart-throb of the school, everyone wants to be hanging off his arm and there is a lot of bitchiness towards Anna as people notice their closeness.  He has this certain aura about him, he has amazing hair, teeth, skin, dresses like a Parisian and not too tall (for some reason this was mentioned a lot) He has a British accent but lives in America and his father is french! He is swoon worthy in short, he blushes, he gets anxious and he isn't a complete douche-bag. He is mature for his age. However his family life is complicated, he's got a girlfriend but he wants Anna.
This book is cute, sweet , fluffy and all the adjectives. The fact that it is set in the City of Love also makes it more romantic.  I totally recommend this book if you are a fan of Romance and YA. It is definitely a book you can reread, the writing is so easy to follow and a fast read.
I will be continuing with the trilogy.
I rated this book 5 out of 5 stars
Thanks for reading, Louise x