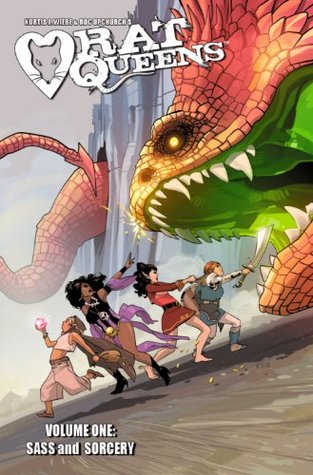 Author: Kurtis J.Wiebe 
Illustrator:Roc Upchurch
Publisher: Image Comics
Published: 8th April 2014
Genre: Comic, graphic novel, fantasy
Source: Owned
Date read: 12th January 2016
Synopsis from Goodreads:
Who are the Rat Queens?
A pack of booze-guzzling, death-dealing battle maidens-for-hire, and they're in the business of killing all god's creatures for profit.
It's also a darkly comedic sass-and-sorcery series starring Hannah the Rockabilly Elven Mage, Violet the Hipster Dwarven Fighter, Dee the Atheist Human Cleric and Betty the Hippy Smidgen Thief. This modern spin on an old school genre is a violent monster-killing epic that is like Buffy meets Tank Girl in a Lord of the Rings world on crack!
My thoughts:
Meet the Rat Queens! Betty, Dee, Hannah and Violet. The depiction of sass!
Due to their unruly behaviour of drunkenness and bar brawls, the mayor of Palisade has assigned the rat queens to the task of clearing out some Goblins in a cave, however if they fail they will have to leave the town.
I really loved this comic for so many reasons,  first and foremost I loved the humour from all of the characters. I literally laughed out loud and that doesn't happen often when reading a book. It was fun and very easy to read. The pace is constantly fast so you will speed through this book or you can take your time to appreciate the amazing artwork (I loved the artwork). The only thing that let it down was there wasn't much of a plot, mostly battle scenes and not enough character development, however I chose to ignore this due to it being so friggin good!
First off this is a feminist graphic novel and appears that is becoming somewhat of a trend which is great to see. The main characters are all so different, they are all shapes and sizes, and not  perfect with perfect tits and asses. The women are drawn to be attractive but each in their own way. They also got the LGTBQ theme going on in the story – Betty the Smidgen is a lesbian but done in a casual way. There is also different races in the book and interracial relationships. It's so refreshing to see all, races, genders, sexualities in books now and done so with perfection.
This book is not for children or the easily offended so if you don't like violence, bad language, gore and sexual discussions then it's really really not for you as this is what most of the book is about.
I would definitely recommend this book to anyone that likes magic, battles, Orc's, assassin's, goblins, gore and more…   This is a bind up of the first 5 comics in the series.
I rated this 5 out of 5 stars.