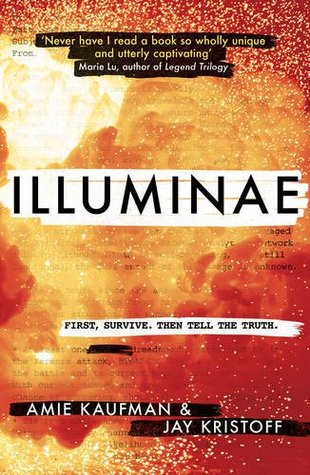 Authors: Amie Kaufman and Jay Kristoff
Publisher: Oneworld publications
Published: 22nd October 2015
Genre: YA, Sci-fi
Source: Owned
Date read: 2nd January 2016
Synopsis from Goodreads
This morning, Kady thought breaking up with Ezra was the hardest thing she'd have to do.
This afternoon, her planet was invaded.
The year is 2575, and two rival megacorporations are at war over a planet that's little more than an ice-covered speck at the edge of the universe. Too bad nobody thought to warn the people living on it. With enemy fire raining down on them, Kady and Ezra—who are barely even talking to each other—are forced to fight their way onto an evacuating fleet, with an enemy warship in hot pursuit.
But their problems are just getting started. A deadly plague has broken out and is mutating, with terrifying results; the fleet's AI, which should be protecting them, may actually be their enemy; and nobody in charge will say what's really going on. As Kady hacks into a tangled web of data to find the truth, it's clear only one person can help her bring it all to light: the ex-boyfriend she swore she'd never speak to again.
My Thoughts:
I am going to be completely honest, I picked this book solely upon the hype it was receiving from booktubers around the globe. I was going into this book pretty much blind, I knew a bit of the premise but that was all. So I get to around 100 pages and I am thinking to myself "Am I reading the same book as everyone else?" I just wasn't really liking it, I wanted to really like it and the majority of my Goodreads friends have rated it 5 stars, everyone else was liking it…so why wasn't I! I was perplexed.
So I get to 200 pages and this is where everything started getting interesting and faster paced, you get to see how messed up it is. I really appreciated the format that this book was written in, it was so fun! At one point I had the book upside down trying to read.
This book reads like a folder of hacked documents including emails, IM'S, Medical reports, schematics and interviews. It makes the book read faster and just an interesting idea.
The characters in this book are amazing and side characters are equally as fleshed out. I liked that they weren't all young and were from totally different backgrounds.
Kady is a 17-year-old girl, she is a very strong, stubborn and intelligent with a knack for programming and hacking, she does have a softer side too. Ezra was a sweet young man, who had been drafted to be a pilot for a smaller aircraft off of the Alexander, he was caring, loyal and I loved the conversations going back and forth between him and Kady.
What I loved was AIDAN(artificial intelligence defence analytics network)I thought this idea was really unique (I haven't read much sci-fi) and I really loved the growth of this character – if you can even call it that.
I found the ending a little confusing as it doesn't really explain what Illimunae is, however this is supposed to be a trilogy so I expect we will find out in the next installment.
Also, it seems that this could be made into a movie which will be awesome.
I definitely recommend this book to anyone who reads YA or Sci-fi.
Overall I rated 4 out of stars