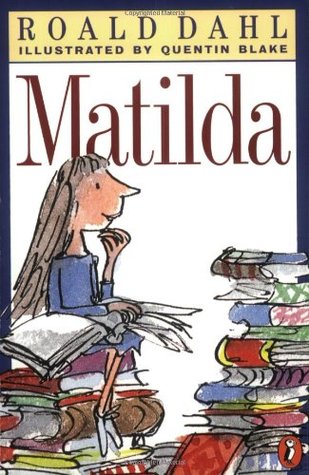 Author: Roald Dahl
Publisher: Puffin
Publication: 1st June 1998
Source: Library
Genre: Children's
Date read: 13th December 2015
Synopsis from Goodreads:
Matilda is a little girl who is far too good to be true. At age five-and-a-half she's knocking off double-digit multiplication problems and blitz-reading Dickens. Even more remarkably, her classmates love her even though she's a super-nerd and the teacher's pet. But everything is not perfect in Matilda's world. For starters she has two of the most idiotic, self-centered parents who ever lived. Then there's the large, busty nightmare of a school principal, Mrs. ("The") Trunchbull, a former hammer-throwing champion who flings children at will and is approximately as sympathetic as a bulldozer. Fortunately for Matilda, she has the inner resources to deal with such annoyances: astonishing intelligence, saintly patience, and an innate predilection for revenge.
She warms up with some practical jokes aimed at her hapless parents, but the true test comes when she rallies in defense of her teacher, the sweet Miss Honey, against the diabolical Trunchbull. There is never any doubt that Matilda will carry the day. Even so, this wonderful story is far from predictable. Roald Dahl, while keeping the plot moving imaginatively, also has an unerring ear for emotional truth. The reader cares about Matilda because in addition to all her other gifts, she has real feelings.
My Thoughts:
You will never be too old to read a Roald Dahl book!
I really enjoyed this book, it was funny but also sad at times.
Matilda is a young girl of 5 who is ignored and not really wanted by her family, she is very different from them, her father a used car salesman and a dodgy one at that, a mum who plays bingo, self obsessed and dishes up microwavable meals. Matilda has a thirst for knowledge and unknown to her parents she takes herself to the local library and teaches herself to read. Once she has devoured the children's section she starts on adult books. At 5 years old Matilda has read probably more fiction than most adults.
She is finally sent to school and befriends Lavender and also captivates the heart of her teacher Miss Honey, however school is not all rosy as Matilda was hoping, there is a nasty headteacher called Miss Trunchball, an ex-olympian for the hammer throw, she has a low tolerance for children and practices with some of them.
Me and my daughter both thoroughly enjoyed this book and the favorite scene has to be with Bruce Bogtrotter and the chocolate cake. I love with Roald Dahl books is that the horrible characters i.e Miss Truchball get their comeuppence. The relationship between Miss Honey and Matilda is so lovely, they have such great outlooks on life even though they have been treated fairly poorly as children. Miss Honey is a very gentle character with a lot of love to give, as soon as she realises that Matilda is a gifted child she wants to help her with her studies and get her the level of education that she requires.
The only thing that let this book down was near the end when she is able to use her powers and the fact that her parents are leaving,  it didn't explain why they were leaving and her use of powers was very rushed.
I would have to say on this instance that I do find the movie adaptation to be better than the book, I think it is explained better and not as rushed, however saying that, in the book I found it interesting to read how she felt when using her powers. My Daughter who is 8 really enjoyed this book, she really enjoyed Miss Trunchball and as there is a lot of dialogue in the book,  she was reading aloud with a nasty voice.
Oh! has anyone seen the trailer for the BFG??? Is it me or does it seem a tad bit scary. Still excited to watch it though.
Overall I gave this book a 4 out of 5 stars