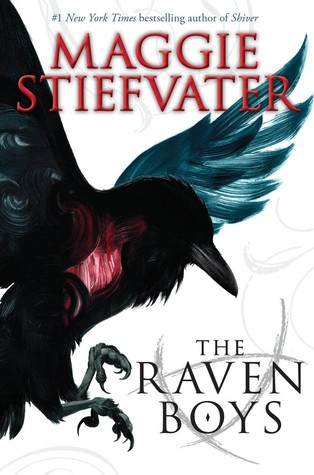 Author: Maggie Stiefvater
Publisher: Scholastic
Published: 18th September 2012
Genre: YA, Fantasy
Source: Library
Date read: 28th November 2015
Synopsis from Goodreads:
Every year, Blue Sargent stands next to her clairvoyant mother as the soon-to-be dead walk past. Blue herself never sees them—not until this year, when a boy emerges from the dark and speaks directly to her.
His name is Gansey, and Blue soon discovers that he is a rich student at Aglionby, the local private school. Blue has a policy of staying away from Aglionby boys. Known as Raven Boys, they can only mean trouble.
But Blue is drawn to Gansey, in a way she can't entirely explain. He has it all—family money, good looks, devoted friends—but he's looking for much more than that. He is on a quest that has encompassed three other Raven Boys: Adam, the scholarship student who resents all the privilege around him; Ronan, the fierce soul who ranges from anger to despair; and Noah, the taciturn watcher of the four, who notices many things but says very little.
For as long as she can remember, Blue has been warned that she will cause her true love to die. She never thought this would be a problem. But now, as her life becomes caught up in the strange and sinister world of the Raven Boys, she's not so sure anymore.
My thoughts:
This book is quite a big deal in the book community at the moment, it appears everyone is reading it and loving it!…. apart from ME! So I don't hate this book and I don't love it….. it was just MEH!  Here's why:
Blue was annoying, she has been told by her mother, aunts and other psychics that her first true love will die when she kisses him, to me the idea of this was like ummmm the mum is just saying this so she doesn't kiss any boys at all.
Throughout the whole book she is sort of starting a relationship with Adam the less privileged of the Raven boys although she has seen Gansey's future which is bleak you can tell she doesn't know who decide to fall in love with and it's just annoying, because she know's they will die if she does, it just gets a bit tedious.
Adam is the less privileged of the Raven boys, he is a local boy studying hard and paying his own way  through private school and has a pretty rough time with an abusive father (I am starting to see a trend *rolls eyes*). He appears very genuine, not wanting hand outs and to make something of himself.
Ronan is a boy who has some issues, his father was killed on the doorstep of their house. Since then he is a very angry young man, who wants to vent his anger on his brother and not complete his studies, Ronan definitely grew on me by the end of it and has a softer side to him.
Gansey is the leader of the gang, with money, sophistication and an insatiable desire to find they Ley lines and wake the Raven king. He appears to act much older than his years, but a very mysterious character I don't know why but I can't explain him, his moods seem to change all the time.
The book was very slow to start with it was only the last third that it started getting interesting for me, the twist in the book did have my jaw on the floor……WTF!! that was the best bit.
There are fantasy elements to the book but not heavy. The world building in the book was well done and the character development was very strong. Stiefvater did a good job and her writing is very easy to read.
Do I continue with the series? Does it get better? Please tell me I am not the only one that had these thoughts.
Overall I rated this 3.5 stars out of 5