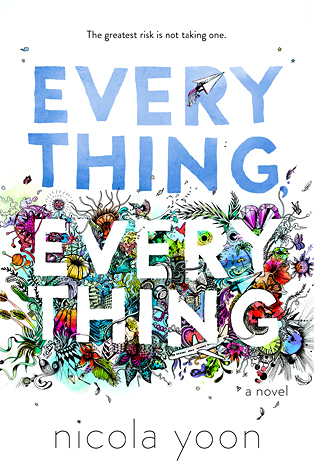 Author: Nicola Yoon
Publisher: Delacorte books for young readers
Published: 1st September 2015
Source: Netgalley
Genre: YA, Contemporary
Date read 21st November 2015
I recieved a copy of this book through Netgalley in exchange for an honest review.
Synopsis:
This novel follows a young girl by the name of Madeline Whittier, she is 18 years of age and for as long as she can remember has never stepped foot outside the house. The reason for this being is that she suffers from SCID – Severe Combined Immunodeficiency (She is allergic to everything).
The only two people she really has contact with is her mother and her Nurse – Carla, with everything she needs in her house she continues on with her secluded life until one day a new family move in next door.
Among this new family is a boy called Olly, Madeline starts communicating with Olly and before long she is thinking about the outside world and the life she would like to lead.
My thoughts:
First of all, I thought this book was adorable and cute with a plausible twist involved. I really appreciated the different formats that were layed out such as: emails, IM's, sticky notes and clinical observations. It made the book go a lot faster. This could easily be read in one sitting. The cover is absolutely gorgeous, just all the colours……ahhhh cover love!
I liked Madelines character, she was very clever due to only being able to read or study most of her days, but she wasn't pretentious, Maddy was like any normal 18 year old should be. She was also strong willed, when she wanted something she got it.
Olly was great, he was such a caring young man, who took an interest in Madeline and was always careful about her and always following the rules. He had a bit of a rough time with an alcoholic and abusive father but never was stroppy or took it out on Maddy.
The only problem for me in this book was that I found it too predictable and thats why I rated it 4 stars rather than 5. I had my theories, but I cant tell you with out spoilers, It was still a great read and a fantastic debut novel by Nicola Yoon, if she writes this good now, surely she can only get better. I can't wait to see what she comes out with next.
I would definitely recommend this book to anyone that is a fan of YA Contemporary.
I rated this book 4 out of 5 stars