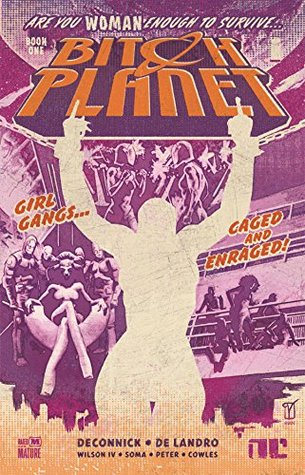 Author: Kelly Sue DeConnick
Publisher: Image Comics
Published: 7th October 2015
Genre: Comics, Science Fiction
Source: NetGalley
Date Read 12th November 2015
I received a copy of this from NetGalley in exchange for an honest review.
Synopsis
Bitch Planet is a sci-fi dystopian comic about men putting women into a prison for various reasons such as disrespect, being too loud, too pretty or even getting in the way of their husbands marrying their mistress' will see you sent there. Pretty much having your own opinion leads you to being put in prison. If they don't meet patriarchy standards they are sent to Bitch Planet, another world where all non compliant women are shipped.
A group of women are given the opportunity to make a sports team for the upcoming Megaton games, however they will be against men to earn their freedom. The games are very violent and the officials that run Bitch Planet are hoping they dont make it out alive.
My Thoughts:
This a bind up of the first 5 comics in the series
First off I am not gonna lie, this wasn't as good as I anticipated but does get better throughout.  I really didn't like the retro artwork that was going on, I felt that the artwork needed to be more sombre for this storyline. There is a lot of nudity in this book, like constantly and I really don't think it was that necessary. I am not a prude but there was literally, tits, ass and vagina's on every page
This graphic novel deals with several topics such as feminism, oppression, racism and voyeurism (lot's of ism's I know) so this book is not going to be for everyone. I liked the fact that not every women in this book had a bikini body, there were characters such as Penny that were bigger ladies and proud of it. There was also background information to why these women were on Bitch Planet, which helped with character development. The important message that is coming across in this graphic novel is that all women should be themselves and not to give a damn about other people's opinions.I think the storyline is getting better as you get towards the end of this bind up and would be definitely interested in reading more
I had trouble with the layout as provided to me via Netgalley, it took the experience away from me and I would probably enjoyed it more in a physical format.
Overall I gave this 3 out of 5 stars.