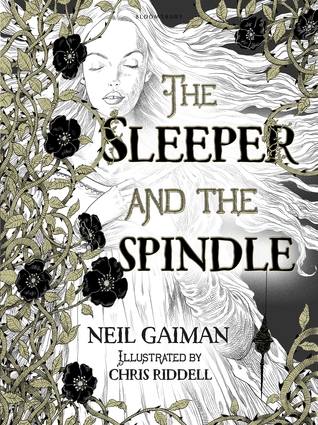 Author: Neil Gaiman
Publisher: Bloomsbury
Published: 23rd October 2014
Source: Library
Genre: Fantasy, Graphic novels
Date read: 03rd November 2015
Synopsis from Goodreads:
A thrillingly reimagined fairy tale from the truly magical combination of author Neil Gaiman and illustrator Chris Riddell – weaving together a sort-of Snow White and an almost Sleeping Beauty with a thread of dark magic, which will hold readers spellbound from start to finish.
On the eve of her wedding, a young queen sets out to rescue a princess from an enchantment. She casts aside her fine wedding clothes, takes her chain mail and her sword and follows her brave dwarf retainers into the tunnels under the mountain towards the sleeping kingdom. This queen will decide her own future – and the princess who needs rescuing is not quite what she seems. Twisting together the familiar and the new, this perfectly delicious, captivating and darkly funny tale shows its creators at the peak of their talents.
My thoughts:
What a beautiful book! How have I not come across Chris Riddell before? I do not know! What an amazing illustrator!
The sleeper in the spindle is a combination of sleeping beauty and snow-white retelling with Gaiman's dark twist added to it.There are two lands which are separated by huge mountains which no-one can get across, not even the birds fly over, the only one's are three dwarves and they tunnel under. The dwarves are off to find the queen some silks for her pending wedding. Dorimar is the other kingdom where they make the best silks, once the dwarves get there they come across an Inn, which they usually drop by as they made friends with the local innkeeper. Only this time the Inn was packed with Villagers,  There Is a plague travelling across the kingdom which puts everyone into a slumber which was casted by an enchantress. With this news the dwarves return to the Queen to let her know what is going on the other side of the mountains and could possibly come across to Kanselaire. With her pending wedding and the thoughts of being a dutiful wife and mother, one last adventure is what she needs, she is off to save Dorimar.
I have actually read the sleeper in the spindle before but from Gaiman's short story collection Trigger Warning.
The story is very short only 72 pages so can be easily done in one sitting. However there is not a lot of character development and the Villain is the same old power/youth hungry menace.The ending will not be to everyone's taste,but it was well written and an easy read
The illustrations are absolutely stunning, they are black and white with gold leaf added on every page, The detail is so intricate and amazing and definitely complements the story really well.
I definitely recommend this book to anyone as it is classed as a children's book.
I gave this book 4 out of 5 stars.