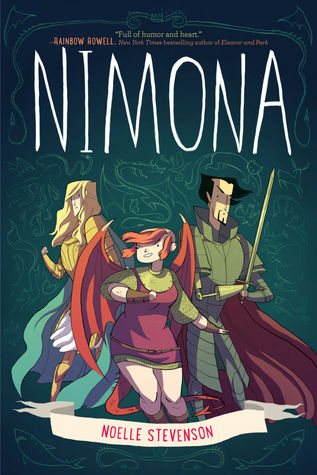 Author: Noelle Stevenson
Publisher: Harper Collins
Published: 12th May 2015
Genre: Graphic novel, Fantasy, YA
Source: Owned
Synopsis from goodreads
The graphic novel debut from rising star Noelle Stevenson, based on her beloved and critically acclaimed web comic, which Slate awarded its Cartoonist Studio Prize, calling it "a deadpan epic."
Nemeses! Dragons! Science! Symbolism! All these and more await in this brilliantly subversive, sharply irreverent epic from Noelle Stevenson. Featuring an exclusive epilogue not seen in the web comic, along with bonus conceptual sketches and revised pages throughout, this gorgeous full-color graphic novel is perfect for the legions of fans of the web comic and is sure to win Noelle many new ones.
Nimona is an impulsive young shapeshifter with a knack for villainy. Lord Ballister Blackheart is a villain with a vendetta. As sidekick and supervillain, Nimona and Lord Blackheart are about to wreak some serious havoc. Their mission: prove to the kingdom that Sir Ambrosius Goldenloin and his buddies at the Institution of Law Enforcement and Heroics aren't the heroes everyone thinks they are.
But as small acts of mischief escalate into a vicious battle, Lord Blackheart realizes that Nimona's powers are as murky and mysterious as her past. And her unpredictable wild side might be more dangerous than he is willing to admit.
My thoughts:
I saw this doing the rounds on booktube and was so taken in by everyone's enthusiasm and praise for this graphic novel that I thought I gotta get me that book to see what all the hype is about.
I loved loved loved everything about this book, the artwork was amazing, the plot was amazing, the characters were amazing, what else can I say……..IT WAS AMAZING!!!! If you haven't read this yet then what are you doing? go buy it! borrow it!
Lord Ballister Blackheart is not you typical Villain – he's a bit like batman in the sense he doesn't kill and wants to do good, he has a past which has made him the way he is. He is caring, funny, sensitive and everything you wouldn't expect in a super villain.
Nimona is a shape shifter, with a mysterious past, she can turn in to pretty much anything which has its advantages, she is witty, enthusiastic and sometimes damn right evil but between her and Blackheart they make an awesome team.
Sir Ambrosius Goldenloin is they typical hero, but sort of in a Disney way! He was my least favorite character in the book.
This novel is quirky! It has heroes, villains, science and a lot of wittyness…if thats even a word. Nimona was perfection.
I have read the Lumberjanes issue 1 and 2 by Noelle Stevenson and enjoyed them, and OMG just realised she has written some adventure time graphic novels…..watch this space….much love for Adventure Time. I have an excuse I have an 8-year-old daughter, I don't just sit around watching cartoons all day.
I rate this book 5 out of 5 stars