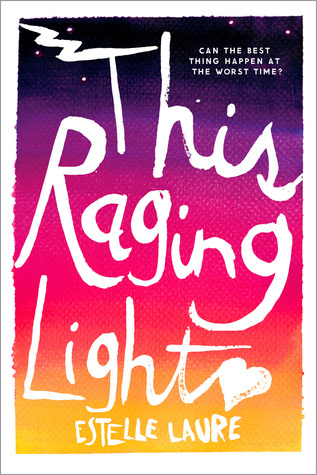 Author: Estelle Laure
Publisher:HMH children's book group

Expected publication :22nd December 2015
Genre: YA, Contemporary
Source: Netgalley
Date Read 11th October 2015
I received an Advanced Readers Copy of this novel from NetGalley in exchange for an honest review.
Lucille's father has a mental breakdown, institutionalised and never returns, months later her mother admits she "needs space" to get her head together and will be on vacation for 2 weeks,however a fortnight comes and goes and the only contact is an envelope with a 100 dollars for groceries and bills.
Seventeen year old Lucille has been abandoned by her parents and left to fend for her 9-year-old sister Wren. Struggling to pay the bills, look after her sister, attend school and have a social life is hard work but despite being so young Lucille is determined, she will do everything she can to avoid the authorities.
The only person Lucille can confide in is her best friend Eden, who has a twin brother Digby. With the help of the twins she is starting to manage getting by, just! until she starts falling in love with Digby.
My thoughts:
This is Estelle Laure's debut novel and as you may know this was one of my highly anticipated books of Winter 2015.
Unfortunately the book fell a bit flat for me and didn't meet my expectations and I am gutted as I so wanted this to be a contender for best books read of 2015.
First off there is a love triangle and not a good one, I didn't feel any emotions or bubbling excitement when they touched or hugged, it was just yeah ok so they kissed that's cool, I suppose!
I felt no connection whatsoever with the characters, Lucille was just really boring there wasn't that much development, the writing wasn't emotionally charged so when I should be feeling really sad and sorry for her I didn't. However she was headstrong and knew what she needed to do in order to survive and instead of wallowing in self-pity she did something about it. Eden was her best friend who she could tell anything too but again it felt a bit false. Digby was a really bland character, to me he just felt like a friend, didn't know what he really wanted, giving off mixed signals. Wren is the sweetest little girl ever and doesn't know if she is coming or going.
I wasn't too keen on the writing style, I felt it was a bit disjointed at times but easy enough to read.
The ending! Oh the ending! nothing was resolved! I flipped over the page thinking there would be another chapter but there is nothing! And it keeps you hanging and thinking what happens next, I don't know if this is going to be a duology or standalone.
I think the novel was just devoid of all emotions, nothing took my breath away or shocked me, I wanted excitement, sadness, to fall in love with the characters and all the emotions you get in an amazing book but sadly it wasn't for me.
I do love the cover, if I saw this in my local bookstore I would be attracted to it straight away and yes sometimes I do judge the book by its cover. This is a fast paced and easy read with only 288 pages can easily be devoured.
There are some things to take away from this novel, there are dysfunctional families and young teens out there in similar situations who are forced to grow up way to fast and take on the role of parents, this is happening around the world, how do you know it's not happening to the kids down the street? All families are complex!
I rate this book 3 out of 5 stars.